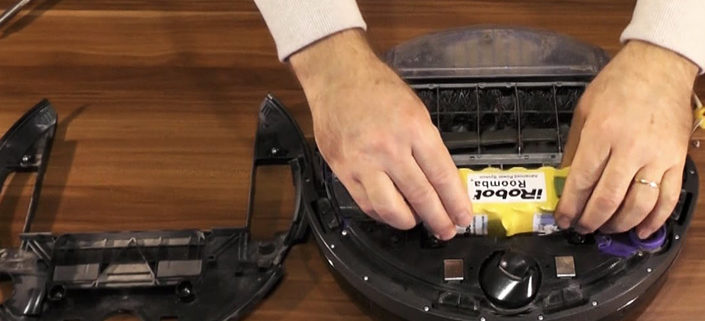 Are you tired of seeing a well decorated house with a lot of dust and dirt in it? Especially some tiny bacteria and debris your eyes can barely see will pollute your cozy house in some way. Traditional cleaners require you to do the cleaning very frequently to keep dust away. And doing that on a daily basis makes you unbearably tired. Here comes the new vacuum cleaner, which enables even the laziest person in the world to enjoy a most comfortable and clean living environement every day. It's a cleaning robot designed to sweep and mop your floor all automatically. One of the best known vacuum cleaners on the current market is the iRobot Roomba.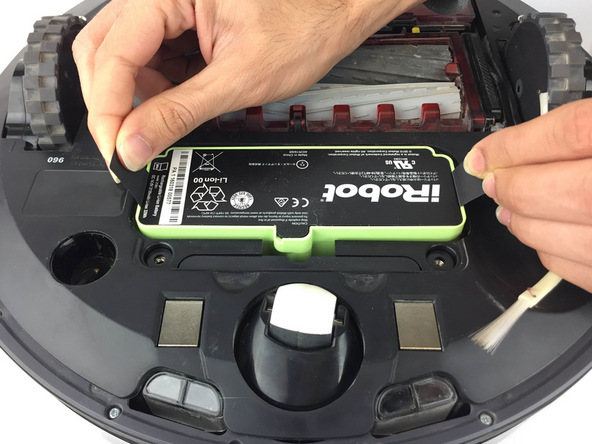 When it comes to iRobot Roomba, many people have benefited a lot from its advanced function and performance in cleaning house. It does a very good job in collecting dust and dirt mainly from the floors, also from other surfaces, like your furniture and upholstery. Other than iRobot Roomba's original battery, there are quite a lot of replacement battery choices on the market for you to maintain the satisfying functions of your iRobot Roomba vacuum cleaner. In 2018, let's see what these excellent vacuum cleaner replacement batteries can bring us.
1. Powerextra 14.4V 4500mAh Ni-MH Battery Roomba Newer Model High Capacity Last Longer Replacement Battery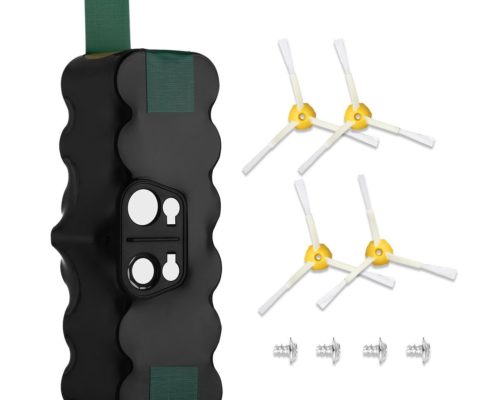 This iRobot Roomba replacement battery is a 14.4 volts high quality Ni-MH battery that can be rapidly recharged. The Roomba replacement battery is made of the highest quality materials by CE certification with full test by the manufacturer to match OEM iRobot Roomba models. The high capacity 4500mAh provides long lasting battery power for iRobot Roomba 14.4V APS 500, 600, 700, 800 series vacumm cleaners.
2.  Tenergy 5200mAh iRobot Roomba Replacement Battery for R3 500 600 700 800 900 Series, 5.2Ah 14.4V Advanced Power System (APS) Li-ion iRobot Battery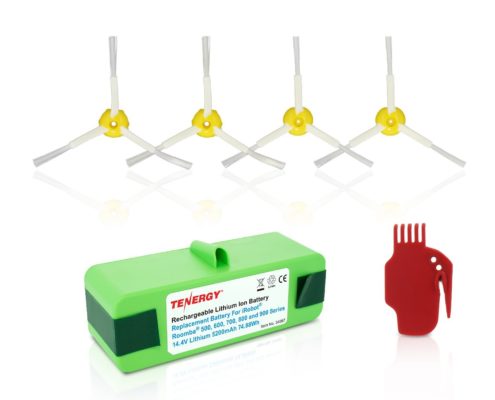 This newly developed iRobot replacement battery has a high capacity 5200mAh that will power your iRobot Roomba with much longer run-time. This capacity can run the Roomba for up to 5 hours while the original NiMH battery is only 3000mAh & runs for only about 3 hours. This Lithium-ion battery for iRobot Roomba meets UL1642 & CE safety standards. The replacement battery is easy to maintain as it will discharge itself super slowly and can be conveniently recharged without memory effect.
3. Areotek Upgraded 4500mAh iRobot Roomba Replacement Battery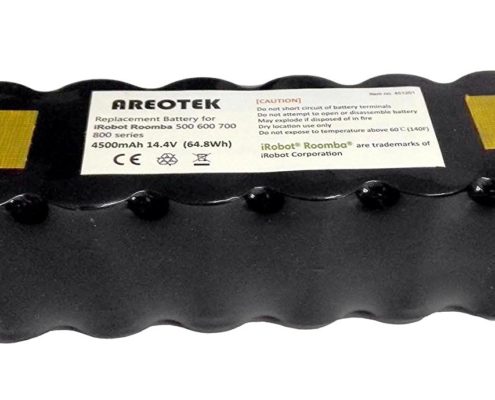 This iRobot Roomba replacement battery has an upgraded 4500mAh capacity compared to the original 3000mAh Roomba battery. The upgraded high capacity replacement battery is widely compatible with most popular iRobot Roomba 500, 510, 530, 531, 532, 533, 535, 536, 540, 545, 550, 551, 552, 560, 562, 570, 580, 595, 600, 620, 630, 650, 655, 660, 700, 760, 770, 780, 790, 800, 870, 880, 900 and Scooba 450. It can also be used for some Discovery Vacuum, Dirt Dog Vacuum, Create Vacuum models.The NiMH battery has great protection from over charge, over discharge, overheating and incorrect voltage etc.
4. Mr.Batt Replacement Battery for iRobot Roomba 500 600 700 800 900 Series Robot Vacuum Cleaner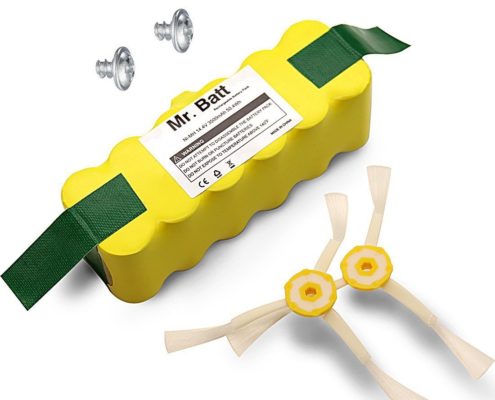 This replacement battery for iRobot Roomba can be widely used for iRobot Roomba 500, 600, 700, 800 900 series vacuum cleaning robot, incuding Roomba 500, 501, 510, 520, 521, 525, 530, 531, 532, 533, 535, 536, 540, 545, 550, 551, 552, 555, 560, 562, 563, 570, 580, 581, 585, 590, 595, 600, 610, 611, 614, 618, 620, 625, 627, 630, 650, 653, 654, 655, 660, 670, 700, 760, 761, 770, 780, 790, 800, 860, 870, 871, 880 900 980 etc. The Ni-MH rechargeable battery pack is safe with long battery life. The 3500mAh high capacity can make Your vacuum cleaner to work continuously for 70 to 120 minutes when it's fully charged. This efficient replacement battery is easy to replace and works safely without negative effect.
http://www.powerextra.com/wp-content/uploads/2018/04/maxresdefault.jpg
470
705
PowRicky
http://www.powerextra.com/wp-content/uploads/2019/08/LOGO-合集-改-2_03.png
PowRicky
2018-04-23 15:28:10
2018-05-31 08:35:20
Best Replacement Batteries for iRobot Roomba Vacuum Cleaner in 2018