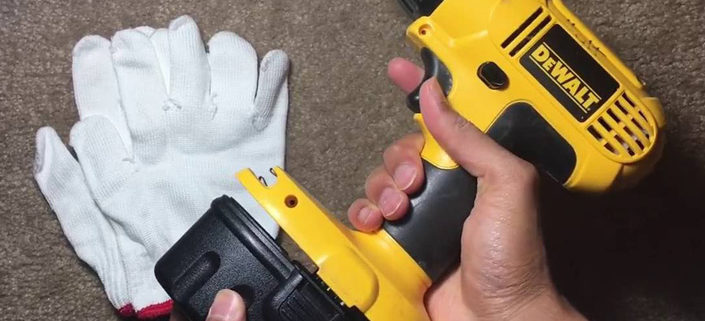 If you are a frequent cordless power tool user, you would need some reliable replacement batteries for your cordless power tools. For example, for a cordless drill, people would probably use a world famous Bosch drill or a Milwakee drill. Other than the original power tool batteries, it's always a good idea to have some replacement batteries as backup use.
What benefits you deserve from a most reliable cordless power tool replacement battery?
When you take a look at the various replacement batteries of different brands on the market, you'll see most of them are typically upgraded on the specification, especially on the battery capacity. Replacement battery manufacturers never want to disappoint their customers. Replacement batteries are solidly built with steady, thick structure and quality battery cells.
Most popular cordless tool replacement batteries use more reliable and efficient Lithium-ion and Ni-MH battery cells. The efficiency and stability of batteries are of extreme importance to the battery's health condition, performance and lifespan. When choosing a replacement battery for your power tool, we strongly recommend that you should check our buying guide which is sorted alphabetically as below.
Application: Depends on what kind of power tools you are using, choose the right replacement batteries.
Build: This is so closely related to your battery quality, how it's built is crucial to its longevity.
Compatibility: Many power tool replacement batteries are designed to work for different tools and even different brands.
Damage: We are talking about the damage that costs you. Choose the best ones according to your budget.
Efficiency: Carefully check the specs to find the most efficient replacement batteries that will meet your daily need of using power tools.
Please check the following recommended replacement batteries for cordless power tools.
1. Powerextra 2 Pack 18V 3500mAh Ryobi Battery Replacement for Ryobi ONE+ Ryobi P100 Ryobi P101 Cordless Power Tools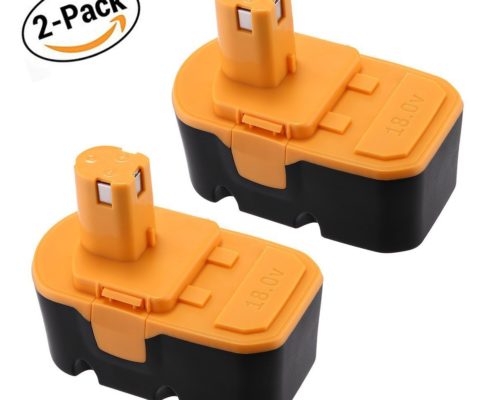 The Ryobi power tool battery is well made with quality bettery cell for long battery service life. The battery can be recharged repeatedly without loss of capacity. It has no memory effect during recharging. The battery can be fully charged within a short time thanks to the impressive rapid charge technology. The cordless drill battery is built robustly with highly safe battery cells inside. It features excellent protection from overcharge, over discharge, short-circuit to ensure great battery longevity. The Ni-MH rechargeable batteries are CE and RoHS certified for dependable quality and performance. The batteries come with a pair of gloves for protecting your hands while using Ryobi drill, driver. Batteries come in 2 packs. Powerextra offers 30 days money back policy and 1 year long warranty.
2. Fhybat Replacement Batteries for Dewalt 18V XRP Battery DC9096 DC9099 DC9098 DW9099 DW9098 Compatible Replacement Cordless Power Tools Batteries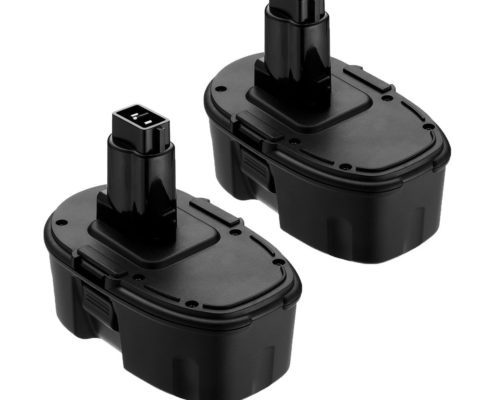 These 2 packs of replacement batteries can be widely used for DeWalt Cordless Reciprocating, Jig, Circular, Chain, Band, and Table Saws: DWHT66387, DWHT55524, DWHT20123, DW938K, DW938, DW936K and so forth. You can also use them for DeWalt Cordless Drills and Drivers, Impact Wrench, Rotary Hammers, Cordless Nailers and Staplers etc. Thanks to the great compatibility, the replacement battery packs almost fit all Dewalt cordless power tools. They work just as good as the originals. If you plan to buy a replacement battery for extensive use for your Dewalt tools. This is definitely an awesome choice.
3. Sun Power 19.2 Volt 3.0Ah for Craftsman Battery 130279005 C3 315.113753 315.115410 315.11485 19.2V Cordless Drill Batteries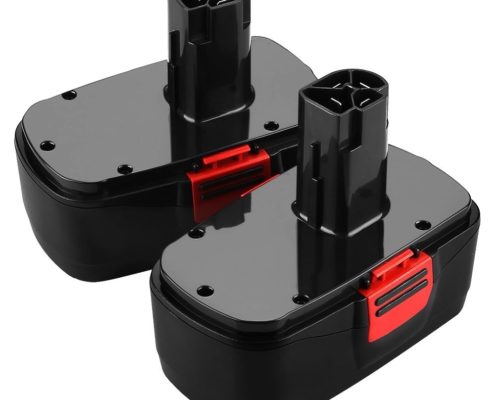 If you have a Craftsman cordless drill, these 2-pack replacement batteries are perfect replacement batteries as backup for you. This replacement battery pack has 3.0Ah huge capacity, rated at 19.2 volts. This high-power battery is highly efficient Ni-MH type that will give your power tool stable battery power for long period of time. This Craftsman 19.2 volt replacement battery pack will make your drill go impressively. It has protection to safeguard incorrect voltage, short circuit, over heating etc. These 2-pack batteries are fully compatible with Craftsman 315.115410 C3 19.2 volt tools 130279005, 315.115410, 11580, 10126, 11541, 11543, 11570, 11576, etc.
4. Forceatt HPB18 18V 3000mAh Ni-Cd Battery Replacement for BLACK&DECKER 18 Volt Cordless Power Tool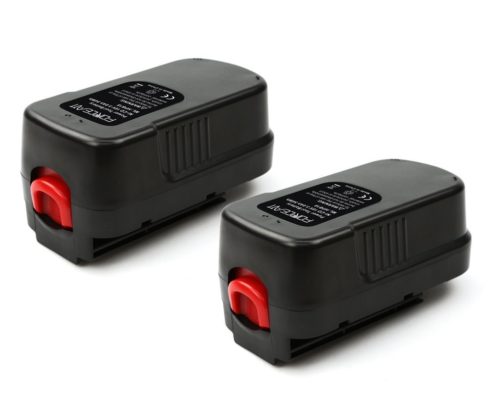 The Ni-CD 18V 3000mAh battery pack provides a lot of power for Black & Decker power tools like Back and Decker Grass Hog string trimmer and blower. This high capacity replacement battery has perfect built-in protection against overload, over heating, short-circuit etc. The reliable and safe battery is certified by CE, FCC and ROHS for great compatibility with Black and Decker BD18PSK, BDGL1800, BPT318, BPT318-XE, CCS818, CCS818-2 etc. The 2-pack batteries are a bestselling product in this category with Amazon #1 Best Seller.
5. Powilling 2 Pack 3.0Ah 19.2 Volt Replacement Battery for Craftsman C3 Diehard Sears Battery 1323903, 130279003, 130279005 Craftsman Cordless Power Tool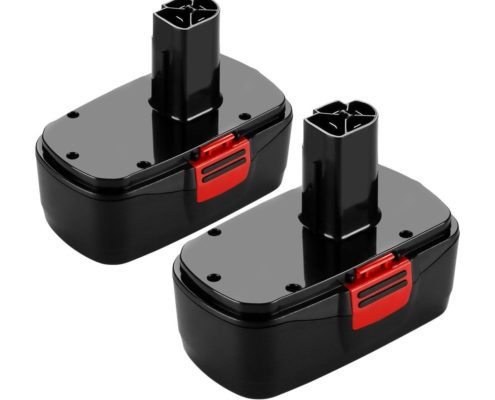 These 2 packs of replacement batteries perfectly replace the Craftsman Sears Diehard C3 battery 130279005 315.115410 115410 11570 11576 11580. You can use them for most Craftsman 19.2 volt C3 system cordless power tools. The CE-certified replacement battery is fully tested to meet OEM Craftman cordless tool standards to ensure it works greatly. The Ni-CD battery is solidly built to be highly durable and can be charged with no memory effect. The 3000mAh battery pack has integrated microchip to prevent overload, over discharge and unstable charging current etc.
https://www.powerextra.com/wp-content/uploads/2018/04/powertoolreplacementbattery1.jpg
470
705
PowRicky
http://www.powerextra.com/wp-content/uploads/2019/08/LOGO-合集-改-2_03.png
PowRicky
2018-04-09 14:24:11
2018-04-09 14:39:46
Buying Guide: Most Reliable Cordless Power Tool Replacement Batteries on the Market