产品描述
Outstanding Features:
— Powerful Input & Output: Input: 110V-240V, DC Output: 13.05V 13.5A (3 branches: 4.5A, 4.5A, 4.5A), DC USB Output: 5V 4A (2 branches: 2A, 2A).
— Time-saving Charging Hub: This charger can charge 3 batteries & 1 remote controller simultaneously. It takes only 60 to 80 mins to complete a full charge.
— Durable Material: This charging hub is made of premium aluminum alloy. The sturdy hard shell is fire-proof,  heat-resistant and fast in heat dissipation.
—Intelligent Protection: The built-in safety stystem fully protects the charger from overcharge, over voltage, over temperature and short circuit.
— Unique Exhanst Fan: The cooling exhaust fan built in effectively reduces heat inside and prevent high temperature during charging.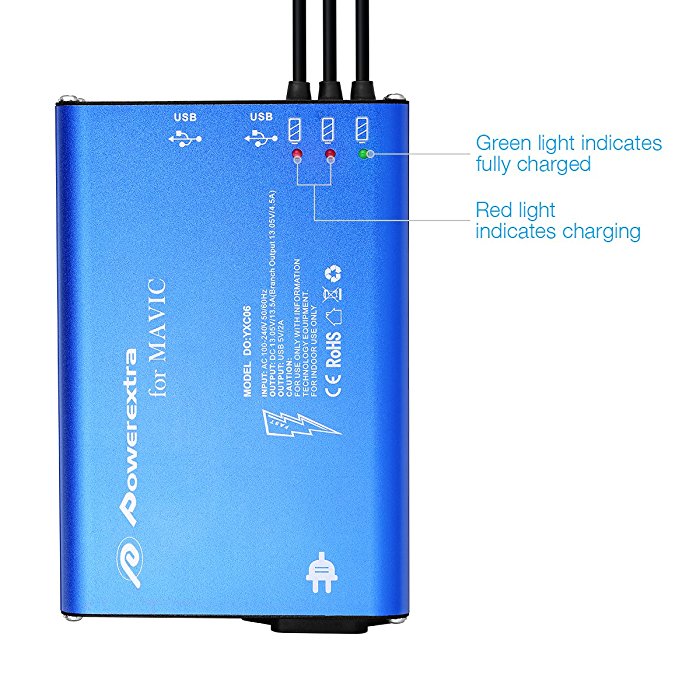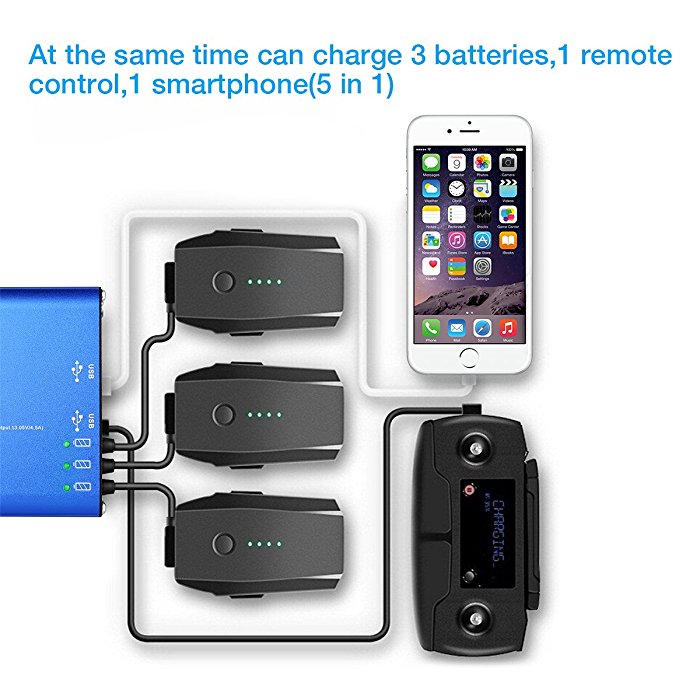 Upgraded Charging Hub for DJI Mavic Pro Batteries & USB Devices
Powerextra Mavic Pro 5 in 1 Intelligent Multi Battery Charger works as a professional battery charger for DJI Mavic Pro flight batteries and remote controller. With multiple charging ports and 2 USB ports, this charging hub is able to charge 3 flight batteries, the remote controller and 2 USB-enabled devices at the same time. This charger features high output, reliable quality in construction and protection built in.
Specifications:
Input: 110V-240V
DC Output: 13.05V 13.5A (Branch: 13.05V 4.5A)
DC USB Output: 5V 4A (Branch: 5V 2A)
Operating Temperature: 0-40 Celsius degrees
Compatibility: DJI Mavic Pro Intelligent Flight Battery and Remote Controller
Package Content:
1 x DJI Mavic Pro 5 in 1 Intelligent Multi Battery Charging Hub
Warranty Policy:
● The brand new high-quality replacement batteries are totally guranteed of real specification.
● Free Exchange against man-made damage from date of purchase & 30 days' refund unconditionally for every purchase from Powerextra.
● Professional technical support, efficient and timely satisfactory customer service around the clock.