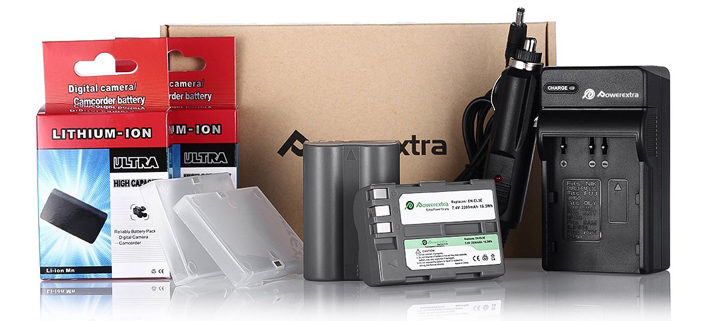 It's of great importance for photographers to keep their camera charged anytime anywhere. Because of a busy working schedule, it could be tricky to keep a fully charged digital camera. If you are still considering how to pick the best camera batteries, you might as well take more into account. Expensive camera battery packs can be made with the best value. However, it's ideal to buy some convenient battery and charger combo kit. In that way, you don't have to worry about how battery runs out of power and find nowhere to get it recharged.
Now third-party batteries and chargers for digital cameras are getting more and more popular. They will meet you need, as they fully meet the standards of speficic battery requirements and charger specification. Let's check out the top 5 best battery and charger kit for cameras.
1. Powerextra 2 Pack 7.4V 1800mAh Replacement Canon LP-E5 Battery and Charger for Canon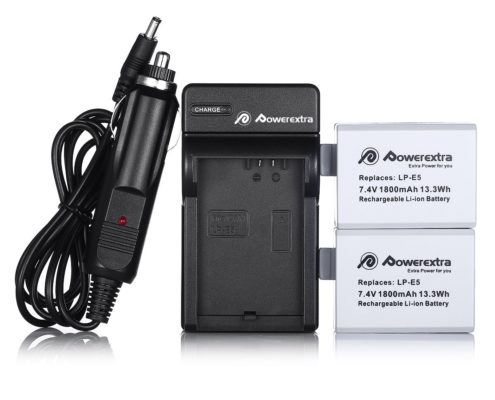 This Canon LP-E5 battery and charger kit is a well-made battery and charger combo for your Canon LP-E5 camera. The rechargeable Lithium-ion batteries are rated at 1800mAh, 7.4 volts. They are built solidly to be compact and durable. It's one of the best battery and charger combo kits for busy photographers to carry conveniently on the way and get the camera battery charged anytime they need. The replacement batteries for Canon can be quickly recharged without memory effect or battery capacity loss. The long lasting battery packs work perfectly for your Canon camera with great compatibility and reliability.
2. NP FW50 RAVPower Camera Battery Charger Set for Sony A7, A600, A6500, A6300, A55, A5100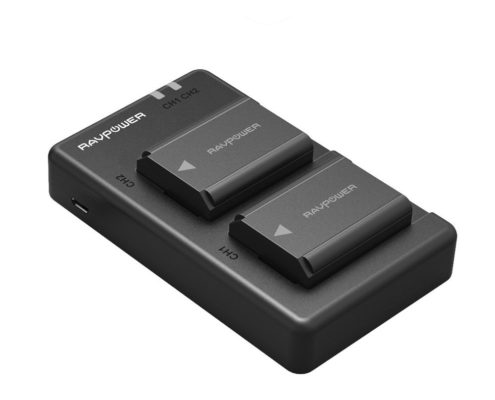 These camera battery charger set includes a DC Dual Battery Charger, a Micro USB cable and 2 packs of replacement batteries for Sony NP-FW50. The replacement battery packs for Sony are made with exact specification of Sony NP FW50 original battery. The batteries are compatible with NEX 3/5/7 series, SLT-A series, Alpha series. The replacement battery can be conveniently charged from the inside of the Sony camera. It's made with exactly the same shape of the original battery, but with higher capacity 1100mAh for longer battery life.
3. EN-EL14 Battery (2-Pack) and Charger for Nikon D3100, D3200, D3300, D5100, D5200, D5300, D5500, DF, Coolpix P7000, P7100, P7700, P7800 Cameras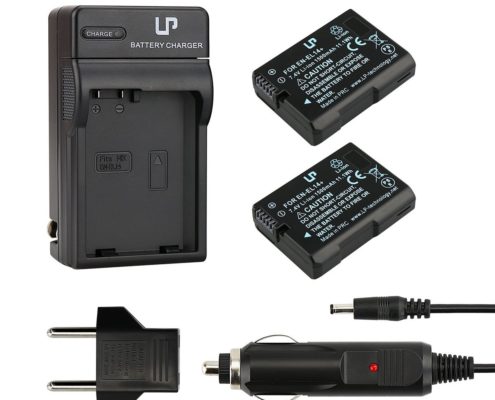 This LP camera battery kit contains 2 pieces of LP EN-EL14+ batteries, an LP EN-EL14 charger, a car charger adaper and a EU plug. The LP EN-EL14+ rechargeable lithium-ion battery replaces the Nikon EN-EL14 / EN-EL14a battery. The replacement batteries feature long cycle life. You can charge and discharge them more than 300 times. The batteries and charger are fully compatible with OEM Nikon EN-EL14 EN-EL14a battery and charger specifications. The charger has smart LED indicators to show the charging status.
4. VVHOOY 3 x 1050mAh Rechargeable Action Camera Battery with USB Dual Charger for 4k Action Camera AKASO EK7000/AKASO Brave 4/Campark/Crosstour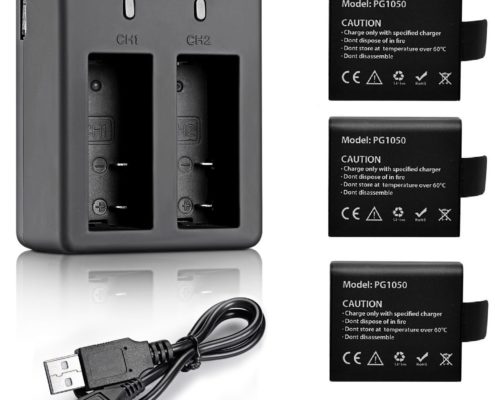 This VVHOOY rechargeable action camera battery charger kit is a complete replacement backup charger set with 3 extra batteries for your action cam. The powerful backup batteries allow you to take more pictures and shoot more videos. The 3 packs of 1050 rechargeable batteries are fully compatible with AKASO EK7000/Brave 4k/Crosstour/APEMAN/FITFORT/Victure/Campark and more other action cameras. The camera battery charger has a smart Micro USB port design for recharging the batteries without the effort.
5. Crosstour Action Camera Battery Dual Rechargeable 1050mAh Batteries with USB Charger for Action Cameras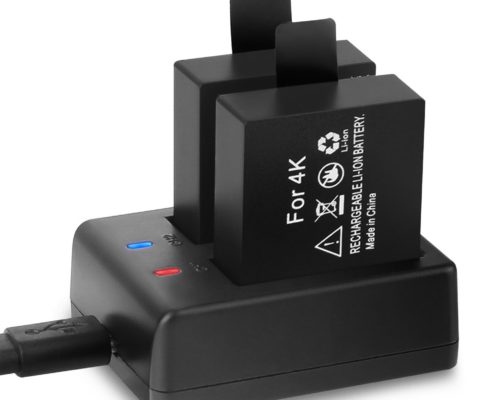 You would be greatly impressed with these items in the package. It includes 2 replacement batteries for action camera, a USB rechargeable charger and 1 USB charger. You can enjoy an affordable price for the value all together. The two pieces of rechargeable 1050mAh replacement batteries provide you with longer battery life for your action camera shooting. The rapid battery allows you to charge 2 batteries simultaneously.
https://www.powerextra.com/wp-content/uploads/2018/03/loveryD1XyL._SL1200_.jpg
470
705
PowRicky
http://www.powerextra.com/wp-content/uploads/2019/08/LOGO-合集-改-2_03.png
PowRicky
2018-03-19 15:51:22
2018-03-19 15:51:22
Convenient Battery Charger Kit for Digital Cameras