产品描述
Powerful Hot Air Heat Gun:
This Powerextra heat gun is rated at power rating 1800 watts. It can heat up to 1202℉(650℃) quickly.
This powerful hot air gun features 2 modes, 50-450℃,190-210L/min and 50-650℃, 250-500L/min with high performance.
This heavy-duty heat gun is is solidly built and beautifully made with an ergonomic design for comfortable grip.
The professional hot air gun can work continuously for up to 500 hours in maximum temperature mode.
You can enjoy using this highly safe heat gun owing to the high-standard built-in protection against overload.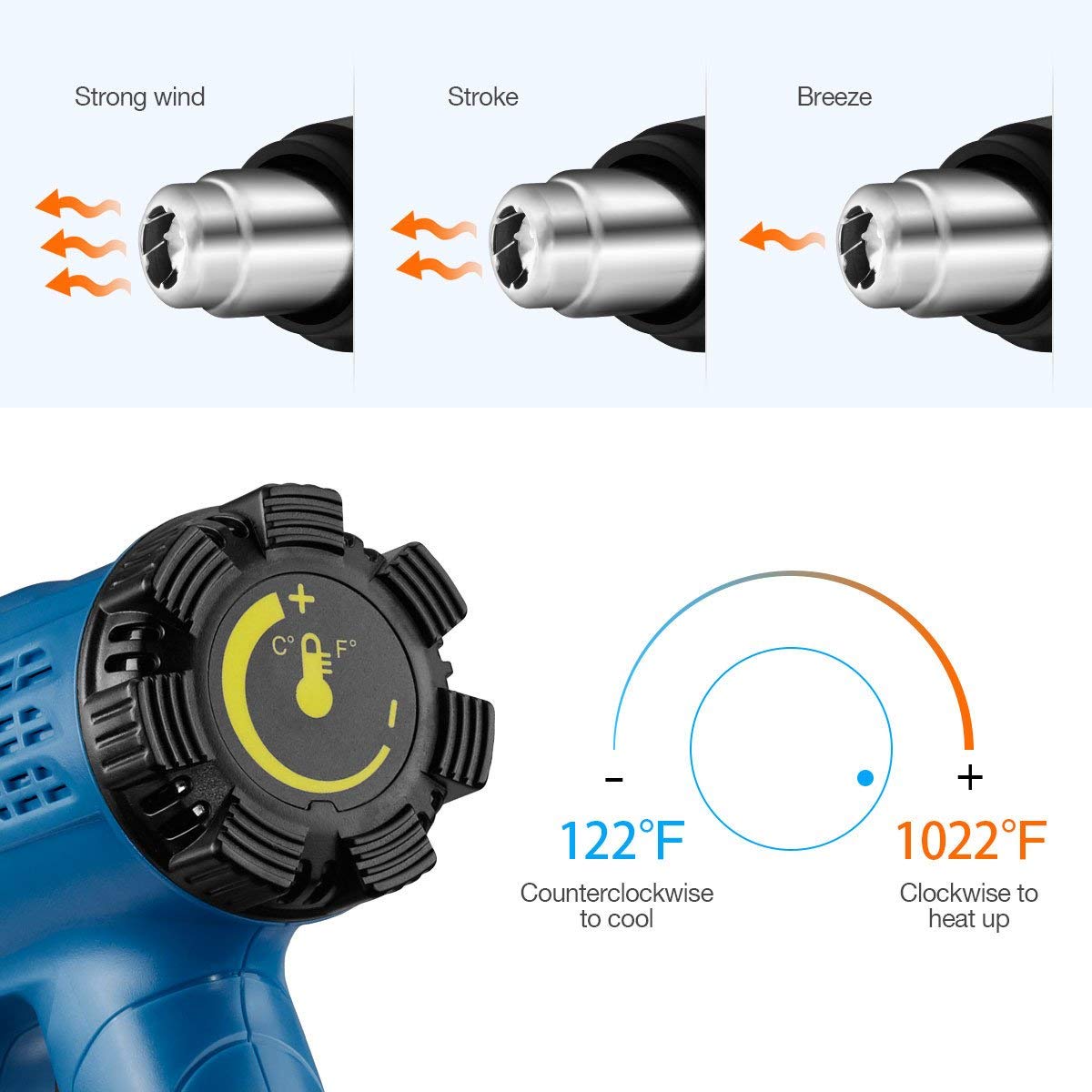 Powerextra 1800W Heat Gun:
Powerextra 1800W heat gun comes with useful nozzle accessories, including a Spoon Reflector Nozzle, a Cone Nozzle, a Fish Tail Surface Nozzle and a BBQ Lighter for different welding, shrink sleeving, drying, thawing and lighting purposes. Thanks to the leading Hot Air technology, the heat gun can function perfectly in doing its job well. You can use the heat gun for stripping paint, lighting charcoal, soldering pipes, shrinking PVC, removing rusted bolts, softening caulk around the sink, bending and molding plastics and so on. The heat gun is built with ventilation slots for better heat dissipation. The motor is greatly cooled down during working for better longevity.
Hot Air Heat Gun Specification:
Voltage: 120V
Power: 1500 W
Materials: ABS
Air Temperature/Flow:
I 122℉(50℃) -250L / min
II 752℉(400℃) -250L/ min
III 1022℉(550℃) -500L / min
Nozzle Accessories:
Spoon Reflector Nozzle
Cone Nozzle
Fish Tail Surface Nozzle
BBQ Lighter