产品描述
Powerextra LP-E6 Replacements Batteries with Battery Charger Kit  :
Replacement batteries provide excellent performance as powerful as your original one. 2600mAh Li-ion rechargeable battery helps you to handle long-time professional shooting in the wild and catch more wonderful pictures from your view.
Lightweight Lithium battery is characterized by multiple cycle times which contributes to its longevity, at the same time memory effect is avoided from capacity loss during charge and discharge.
This battery charger is used specially to charge for LP-E6 and LP-E6N battery, the charger operates on 100-240VAC power for worldwide use.
No power cord is required with 2-prong plug which goes directly into a wall outlet or other compatible outlet, making your battery charge is more convenient.
An additional car charger is added to offer a another handy solution for your charging, this car charger can be connected with car charger and power battery charger if there is no outlet in the open air, realizing your non-stop shooting without being troubled by power failure.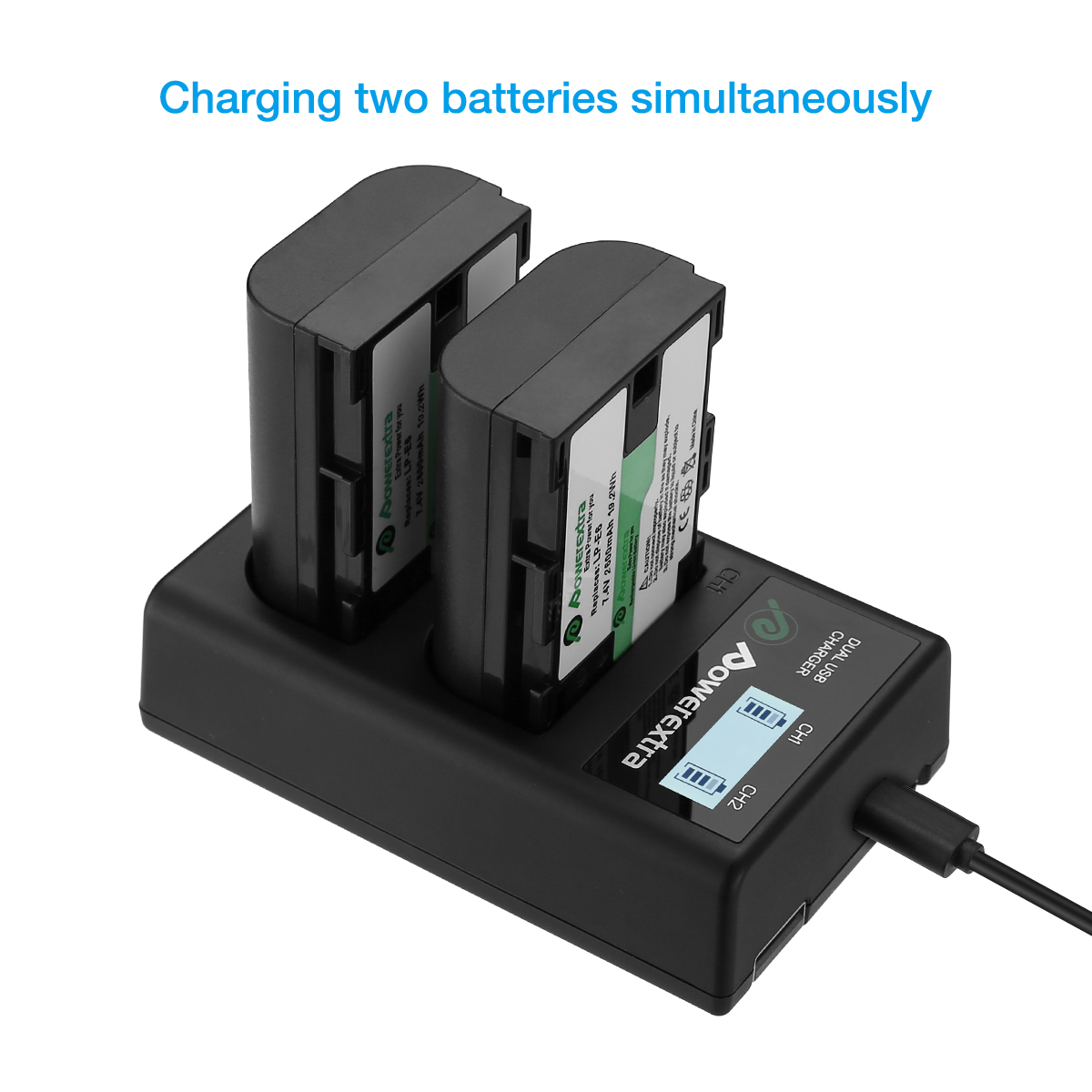 Specification and Compability:
Battery Specification:
Capacity: 2600mAh
Voltage: 7.4V
Battery Type: Li-ion
Color: Black
Dimension: 2.4 x 1.8 x 1 inches
Weight: 2.6 ounces
Charger Specification:
Input: AC 100-240V, 50/60Hz, Max150mA, DC12V-24V(car charger)
Output: DC8.4V=600mA
Compatible Models:
Replacement Battery: Canon LP-E6, LP-E6N
Compatible Canon Cameras: Canon EOS 5D Mark II, Canon EOS 5D Mark III, Canon EOS 5DS, Canon EOS 5DSr, Canon EOS 6D, Canon EOS 7D, Canon EOS 60D, Canon EOS 60Da, Canon EOS 70D Digital Cameras
Content:
2 x Powerextra Replacement Batteries
1 x Powerextra Battery Charger
1 x Car Charger
Warranty Policy:
● The brand new high-quality replacement batteries are totally guranteed of real specification.
● Free Exchange against man-made damage from date of purchase & 30 days' refund unconditionally for every purchase from Powerextra.
● Professional technical support, efficient and timely satisfactory customer service around the clock.