产品描述
HIGH POWER & SUPERIOR FINISH – With 700 Watts of power, provides a precise spray pattern,creating the smooth and superior finish.With 800ml container,it will be your best electric paint sprayer for tables, chairs,fences,interior walls and crafts.
3 SPRAY PATTERNS & 5 NOZZLE SIZES – 3 different spray patterns is horizontal, vertical and circular,equipped with 5-size nozzles(0.5mm/1.0mm/1.2mm/1.5mm/2.5mm) for any painting projects.0.5mm nozzle suit for disinfectant; 1.0mm/1.2mm/1.5mm nozzle are great for thin paints like sealers and varnish; 2.5mm nozzle is great for latex paint,chalk type paint…etc
NOTE – Suit for oil or water based materials such as: chalk type paint, milk paint, latex paints, enamels, primers, clear sealer, polyurethane, primer, stain and varnish.Please dilute the paint before use.Cannot use for diatom mud, diamond paint, imitation stone paint, stone paint, putty powder, powder paint and other granular solid liquid.
EASY TO USE & WASH – This paint sprayer is user-friendly,easy assemble and easy spraying.With packaged cleaning attachments,you can clean it easily and efficiently.(NOTE:To ensure better use next time,please clean the sprayer carefully after use.)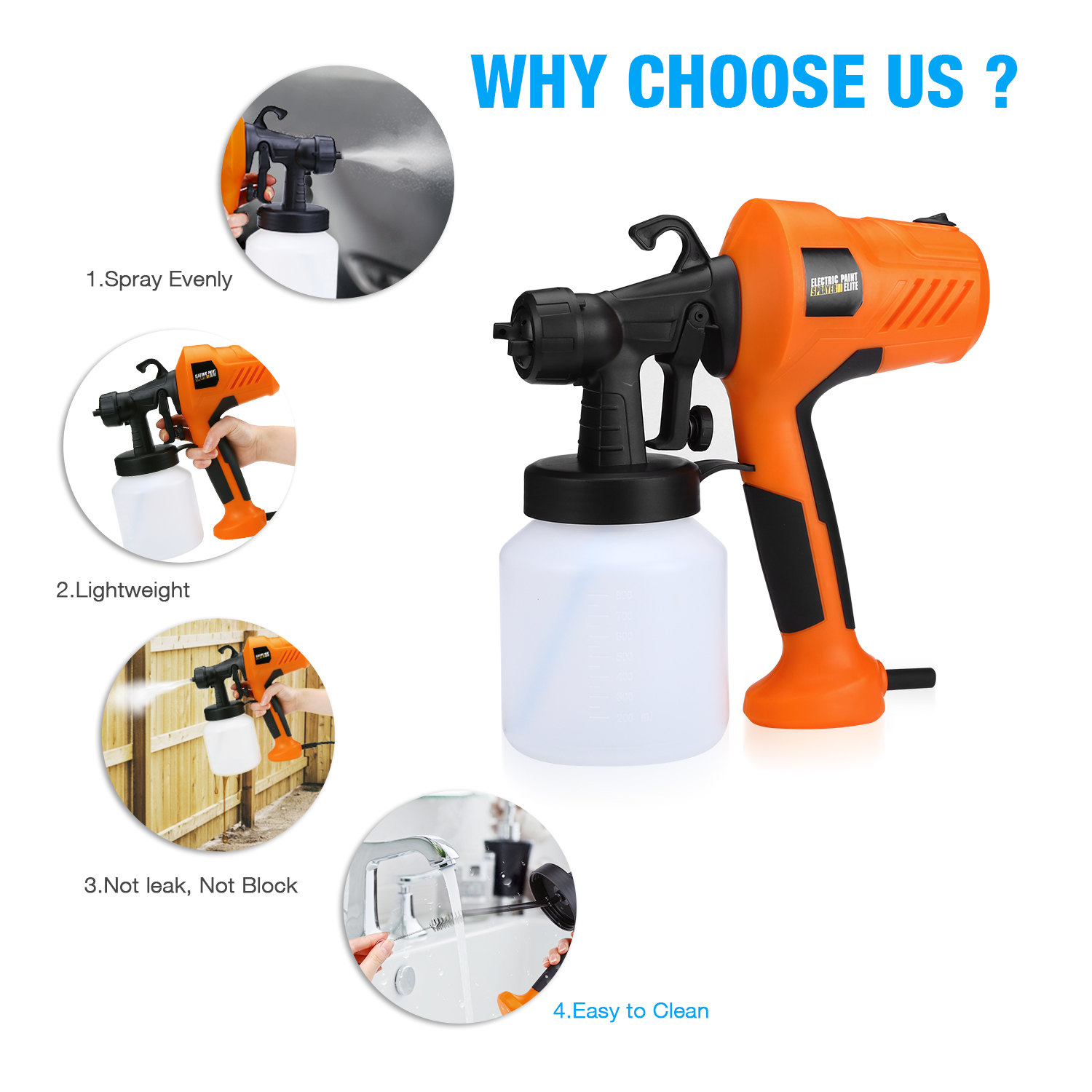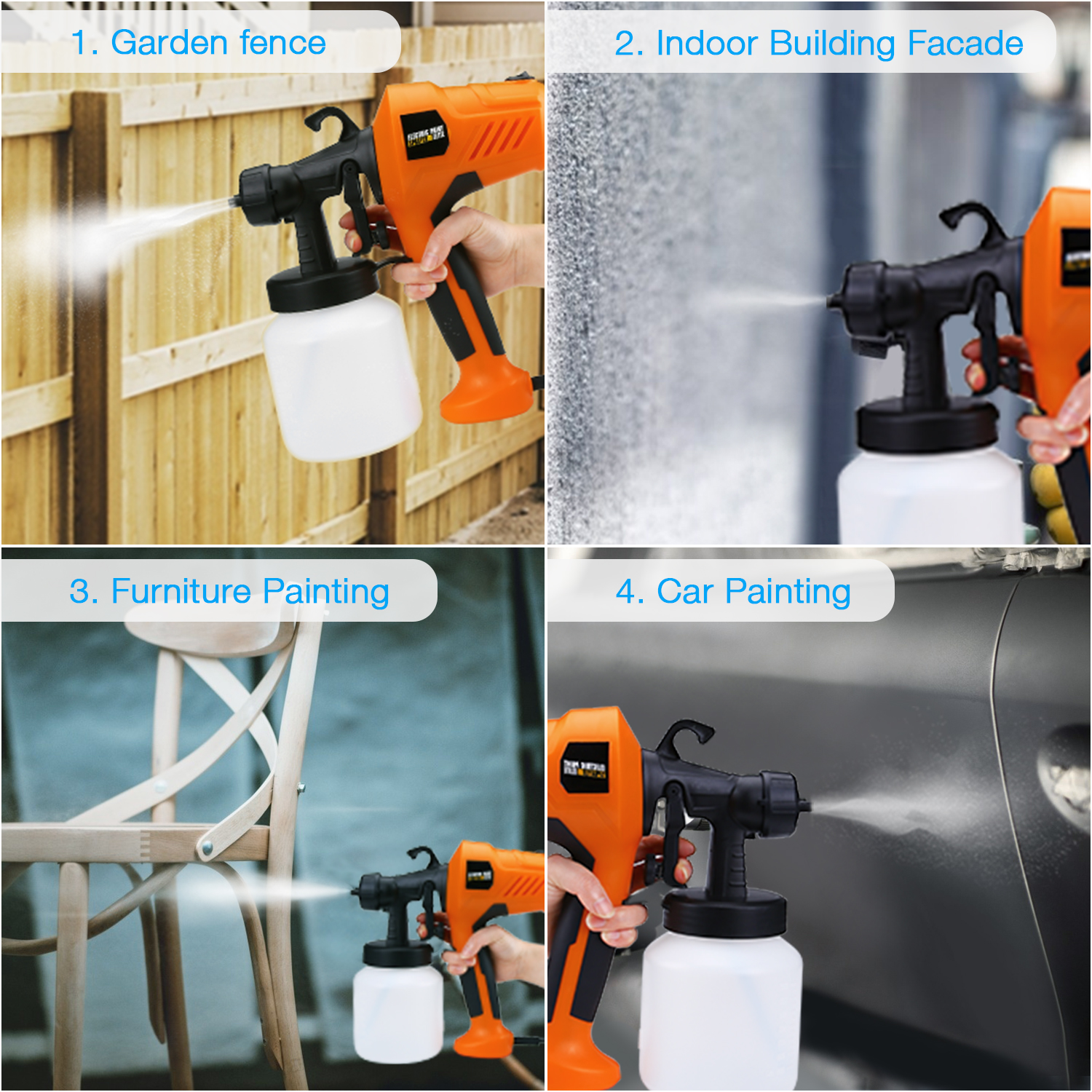 Product information:
Product specification:
Voltage: 110V / 60Hz / 700W
Nozzle size: 0.5, 1.0, 1.2, 1.5, 2.5mm
Capacity: 800 ml
Power cord: 2.5m/8.2Ft
How to exchange the nozzle core?
1.Carefully remove trigger from assembly by pulling it down and off. Turn it sightly then pull nozzle tip out.
NOTE: Take the nozzle core out until the trigger is remove.The nozzle tip has spring on the end so take care not to lose it.
2.Choosing the right spray tip and nozzle.
3.Put nozzle core and spring in.Make sure the trigger is locked in correct place.
4.Install the nozzle,air cap and locking nut.
How to prevent the nozzles from clogging ?
1.Make sure deep clean every part immediately after use. Do not leave the paint halfway,the paint will be dry.Please clean it up.
2.Dilute the thick paint before painting.Recommended painting viscosity from 20 Din-s to 40 Din-s.
NOTE: Please use a respirator or mask when using the sprayer.
 SPRAY PATTERNS
Three different spray modes:
Horizontal,vertical, circular;
Choose the spray pattern by turning the nozzle.Adjustable patterns make the Spray easy to use to get the desired results.
 NOZZLE SIZES
0.5mm/1.0mm/1.2mm/1.5mm/2.5mm for any painting projects.
0.5mm nozzle suit for disinfectant.
1.0 & 1.2mm for sealer and varnish.
1.5mm for oil based paints, stains, polyurethane, etc.
2.5mm is great for latex paint,chalk type paint…etc.
Thinning may be necessary and you should do so based on the paint manufacturer's guidelines.