产品描述
Multi-functional DSLR Camera Backpack:
This travel bag is designed for DSLR camera and camera accessories. You can keep 2 cameras, 4 lenses, 2 flashlights, 1 laptop, 1 iPad and other accessories with this large backpack.
The well-organized layout inside fits Canon, Nikon, Sony, Olympus, Pentax and other DSLR cameras and photographic equipment.
The hiking bag is made of quality waterproof material, strong nylon and polyester. It uses YKK zippers for durable design.
Inside the bag, there is removable protective foams to keep your cameras, lenses and other items safe.
The carrying bag can work as a protable travel bag if you remove the padded foam out. It's large enough to store a lot of items for traveling.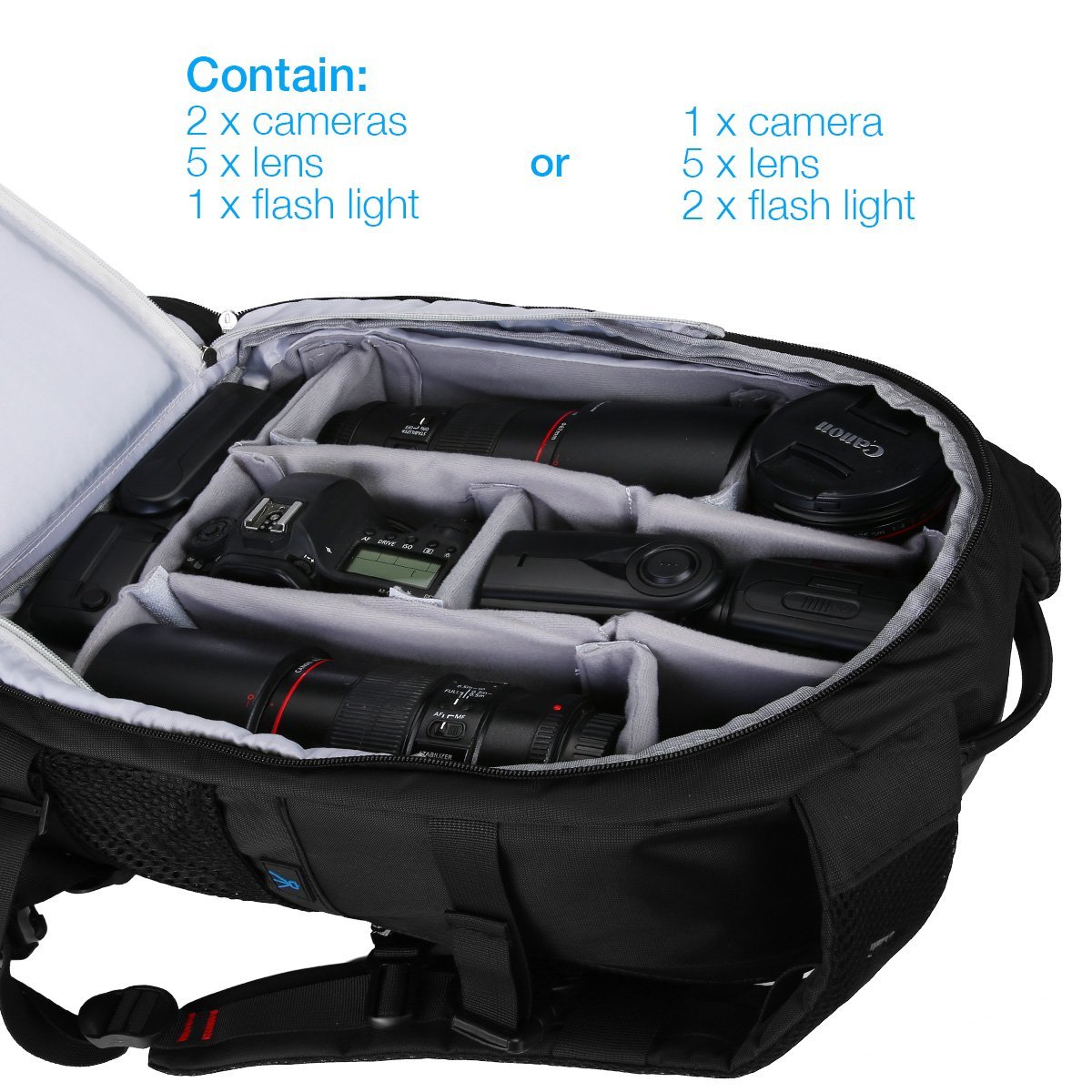 Perfect Shoulder Bag for DSLR Camera:
Despite large capacity 30L to store a lot of camera accesories or other items, the bag doesn't look that big at all when worn. It has a portable size, 11.8 x 7.87 x 18.9 inches. This portable size enables you to easily carry your DSLR camera and other accessories for your outings. The bag has well-organized protective foam built in and freely adjustable shoulder straps for you to carry outdoors effortlessly. This portable bag for DSLR cameras is very useful with this quick-release design.
Reliable Quality:
This large hiking bag is made of highly durable and waterproof Oxford, nylon and polyester materials which give great wear resistance to protect your DSLR camera, camera accessories or other electronic accessories when you are carrying them for outdoor activities.
Compatibility:
This multi-functional backpack travel bag is perfectly fit for photographic equipment and accessories, such as Canon, Nikon, Sony, Olympus, Pentax and other DSLR digital cameras and lens. It's also great to store iPad, laptop, flashlight, charger, batteries and other electronic accessories.