产品描述
Wireless Radio Transmission Flash Speedlite:
Wide Compatibility: Great flash with High Guide No.33 (ISO 100, 35mm), supports manual/S1/S2 flash mode. Compatible with Canon,Nikon,Panasonic,olympus,pentax and other DSLR cameras with standard hot shoe and Sony Camera with New Mi Hot Shoe like Sony A7 A7S/A7SII A7R/A7RII A7II A6000 A6300 A6500.
2.4G Wireless Transmitter: Newly implemented with radio system for wireless flash, making this speelight equipped with 15-channel transmitter and receiver with a operating range of 50m(164ft), the indicator is on once you enter into the 2.4G wireless mode and adjust to choose the channel that you want.(NOTE: the flash will be triggered only when the flash and trigger are in the same channel.)
Rotation Angles for Versality: Provide you with a rich flash perspective with Vertical rotation angle( -7~90 degrees), horizontal rotation angle(0~270 degrees), fixed zoom.
Additional Function: Power saving mode, synchronization, external charging, over-temperature protection and systematic over temperature protection function.
Multiple Power Controls: Flash has 8 levels of output control which are indicated by 8 LED lamps for different level,which is good for controlling the exposure manually. Press "+" to raise and lower power: 1/128,1/64,1/32,1/16,1/8,1/4,1/2,1/1.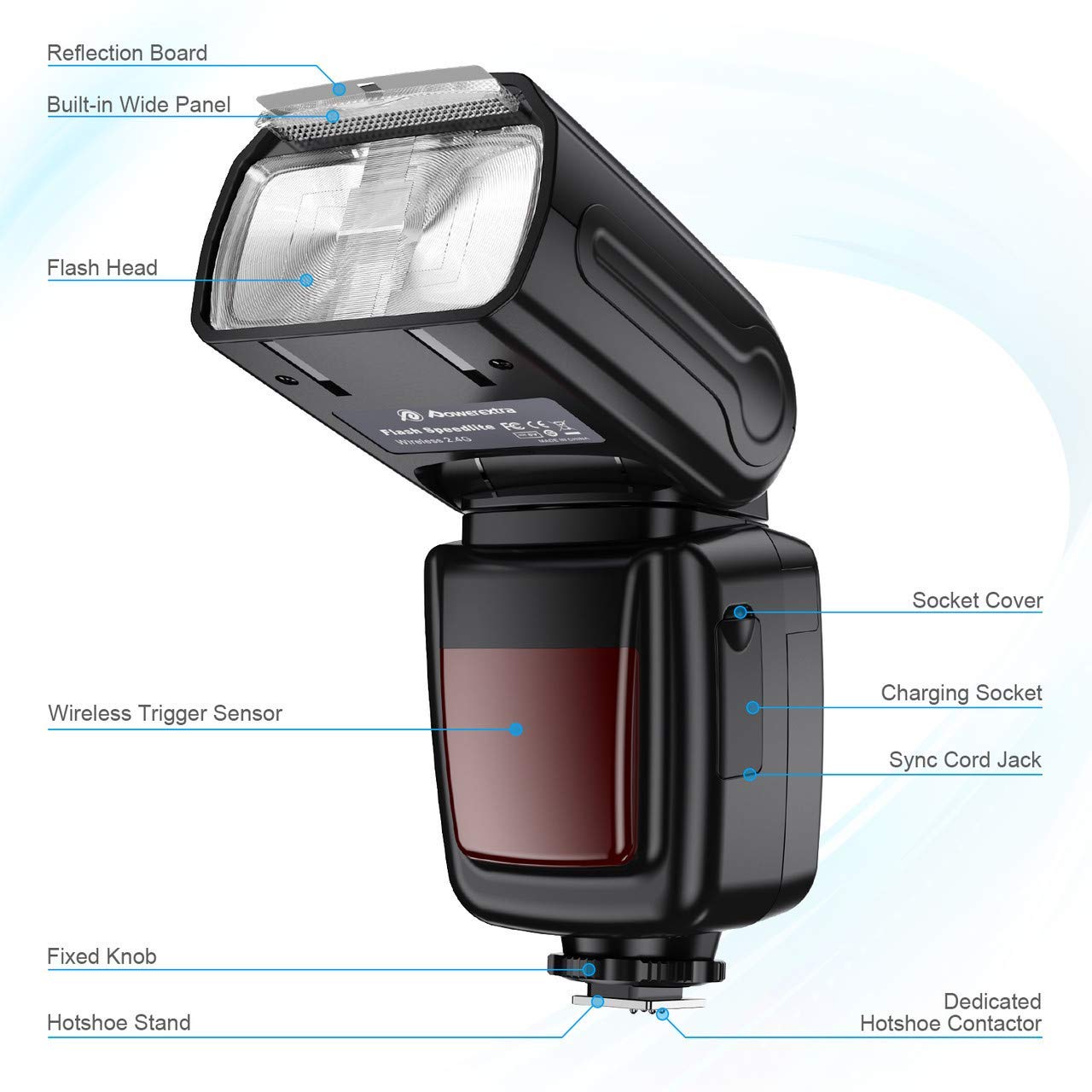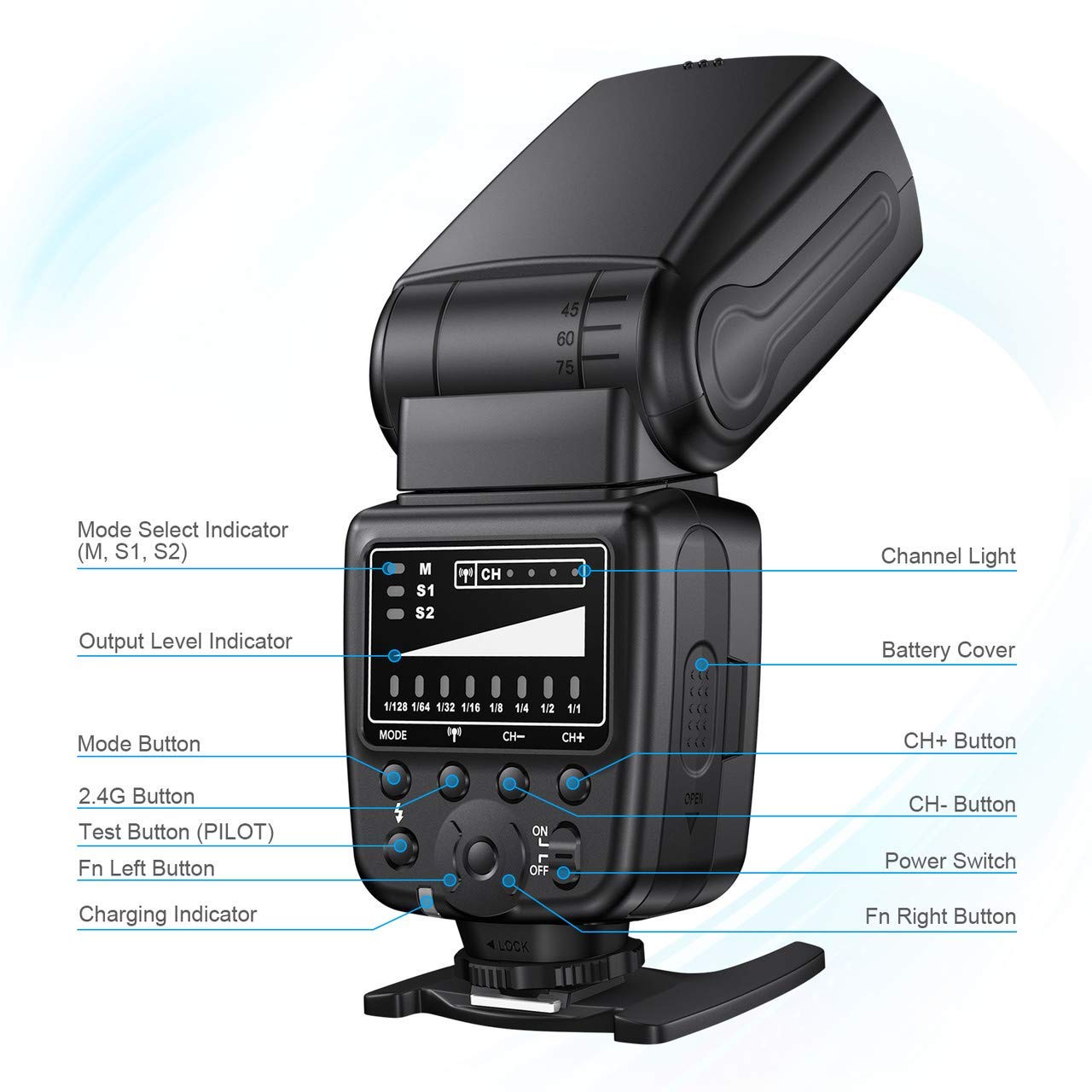 Specification:
Trigger Specification:
Mode: WT-U
Channel: 15 channels
Transmission Distance: 50m
Wireless Frequency: 2.4G
Power Source: 23A 12V alkaline battery
Net Weight: 38g
Flash Specification:
GN Number: 33(ISO100, 35mm)
Flash Type: M/S1/S2
Flash Duration: 1/300-1/20000S
Flash Coverage: 24 mm
Recycle Time: 0.1-5 seconds(Using AA alkaline battery)
Wireless Transmission Distance: 20-30M
3 Flash Modes:
M Modes:
You are allowed to set your flash onto your camera hot-shoe or speedlite trigger hot-shoe to trigger the flash. When shooting, adjust the flash power and press the camera shutter button, the flash light will flash under the camera synchronous signal.
S1 Modes:
The mode is applicable for slave flash in order to create many lighting effects. It is respectively applicable for manual flash environment. When the flash is in S1 mode, it will fire synchronously when the master flash comparable with effect by the flash trigger.
S2 Mode:
The mode is applicable for slave flash in order to many lighting effects. The flash won't flash synchronous with the first but the second flash from the master flash, which is the second flash synchronization.
Package:
1x Flash Light
1x Protection bag
1x Mini stand
1x 2.4G Wireless Flash Trigger
1x User Manual
1x Feedback Card