产品描述
Outstanding Features:
— Fully compatible with Canon 600EX-RT/ST-E3-RT Wireless Signal, Firmware Upgrade.
— This 600EX-RT Speedlite Flash is compatible with all Canon EOS REBEL DSLR Cameras with E-TTL II/ E-TTL Autoflash. (Including Canon Rebel T5i T4i T3i T3 T2i T1i XT XTi XSi SL1, CANON EOS 700D 650D 600D 550D 500D 450D 400D 350D 300D 1100D 1000D 100D 60D).
— Power Flash with High Guide No.60 (ISO 100/1 meter), 2.4GHz wireless, precisely and automatically compatible to E-TTL/E-TTL II, M, Multi. Support 2.4GHz wireless flash as well.
— Head Rotation: Vertical Rotation Angles: -7~90 Degrees, Horizontal Rotation Angles: 0~360 Degrees.
— Recycle Time: 0.1- 2.5s, powered by 4 pcs AA-size battery backup and Ni-MH batteries, together with a standard external charging socket for power pack. With super speed of charging recycle, it takes only 2.5 seconds to finish a charging cycle after a full level output.
— The flash covers focal length range from 20 to 200mm. It supports HSS exposure compensation, exposure bracketing, second-curtain sync, AE lock, Aperture preview, contrast-enhanced flash, auto and manual zooming, firmware upgrade.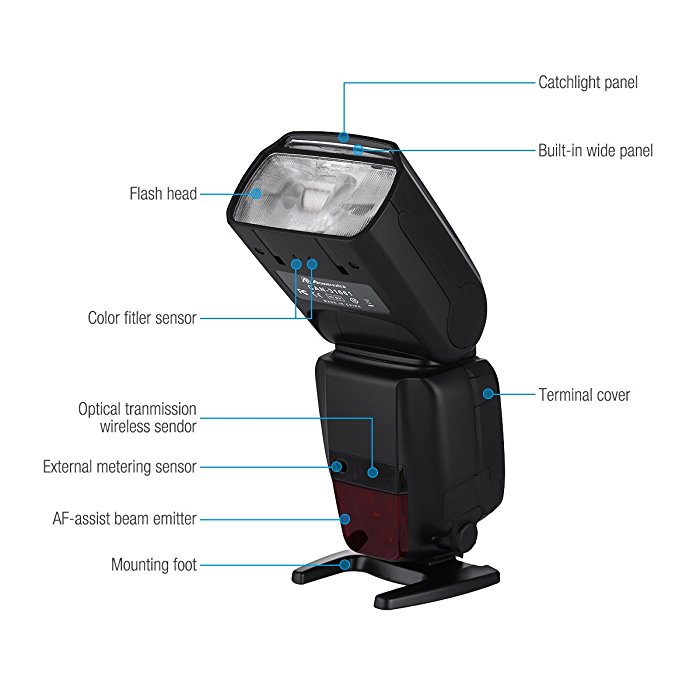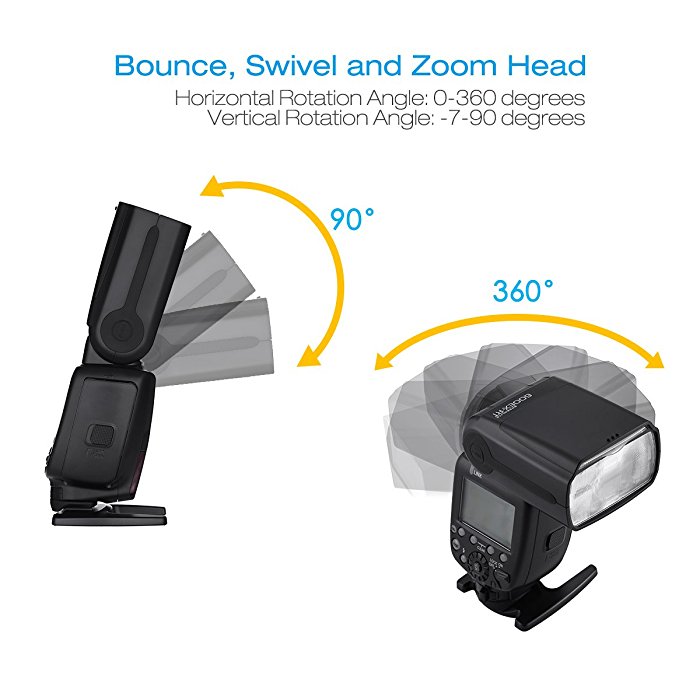 Professional 600EX-RT Speedlite Flash
Powerextra Speedlite 600EX-RT 2.4GHz Wireless Flash has excellent compability with Canon 600EX-RT and other Canon digital SLR cameras. It supports 2.4GHz wireless flash with high guide No. 60(ISO 100/1 meter). It has useful head rotation for flexible vertical and horizontal rotating angles. This professional 600EX-RT Speedlite Flash with multiple functions is a good helper for different shooting styles.
Specification:
Circuit design:insulated gate bipolar transistor(IGBT)
Guide No:60 (ISO 100/1 meter)
Flash mode:Canon E-TTL II, E-TTL, M, MULTI, Ext A, Ext M
High-Speed Sync 1/8000s
Wireless mode:Canon wireless TTL,S1,S2
Wireless slave groups:3 group(A,B and C)
2.4G Wireless channel: 1-16
Flash coverage: 20-200mm
Vertical angle:-7~90 angle
Horizontal angel:0~360 angle
Internal power:four size-AA batteries
Battery life:110-2000 flashes
Recycle time: normal flash approx 0.1-5.5 sec, quick flash approx 0.1-3 sec
Dimensions:78.0*146.0*118.5mm
Weight:390g
Package Contents:
Powerextra 600EX-RT Flash light x1
Protection bag x1
Mini stand x1
Instruction manual x1
Warranty Policy:
● The brand new high-quality replacement batteries are totally guranteed of real specification.
● Free Exchange against man-made damage from date of purchase & 30 days' refund unconditionally for every purchase from Powerextra.
● Professional technical support, efficient and timely satisfactory customer service around the clock.