产品描述
Powerextra Black and Decker Cordless Battery Replacement 14.4V 4000mAh
CE Certified Black & Decker Drill Battery:
This replacement power tool battery has dependable battery quality and specification to meet original Black & Decker drill battery's standards.
The battery replacement is approved by CE for its 4000mAh capacity, 14.4 volts and 100% compatibility with OEM products.
The rechargeable Ni-MH battery provides long lasting power for Black & Decker cordless drill with long service life.
The battery has a solid, lightweight design for easy installation for power tools.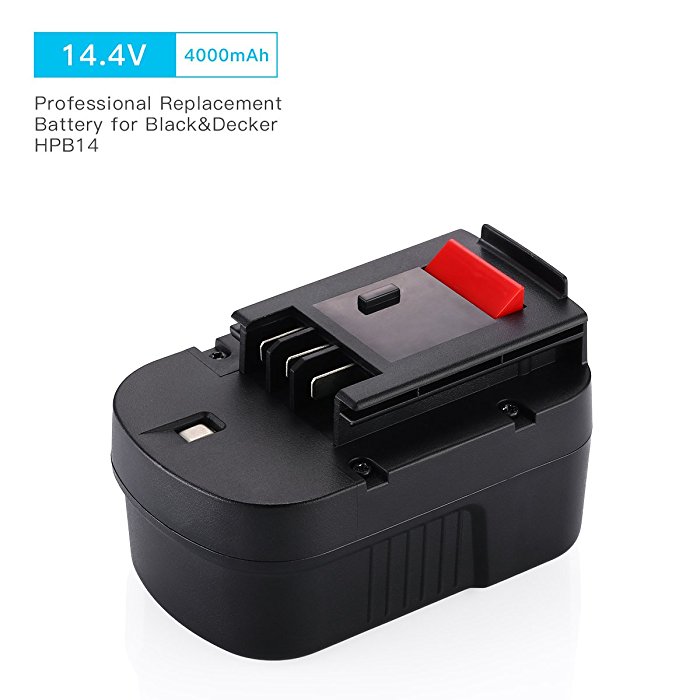 Total Protection :
This cordless drill battery has been fully tested for great reliability. It's highly efficient and safe for Black & Decker power tools. You can recharge it conveniently with no memory effect on it. The battery can protect itself from overload, over heating and short-circuit due to the integrated fail-safe microchip.
Compatible Models:
BLACK&DECKER: BD146F3, BDG14SF-2, BDGL1440, BDGL14K-2, CD142SK, CD14SFK, CDC140AK, CDC1440K, CP14K,CP14KB, EPC142K2, EPC146, EPC146BK, EPC148BK, EPC148CBK, EPC14CA, EPC14CAB, EPC14CABK, EPC14K2,FS146F4, GC1440, HP142K, HP142KD, HP146F2, HP146F2B, HP146F3B, HP146F3K, HP146FBH, HP148F2, HP148F2B,HP148F2K, HP148F2R, HP148F3B, HP148F3K, HP14K, HP14KD, HPD1400, HPD14K-2, HPS1440, KC2002F, KC2002FK, NM14, PS142K, PS142KB, PS14K2, R143F2(Radio), RD1440K, RD1441K, SS14, SX4000, SX5500, SX6000, SX7000, SX7500, SXR14, XTC143BK, FIRESTORM: BD14PSK, FS1400D, FS1400D-2, FS1402D, FS14PS, FS14PSK
Replacement Part Numbers:
499936-34, 499936-35, A14, A144, A144EX, A14F, B-8316, BD1444L, BPT1048, HPB14, FIRESTORM FS140BX, FSB14
Replacement Battery Specification:
Battery Capacity: 4000mAh
Battery Voltage: 14.4 V
Battery Type: Ni-MH
Condition: Brand New Replacement
Weight: 1.76lb
Size: 4.3*2.8*2.8 inches