产品描述
Multi-purpose Household Tool:
High Speed Steel-made bits: Made by HSS( High speed steel ) which is composed of several kinds of carbide, it is made to withstand higher temperatures without losing its hardness and toughness, this property also allows HSS to cut faster than high carbon steel.
135-degree Split Point and Two-flute Design:The drill bit point is designed as X-shape with 135 degree, which can prevent the drill slipping while working in high speed. two-flute design make bits performance optimized for providing a faster and smoother cutting.
Titanium Coating: Titanium coating protects the drill bits from corrosion and rust,making it easily to do multiple drills on surfaces with less friction such as plastic, aluminum, copper, stainless steel, and other types of sheet metal.
50 Sizes in 5 pieces Drill bits: The bits set includes five standard step drill bits that are able to replace 50 individual drill bits and process 50 different kinds of diameter holes, compatibility with 1/4, 3/8 and 1/2 inches. chuck sizes.
Universal Usage: With several sizes of bits, those bits will be used for plenty of installations in stainless steel sheet, aluminum alloy, plastic material and wood.
Automatic Center Punch&Aluminum Case: The center punch helps you mark the center point that you want to drill, An exquisite aluminum case protects the drill bits from outside factors and keeps a longer lifespan.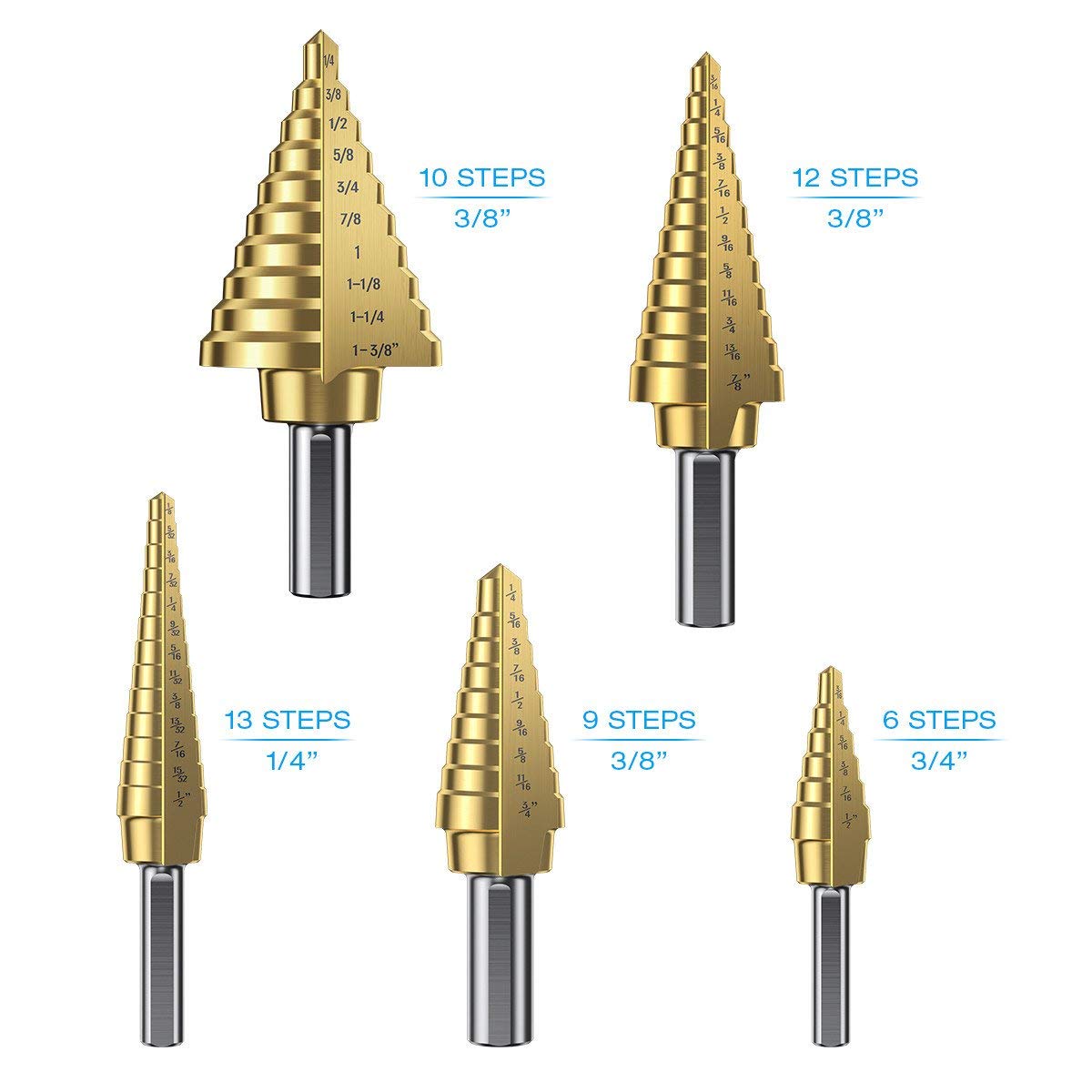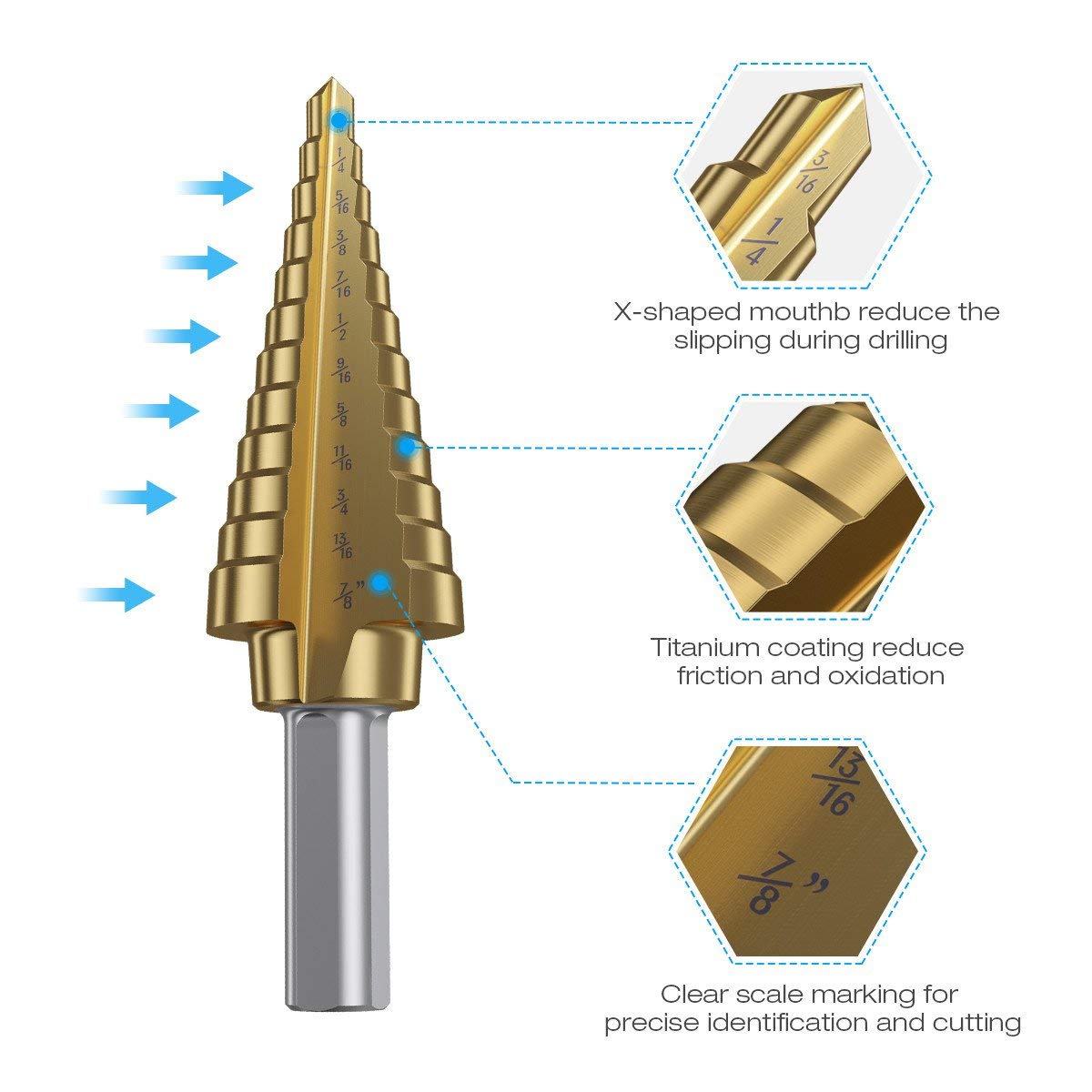 Size:
3/16"-7/8" Steps (3/16",1/4",5/16",3/8",7/16",1/2",9/16",5/8",11/16",3/4",13/16",7/8");
1/8"-1/2" Steps (1/8",5/32",3/16",7/32",1/4",9/32",5/16",11/32",3/8",13/32",7/16",15/32",1/2");
1/4"-1-3/8 " Steps (1/4",3/8",1/2",5/8",3/4",7/8",1",1-1/8",1-1/4",1-3/8");
1/4"-3/4" Steps (1/4",5/16",3/8",7/16",1/2",9/16",5/8",11/16",3/4");
3/16"-1/2" Steps (3/16",1/4",5/16",3/8",7/16",1/2").
Note:
It's recommended that adding water to cool the drill bit before use.
It suits for most steel sheets, aluminum sheets, copper / plastic / wood board, does not work for porcelain, ceramic, cultured marble, natural stone or concrete of any sort.
Contents
5 x Step Drill Bits
1 x Automatic Center Punch
1 x Aluminum Case
1x User Manual
1x Feedback Card
Warranty Policy:
● The brand new high-quality replacement batteries are totally guranteed of real specification;
● Free Exchange against man-made damage from date of purchase & 30 days' refund unconditionally for every purchase from Powerextra;
● Professional technical support, efficient and timely satisfactory customer service around the clock.