产品描述
Powerextra LP-E6 Replacements Batteries with Battery Charger Kit  :
This comb includes batteries and battery charger, used specially to charge for NP-45 battery, the charger operates on 100-240VAC power for worldwide use, which are perfect items for extended camera shooting time without annoyance, designed with 2 charging slots, the battery charger can provide a good solution to charging double batteries simultaneously, always keep your camera powerful and get ready for shooting fun. The LED display offers a good indication of the charging process of battery.
A convenient USB port allows you to charge batteries with multiple power source, such as wall outlet via an adapter, USB compatible power bank.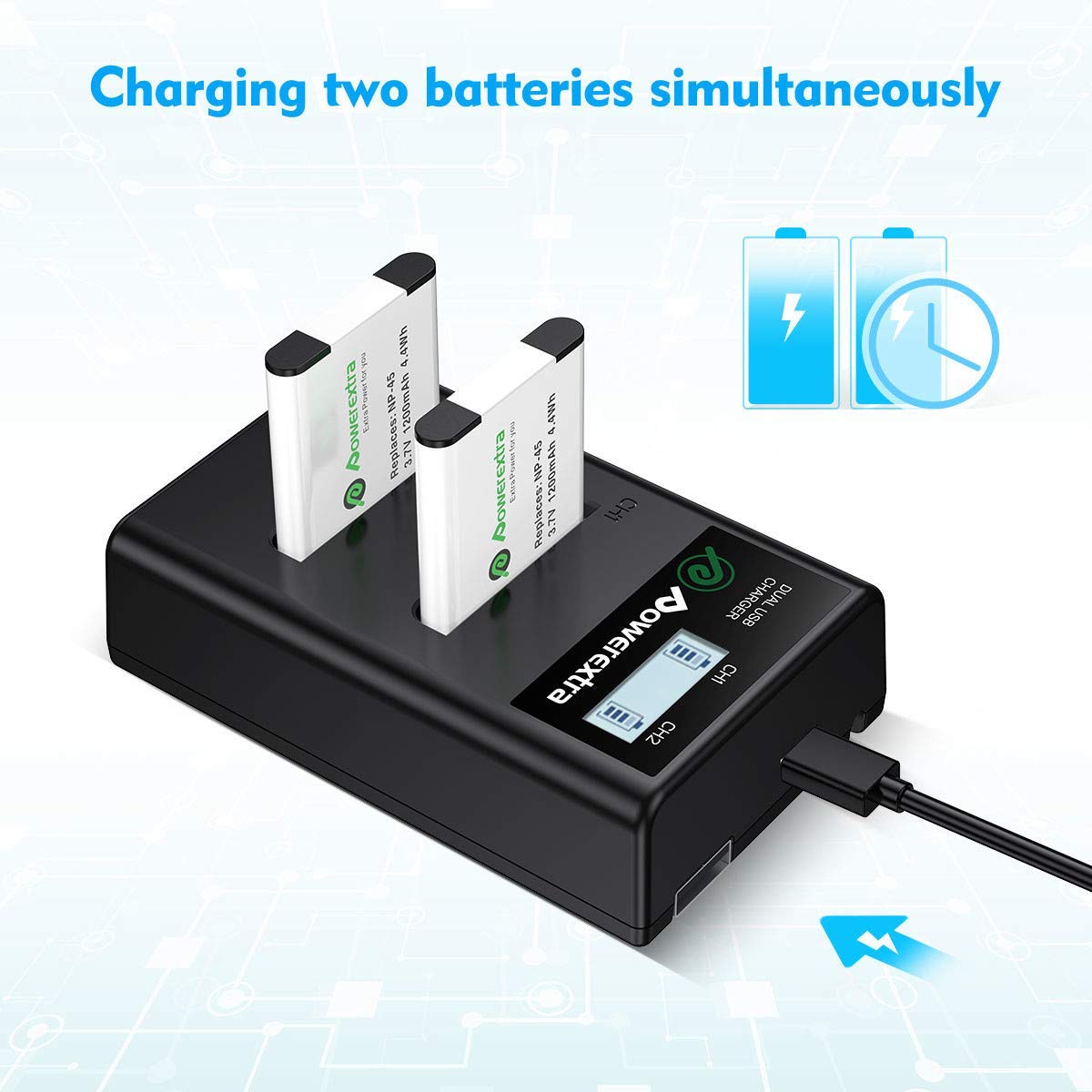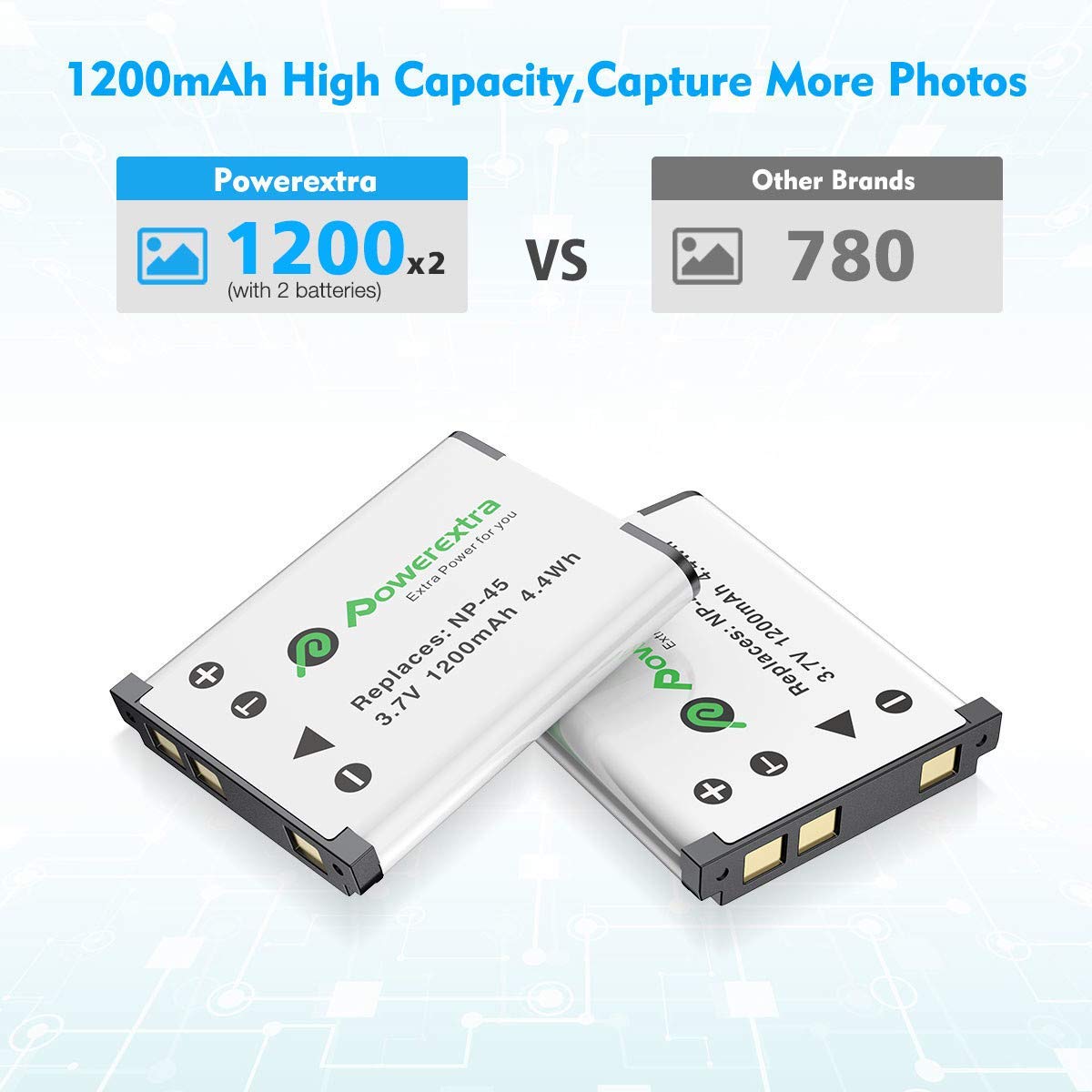 Specification and Compability:
Battery Specification:
Battery Type: Lithium
Battery Capacity: 1200mAh
Battery Voltage: 3.7V
Dimensions: 6.1 x 3.9 x 1.6 inches
Net Weight: 5.9 ounces
Compatible Battery:
Fujifilm NP-45, NP-45A, NP-45B, NP-45S
Compatible Models:
Fujifilm INSTAX Mini 90
Fuji FinePix J10, J12, J15, J15fd, J20, J25, J26, J27, J30, J35, J38, J40, J100, J110W, J120, J150W, J210, J250
JV100, JV105, JV150, JV155, JV160, JV200, JV205, JV250, JV255
JX200, JX205, JX250, JX255, JX280, JX300, JX305, JX350, JX355, JX360, JX370, JX375, JX380, JX400, JX405, JX420, JX500, JX520, JX530, JX540, JX550, JX580, JX590, JX660, JX680, JX700, JX710
JZ100, JZ110, JZ200, JZ250, JZ260, JZ300, JZ305, JZ310, JZ500, JZ505, JZ700
L30, L50, L55,
T200, T205, T300, T305, T310, T350, T360, T400, T410, T500, T510, T550, T560
XP10, XP11, XP15, XP20, XP21, XP22, XP30, XP31, XP50, XP60, XP70
Z10fd, Z20fd, Z30, Z31, Z33WP, Z35, Z37, Z70, Z71, Z80, Z81, Z90, Z91, Z100fd, Z110, Z115, Z200fd, Z250fd, Z300, Z700EXR, Z707EXR, Z800EXR, Z808EXR, Z900EXR, Z909EXR, Z950EXR, Z1000EXR, Z1010EXR
Content:
2x NP-45A Replacement Batteries
1x Smart LCD Display Dual Charger
1x Mirco USB Cable
1x Microfiber Cleaning Cloth
1x Usser Manual
1x Feedback Card
Warranty Policy:
● The brand new high-quality replacement batteries are totally guranteed of real specification.
● Free Exchange against man-made damage from date of purchase & 30 days' refund unconditionally for every purchase from Powerextra.
● Professional technical support, efficient and timely satisfactory customer service around the clock.