产品描述
Outstanding Features:
Powerextra Rechargeable Li-ion Batteries and battery charger kit for Sony NP-F970 battery. Using a USB 2.0 plug for connecting to a computer or wall charger. Charger is able to charge two original batteries or replacement batteries at the same time, built-in LED indicator turns on when charging, off when the battery is completely charged, and blinks when an error is detected.
Those battery packs are suitable as either a replacement for your lost battery or spares for when you need extra juice. Additionally the product weighs lightweight.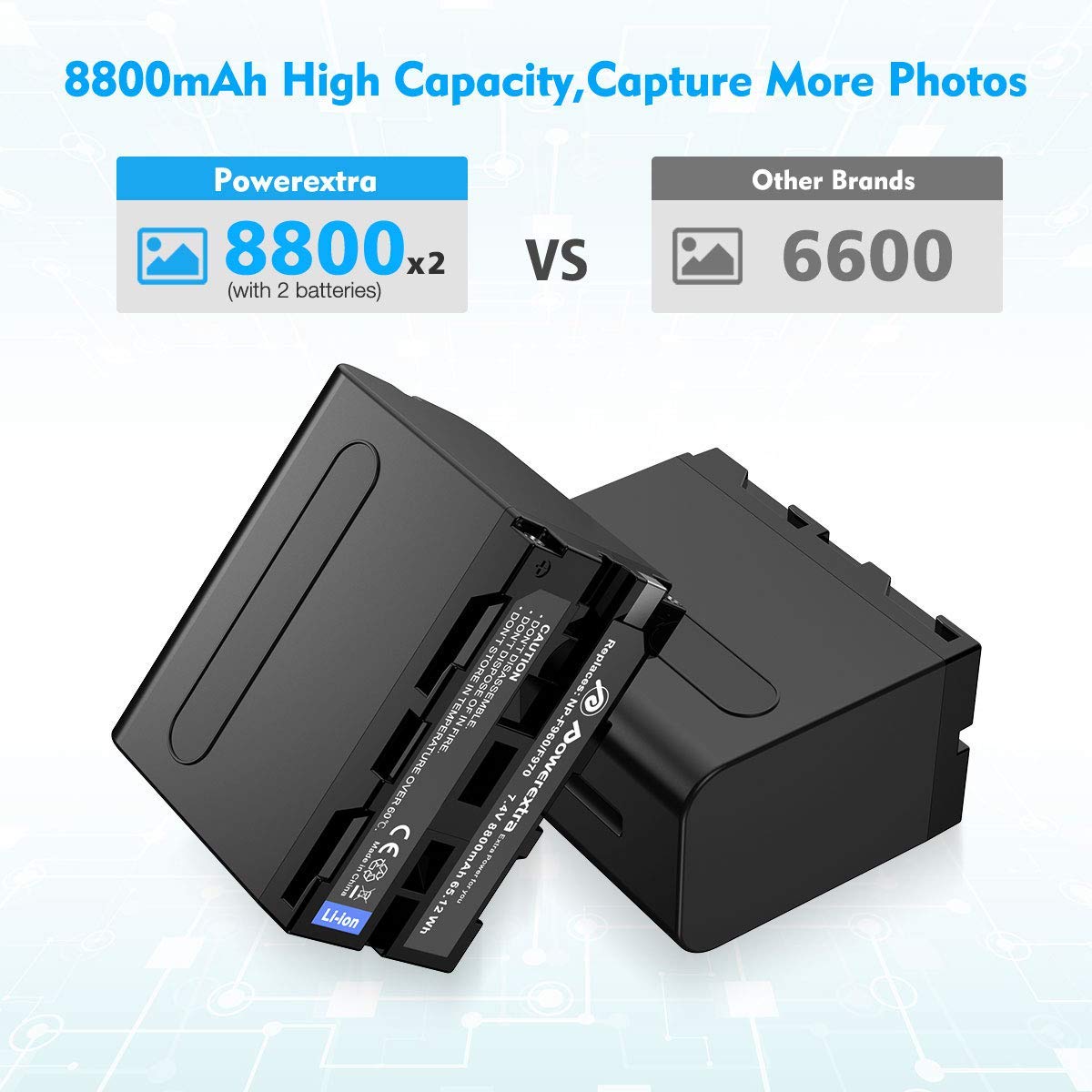 ]
Product Specification :
Battery Specification:
Battery Type: Li-ion
Battery Capacity: 8800mAh
Battery Voltage: 7.4V
Charger Specification:
Model: DS-F970
Input: Micro USB 5V/2A
Output voltage: DC/ 8.4V
Output Current: 800mA
Package Contents:
2x Replacement Sony NP-F970 Batteries
1x Smart LCD Display Dual Charger
1x 1M Mirco USB Cable
1x Microfiber Cleaning Cloth
1x User Manual
1x Feedback Card
Compatible Canon Models:

Sony CCD-RV100, CCD-RV200, CCD-SC5, CCD-SC5/E, CCD-SC55E, CCD-SC55, CCD-SC6, CCD-SC65, CCD-SC7, CCD-SC7/E, CCD-SC8/E, CCD-SC9, CCD-TR1, CCD-TR11, CCD-TR1100E, CCD-TR12, CCD-TR18, CCD-TR18E, CCD-TR1E, CCD-TR2, CCD-TR200, CCD-TR205, CCD-TR215, CCD-TR2200E, CCD-TR2300, CCD-TR2300E, CCD-TR280PK, CCD-TR290PK, CCD-TR3, CCD-TR300, CCD-TR3000, CCD-TR3000E, CCD-TR3100E, CCD-TR311E, CCD-TR315, CCD-TR315E, CCD-TR317, CCD-TR3200E, CCD-TR3300, CCD-TR3300E, CCD-TR411E, CCD-TR412E, CCD-TR413, CCD-TR414, CCD-TR415E, CCD-TR416, CCD-TR417, CCD-TR417E, CCD-TR425E, CCD-TR427, CCD-TR427E, CCD-TR500, CCD-TR511E, CCD-TR512E, CCD-TR515E, CCD-TR516, CCD-TR516E, CCD-TR517, CCD-TR555, CCD-TR57, CCD-TR610, CCD-TR617, CCD-TR617E, CCD-TR618, CCD-TR618E, CCD-TR640E, CCD-TR67, CCD-TR710, CCD-TR713E, CCD-TR716, CCD-TR717, CCD-TR717E, CCD-TR718, CCD-TR718E, CCD-TR728, CCD-TR728E, CCD-TR730E, CCD-TR76, CCD-TR760E, CCD-TR810E, CCD-TR818, CCD-TR840E, CCD-TR845E, CCD-TR87, CCD-TR910, CCD-TR913E, CCD-TR917, CCD-TR918, CCD-TR918E, CCD-TR930, CCD-TR940, CCD-TR97, CCD-TRV15, CCD-TRV16.