产品描述
Ni-MH Cordless Power Batteries for Ryobi tools
Outstanding Features:
— Newly-designed NiCd rechargeable battery with 3500mAh capacity, 18 volts;
— Integrated microchip prevents from overcharging to prolong the battery life;
— Rapid completion of the charging process without memory effect, convenient and fast charging;
— The replacement battery is CE certified and tested by manufacturer to match OEM products;
— A pair of gloves for protecting your hand while using power tool are attached.
Powerextra Battery Advantages
● The battery has no memory effect. The battery can be charged or discharged as needed without loss of capacity.
● The replacement battery's functions and quality are the same as the original products.
● The battery is equipped with the highest quality cells, safe with rapid-charge technology with overcharge and overdischarge protection to prolong the battery's lifespan.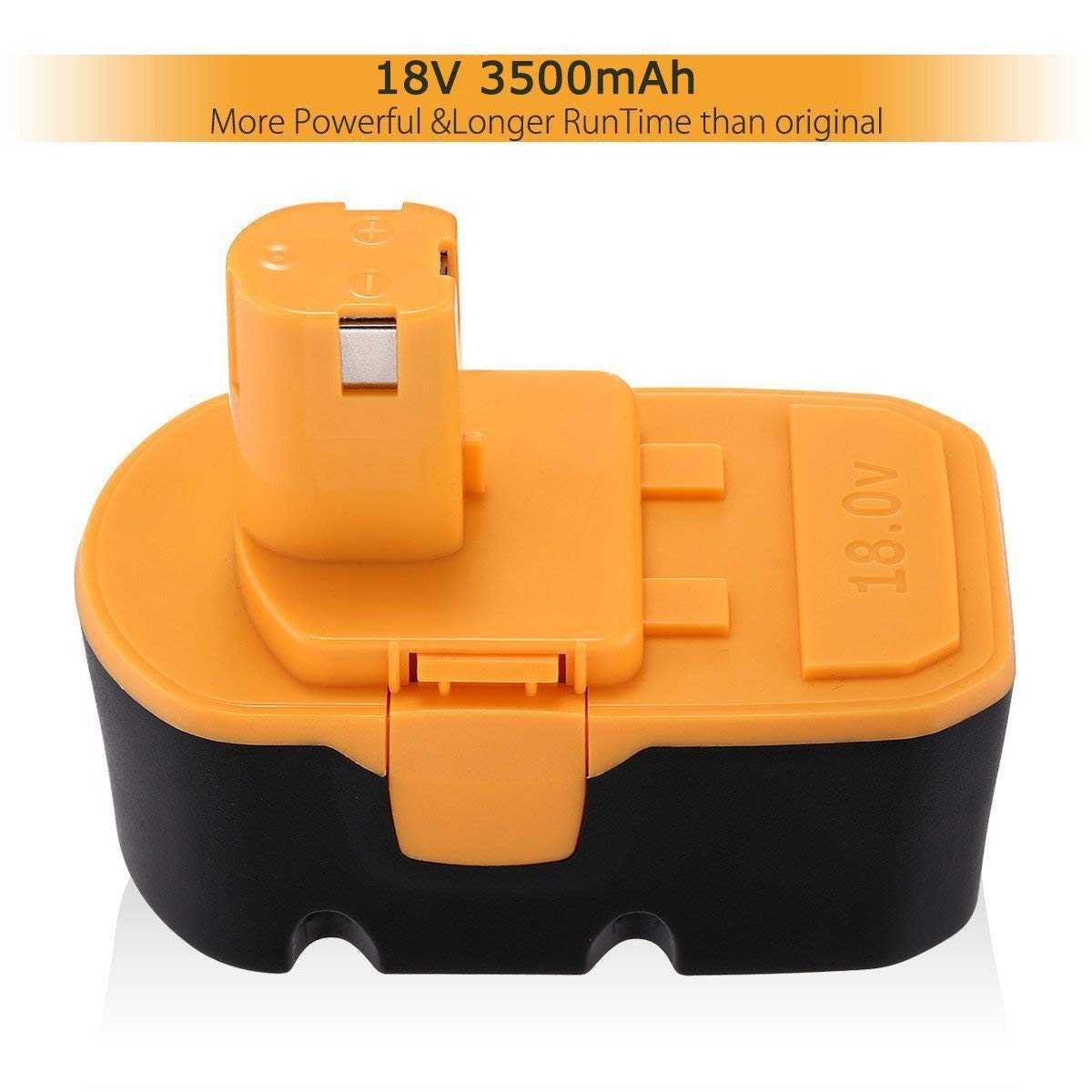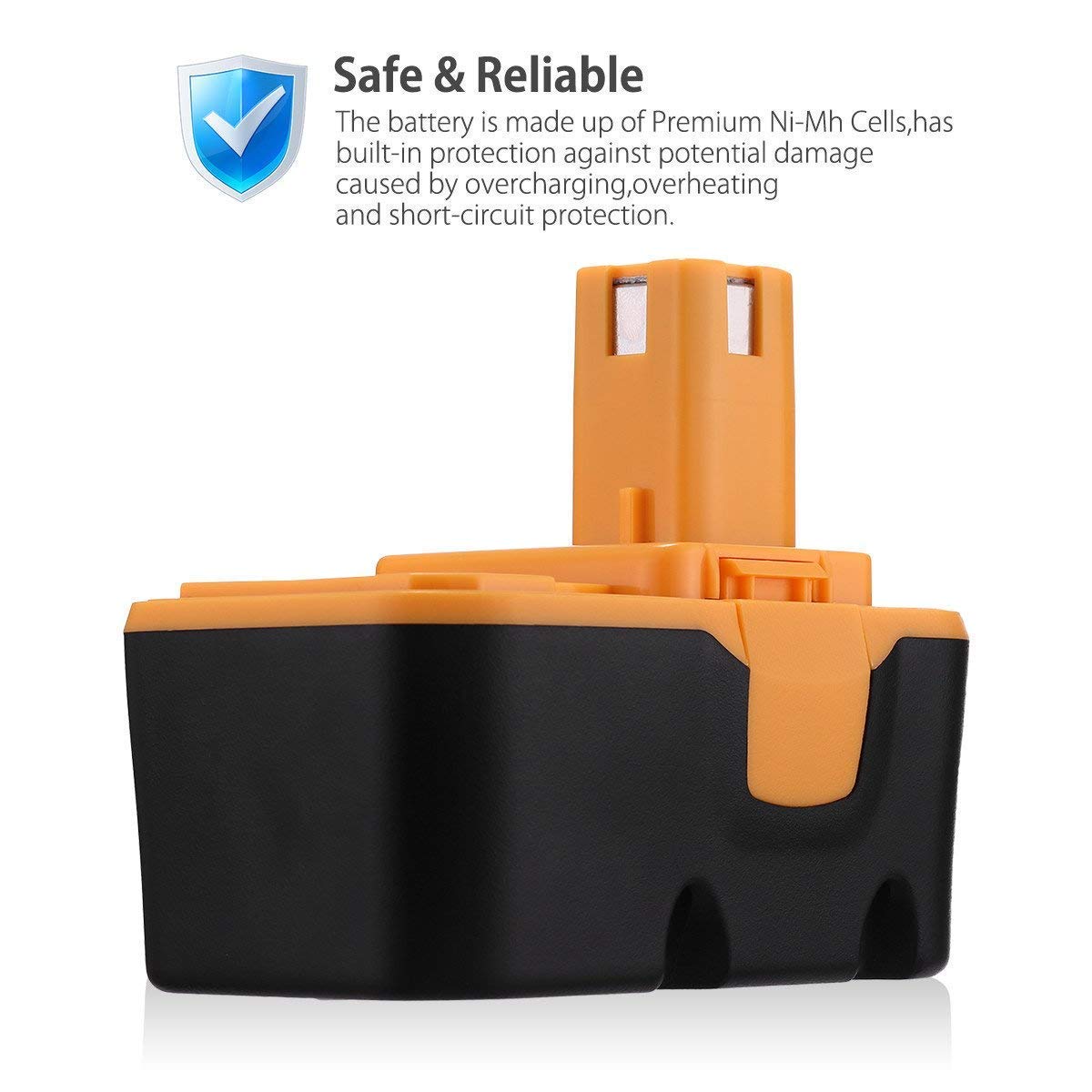 Replacement Part Numbers & Compatible Models:
Replacement Part Numbers:
ABP1801, ABP1803, BCP1817/2SM, BPP-1813, BPP-1815, BPP-1817, BPP-1817/2, BPP-1817M, BPP-1820
Compatible Models:
(Please copy these in a text and use Ctrl+F to search a certain model)
BID-1801M, BID-180L
Ryobi C Series:
CAD-180L, CAG-180M, CAP-1801M, CCC-1801M, CCD-1801, CCG-1801M, CCS-1801/DM, CCS-1801/LM, CCS-1801D, CCW-180L, CDC-181M, CFA-180M, CFP-180FM, CFP-180S, CFP-180SM, CHI-1802M, CHP-1802M, CHV-180L, CHV-18WDM, CJS-180L, CJS-180LM, CJSP-1801QEOM, CJSP-180QEO, CJSP-180QEOM, CMD-1802, CMD-1802M, CMI-1802, CMI-1802M, CNS-1801M, CNS-180L, CP-180M, CPD-1800, CPL-180M, CRA-180M, CRO-180M, CRP-1801, CRP-1801/DM, CRP-1801D, CRS-180L, CSL-180L, CSS-1801M, CSS-180L, CST-180M, CW-1800.
Ryobi P Series:
P200, P210, P2100, P211, P220, P230, P240, P2400, P2500, P2600, P300, P301, P310, P3200, P3300, P400, P410, P420, P430, P500, P501, P510, P520, P521, P530, P540, P600, P610, P700, P710, P730, P740.
Ryobi CDI Series:
CDI-1801, CDI-1802, CDI-1802M, CDI-1803, CDI-1803M.
Ryobi CID Series:
CID-1802M, CID-1803L, CID-1803M, CID-182.
Package Contents:
2x  Ryobi power tools batteries;  1 x pair of gloves.
Warranty Policy:
The brand new high-quality replacement batteries are totally guranteed of real specification;Free Exchange against man-made damage from date of purchase & 30 days' refund unconditionally for every purchase from Powerextra; Professional technical support, efficient and timely satisfactory customer service around the clock.