产品描述
Replacement Batteries for Canon NB-6L, NB-6LH:
— Upgraded Li-ion rechargeable batteries 3.7V 1800mAh, ultra-high capacity replacement batteries for Canon NB-6L, NB-6LH.
— Replacement Canon NB-6L / NB-6LH. 100% Compatible with the CANON PowerShot SX710 HS, SX530 HS, SX520 HS, SX510 HS etc.
— High grade digital battery with advanced lithium technology ensures maximum battery life and power. It has no memory effect or other negative effects in recharging when it's partially drained.
— Fully decoded, you can check the remaining capacity, shutter count and recharge performance on the cameras power source info screen.
Fully Tested & Verified Batteries
As a professional manufacturer of digital batteries, Powerextra focuses on the stability, safety and compatibility of replacement batteries. Powerextra batteries enjoy a good reputation and remarkable sales on account of premium manufacturing materials, demanding tests and reliable product verfitication. All strict production processes ensure complete compatibility with OEM products.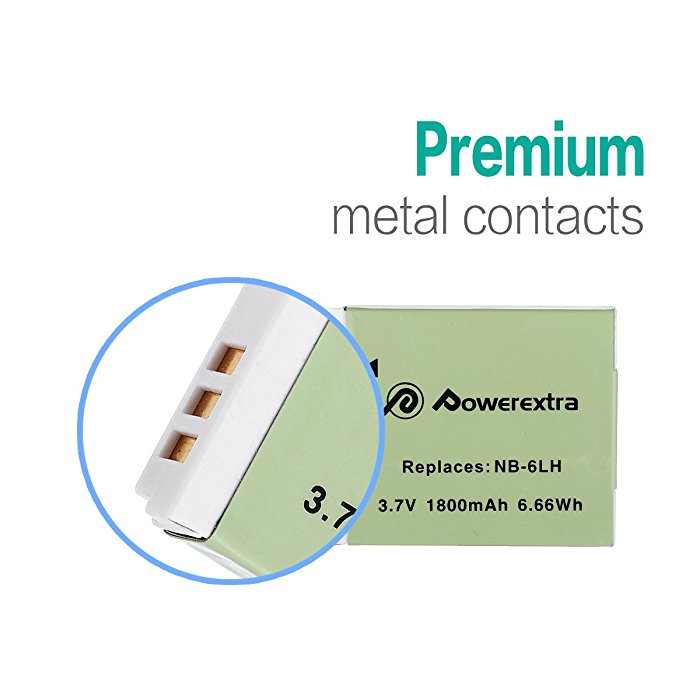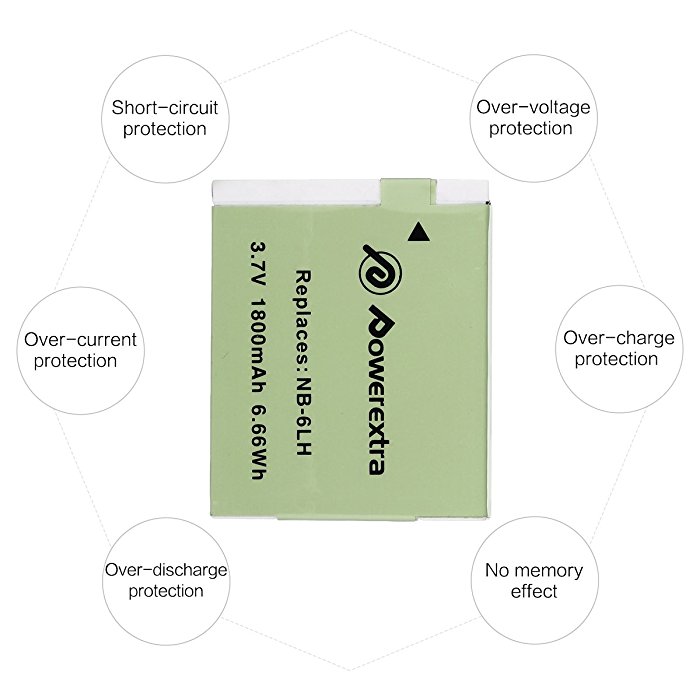 Product Specifications:
Battery Capacity: 1800mAh
Battery Voltage: 3.7V
Battery Type: Li-ion
Condition: Brand New High Quality
Compatible Models:
Compatible Battery:Canon NB-6L/ NB-6LH
Compatible Model: CANON PowerShot SX510 HS, SX500 IS, SX700 HS, SX280 HS, SX260 HS, SX170 IS, D10, D20, D30, ELPH 500 HS, S90, S95, S120, SD770 IS, SD980 IS, SD1200 IS, SD1300 IS, SD3500 IS, SD4000 IS, SX240 HS, SX270 HS, SX520 HS, SX530 HS, SX600 HS, SX610 HS, SX700 HS
Package Contents:
2 x Replacement Canon NB-6LH Battery
Warranty Policy:
● The brand new high-quality replacement batteries are totally guranteed of real specification.
● Free Exchange against man-made damage from date of purchase & 30 days' refund unconditionally for every purchase from Powerextra.
● Professional technical support, efficient and timely satisfactory customer service around the clock.