产品描述
Outstanding Features:
— Latest LED-driven technology: high-quality built-in 330 LEDs Light Panel for Canon Nikon Pentax Samsung Fujifilm Olympus Panasonic Ricoh and other brands DSLR Cameras. Camcorder Video Light Panel, maximun power: 25W, light illumination: 2500 lux/1m; Package includes a diffuser and 2 filters: Orange and Purple.
— 2.4 GHz wireless remote control: it has a smart button to easily adjust brightness and color temperature from 3200K to 5600K within 15 meters distance.
— Adjustable brightness from 10% to 100%: press ascending or descending button to increase or decrease brightness by 10%. — Adjustable color temperatures from 5600K to 3200K: it will create some extraordinary diffusion effects in different environments.
— 3 channels available: CH1, CH2 and CH3; Pressing the "power/mode"button will circularly switch the 4 modes: fast flicker, slow flicker, SOS, constant lighting.
— Power Supply: Sony NP-F970, NP-F750, NP-F770, Sony NP-F330, NP-F950, NP-F960, Sony NP-F550, NP-F530, NP-F570, — Sony NP-F930/B, NP-F970/B, NP-F950/B and Extrnal DC Adaptor (12V/2A).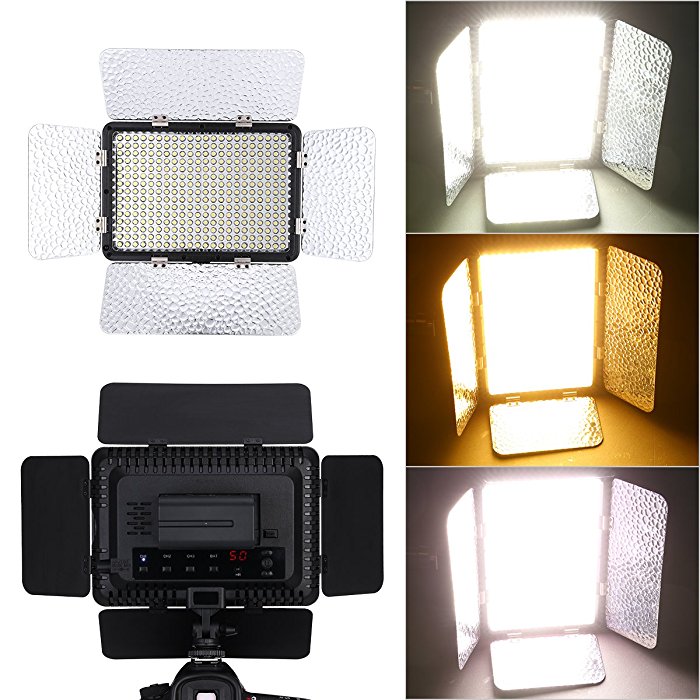 Product Specification
LED Quantity: 330 pcs
Power: 5-25W
Color Temperature: 5600K/3200K
Channel: 3 (CH1, CH2, CH3)
Lighting Angle: 60℃
Operation Temperature: -10℃-50℃
Remote Distance: 15 metre
DC Adaptor: 12V/2A
Item Size:18.0 * 12.7 * 3.3cm/ 7.08 * 5.0 * 1.29 inch
Package Size: 19.5 * 16 *8cm/ 7.6 * 6.3 * 3 inch
Lifespan: over 50,000 hours
Package weight: 600g
Power Supply Options:
Sony NP-F970, NP-F750, NP-F770
Sony NP-F330, NP-F950, NP-F960
Sony NP-F550, NP-F530, NP-F570
Sony NP-F930/B, NP-F970/B, NP-F950/B
Rechargeable battery and 6 * AA Battery
Camcorder Video Light:
The LED-330 Video Light is a camera-mountable light for video camera, Digital SLR, tripod mount and other photo equipment that require an external illumination source. The built-in 160 individual dimable LEDs feature 2500 lux illumination and a rotatable switch to control the brightness. The standard cold-shore mount allows the LED-330 to directly mount on cameras, camcorders or other photographic devices. A ¼ inch mount screw design allows it to easily and stably mount on other camera mounting options, such as light stand, tripod, monpod, ball head et cetera.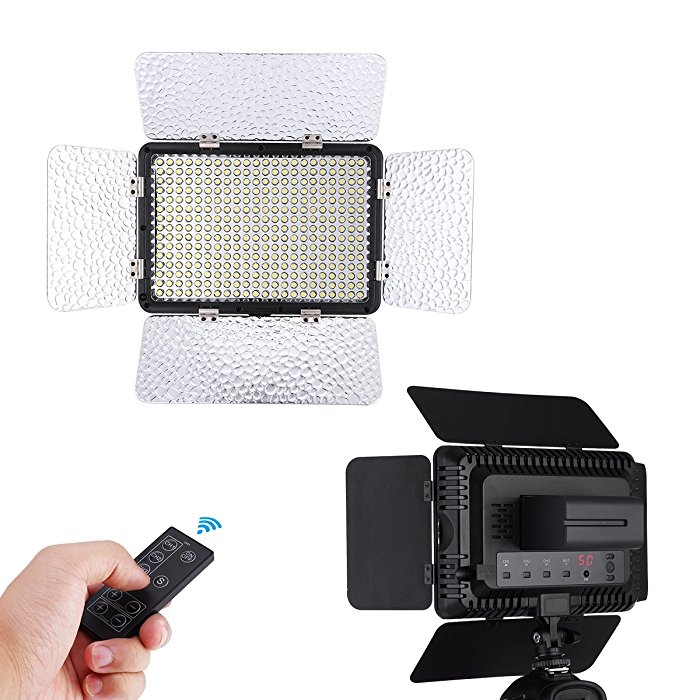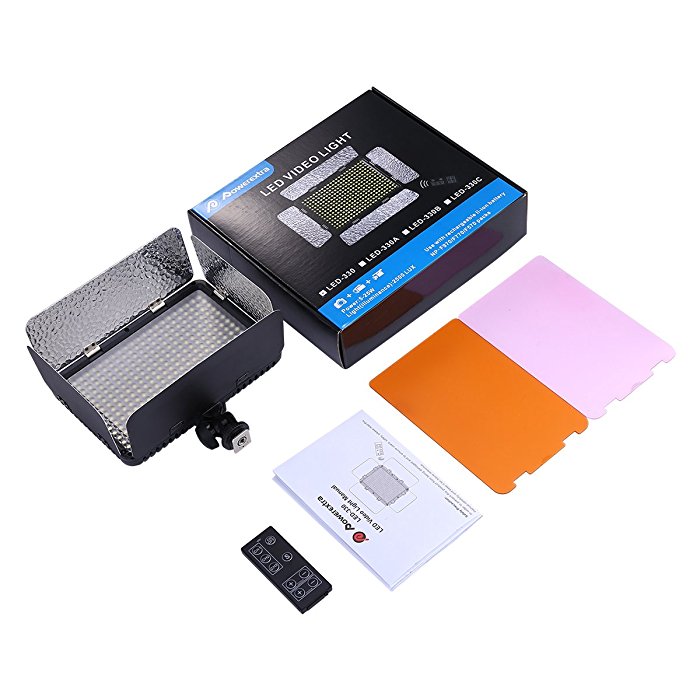 Package Contents:
1 * LED-330 LED video light
1 * Infrared Remote Control
1 * Diffuser
2 * Filter (Orange, Purple)
1 * User Manual in English
Warranty Policy:
● The brand new high-quality replacement batteries are totally guranteed of real specification.
● Free Exchange against man-made damage from date of purchase & 30 days' refund unconditionally for every purchase from Powerextra.
● Professional technical support, efficient and timely satisfactory customer service around the clock.