Product Description
Outstanding Features:
— Rechargeable lithium-ion battery for Sony NP-F960, NP-F975, NP-F970 or NP-F950
— Rated at 7.4V and 6600mAh for stable power supply and longer battery life.
— Premium cells for greater battery longevity with no memory effect.
— Fully compatible with Sony camcorder and Sony charger.
— With USB output as power bank can charger all smartphones.
Multifunctional Battery Pack
The newly-designed battery back is more than just a replacement battery for Sony camcorders. The multifunctional and multipurpose battery pack also works as a USB-enabled power bank. Other than the power supply for Sony equipment, it also serves all your USB devices on the go.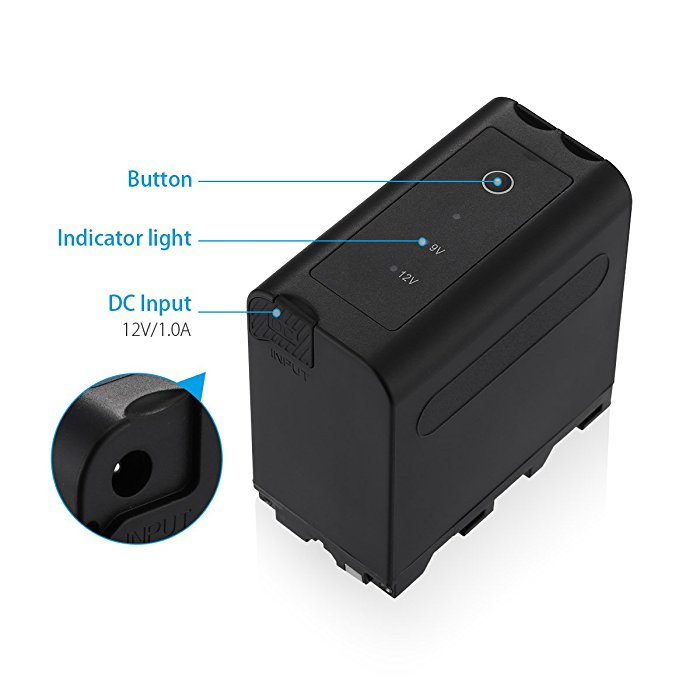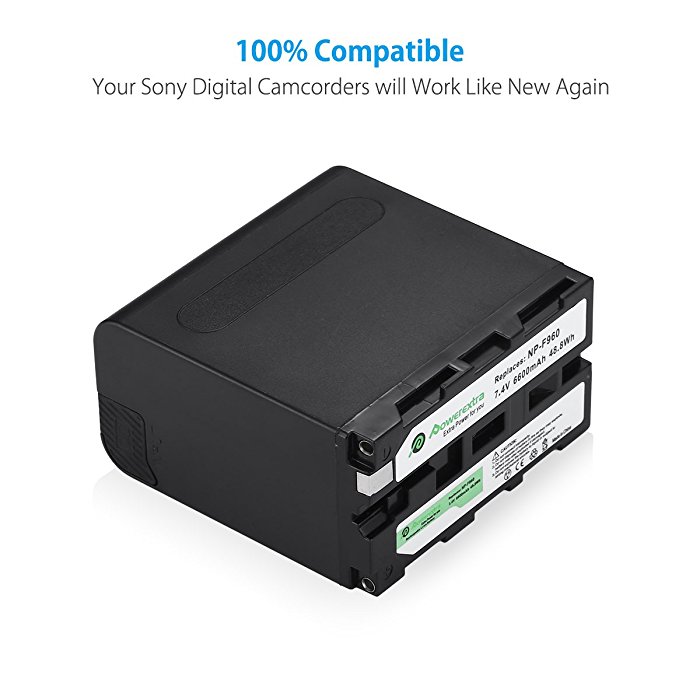 Professional Sony Camcorder Replacement Battery
This Powerextra Multifunctional Battery Pack is a professional replacement battery for Sony NP-F975, NP-F970, NP-F960, NP-F950 or NP-F930. The well-made Sony camcorder replacement battery is completely compatible with all Sony original equipment including Sony chargers. The camcorder battery pack is made up of premium battery cells to gurantee stable power supply and longer battery life.
Warranty Policy:
● The brand new high-quality replacement batteries are totally guranteed of real specification.
● Free Exchange against man-made damage from date of purchase & 30 days' refund unconditionally for every purchase from Powerextra.
● Professional technical support, efficient and timely satisfactory customer service around the clock.
Compatible Sony Digital Camercoder Models:( Please use Contrl + F in a text or WORD)
CCD-SC55, SC65,CCD-TR67,CCD-TR76,CCD-TR87,CCD-TR516, TR555,CCD-TR716, CCD-TR818,CCD-TR910,TR917,TR930,TR940, CCD-TR3000,CCD-TR3300,CCD-TRV15, CCD-TRV25,CCD-TRV36,TRV37,CCD-TRV41,TRV43,TRV46,CCD-TRV51,TRV57,TRV58, CCD-TRV62,TRV65,TRV66,TRV67,TRV68,CCD-TRV72,TRV75,CCD-TRV81, TRV82,TRV85,TRV87,TRV88,CCD-TRV90,TRV91,TRV93,TRV95,TRV98,TRV99,CCD-TRV101, CCD-TRV215,CCD-TRV615,CCD-TRV715,CCD-TRV815,DCR-SC100,DCR-TR7000,DCR-TRV7, DCR-TRV9,DCR-TRV110,TRV120,TRV130,DCR-TRV210,DCR-TRV310,TRV315,TRV320, DCR-TRV510,TRV520,TRV525,DCR-TRV720,DCR-TRV820,DCR-TRV900,DCR-VX2000, DCR-VX2100,FDR-AX1,GV-D200,GV-D700,HVL-LBPB,HDR-AX2000,HDR-FX1,HDR-FX7, HDR-FX1000,HVR-HD1000U,HVR-V1U,HVR-Z1U,HVR-Z5U,HVR-Z7U,HXR-MC2000U, HXR-NX5, NEX-EA50UH, NEX-FS100U, NEX-FS700U.