Product Description
Sony NP-F550/NP-F570 Replacment Batteries & Charger:
This camera battery charger combo includes 2-pack 2600mAh, 7.4 volts Li-ion replacement batteries for Sony NP-F550/NP-F570.
The replacement batteries are CE certified and tested by manufacturer to match OEM products.
These reliable replacement batteries and chargers are fully compatible with Sony CCD-RV100, CCD-RV200, SC5, SC9, TR1, TR940, TR917 Camera CN-160, CN-216 LED Video Light.
The 2-pack Sony NP-FH70 replacement batteries can be rapidly recharged wihout memory effect.
This Sony battery charger kit comes with a high-efficiency camera battery charger and a car charger adapter. The charger recharges batteries fast with DC4.2V, 600mA output.
Sony NP-F550 Battery Specification:
Battery Capacity: 2600mAh
Battery Voltage: 7.4V
Battery Type: Li-ion
Color: Black
Dimension: 3 x 2 x 1 inches
Weight: 4.3 ounces
Condition: Brand New High Quality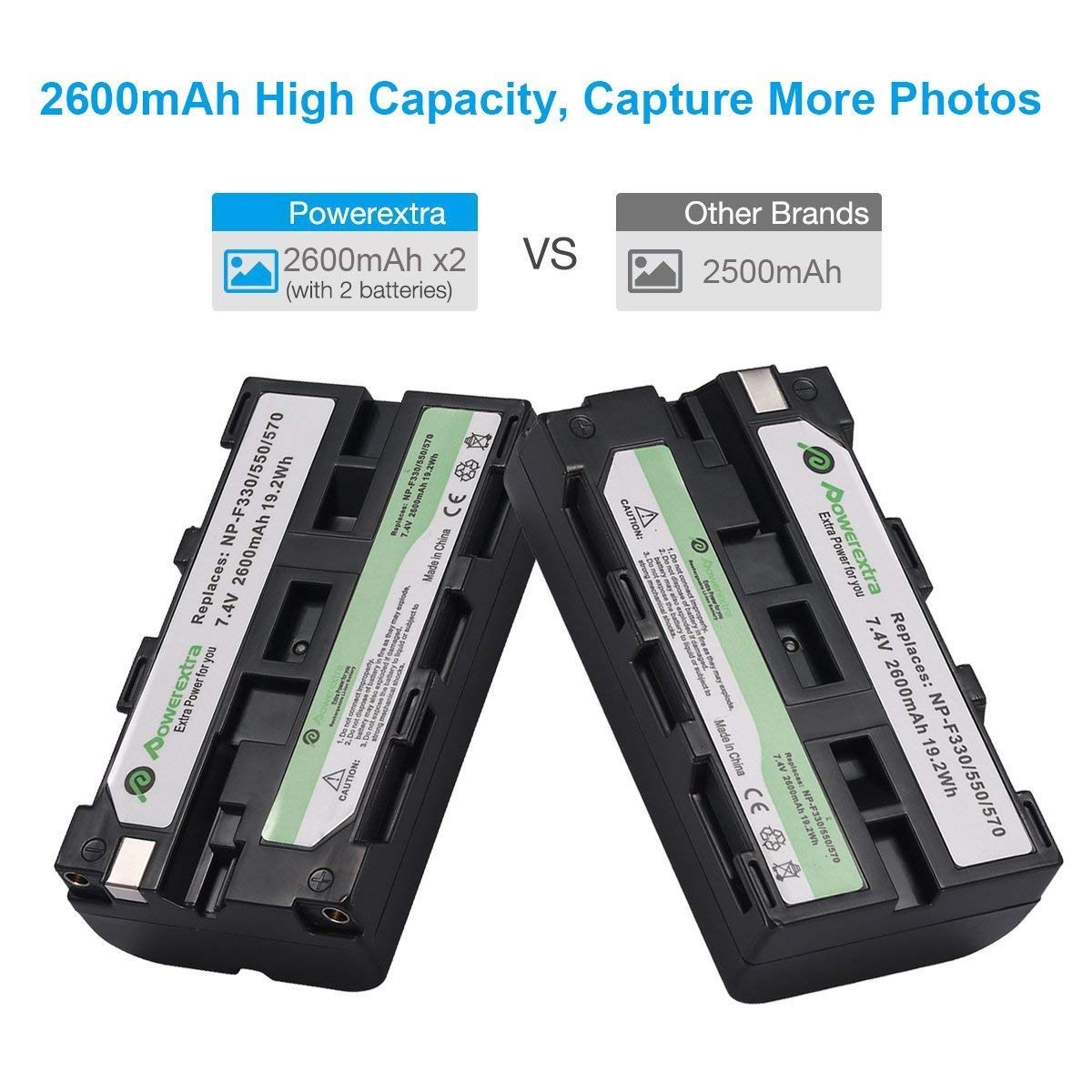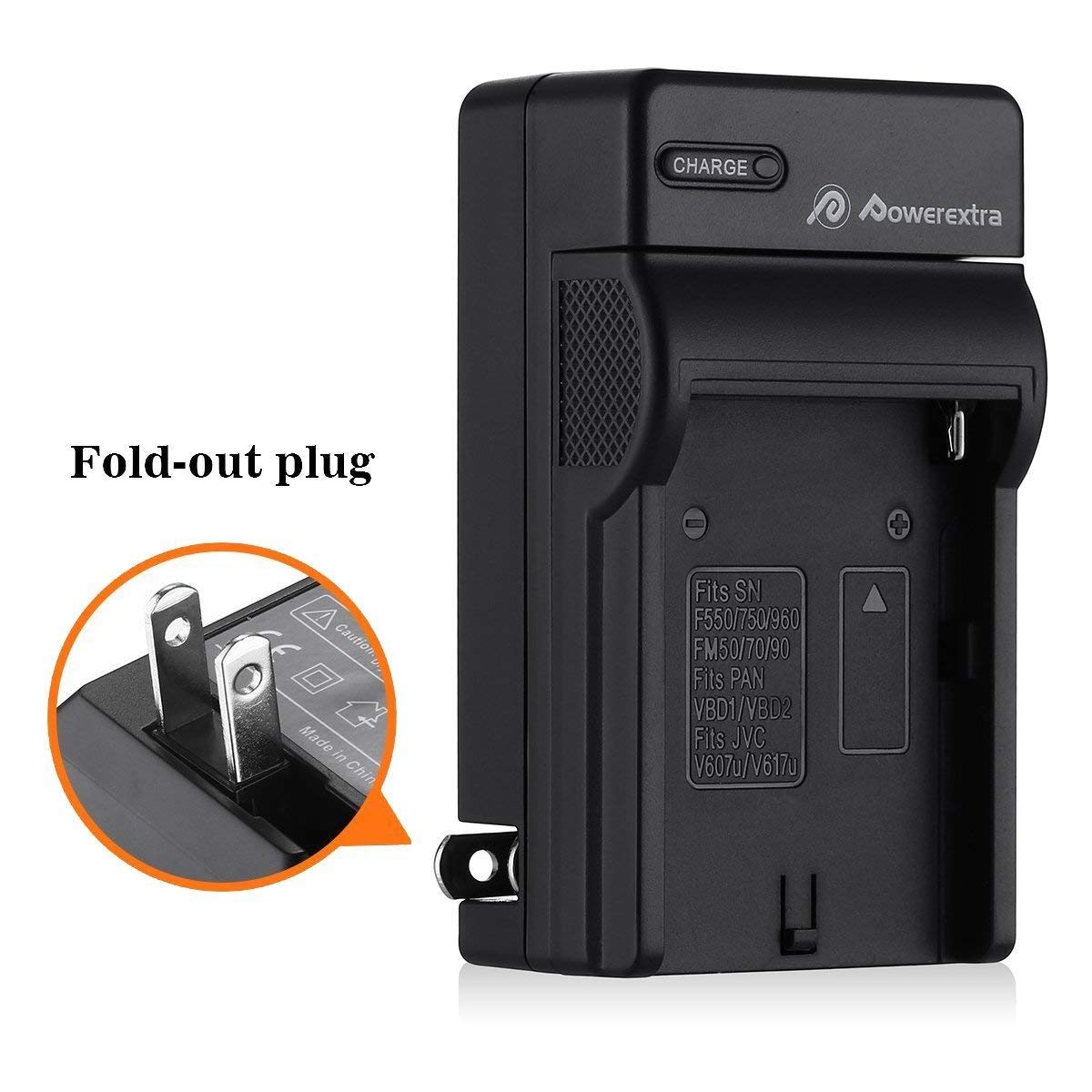 Powerextra Battery Advantages:
● Specifically designed for Sony NP-F550,  NP-F530 the recharageable replacement battery is CE certified and tested by manufacturer to match OEM products;
● The battery has no memory effect. The battery can be charged or discharged as needed without loss of capacity;
● The replacement battery's functions and quality are the same as the original products;
● The battery is equipped with the highest quality cells, safe with rapid-charge technology with overcharge and overdischarge protection to prolong the battery's lifespan.
Charger Specification:
Type: Wall Charger
INPUT: AC 100-240V 50/60Hz Max 150mA
OUTPUT: DC 4.4V, 600mA
Compatible Models:
(Please use Ctrl+F to search for a certain model)
Compatible Battery: Sony NP-F330, NP-F530, NP-F550, NP-F570 and Sony CCD-RV100, CCD-RV200, CCD-SC5, CCD-SC6, CCD-SC55, CCD-SC65, CCD-TRV66, CCD-TRV67, DCM-M1, DCR-SC100, DCR-TR7, DSC-CD250, DSC-CD400, DSC-D700, DSC-D770, D-V500, EVO-250, GV-A100, GV-A500, HDR-AX2000, HDR-FX7, HDR-FX1000, HVR-M10P, HVR-M10U, HVR-V1J, HVR-V1U, HVR-Z7U, HXR-NX5U.
Package Contents:
2 x Sony NP-F550 Replacement Battery
1 x Sony Camera Battery Charger
1 x Car Charger
Warranty Policy:
● The brand new high-quality replacement batteries are totally guranteed of real specification.
● Free Exchange against man-made damage from date of purchase & 30 days' refund unconditionally for every purchase from Powerextra.
● Professional technical support, efficient and timely satisfactory customer service around the clock.