产品描述
Powerextra Battery Grip and EN-EL14 Batteries:
This quick-release battery grip is connected with your camera via a connecting cable and is able to hold up to 2 batteries for longer operation time which provide double battery time for your camera. Besides, multiple portrait orientation shooting is allowed with this functional battery grip while comfort is not sacrificed owing to its anti-slip rubber gripping. A socket on the bottom is designed for perfect connection with tripod that is used for achieve slow-speed exposures and precise framing of the image, necessary item for professional photography as well as certain video uses.
Equipped with advanced infrared remote control, it allows you to capture photos within 10 meters with ease.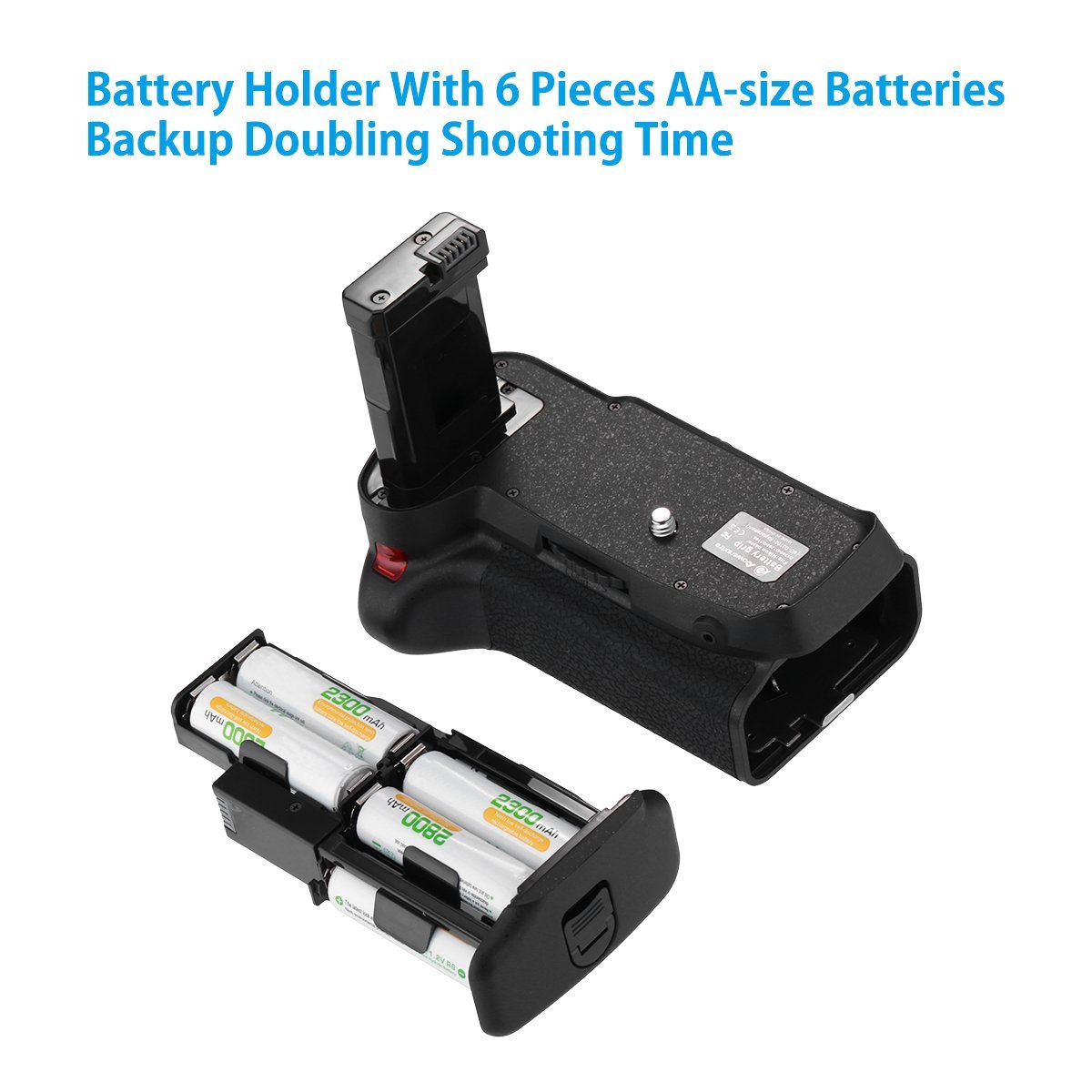 Pressional Digital Camera Battery Grip
This digital camera battery grip is specially made for Nikon Camera and works well with your camera like original grip while half of its price, Two types of battery holders both included, it means that it can be powered by 6 AA batteries (not included)for your convenience. Featured with several operation buttons: shutter button, Main Dial, multi-controller, and multi-function button, providing comfortable and secure vertical shooting, never missing any controls that you want!
Specification and Compability:
Battery Capacity: 1500mAh
Package Dimensions: 6.8 x 5.1 x 3.9 inches
Item Weight: 1.06 pounds
Battery Grip Compatibility: Nikon D3100/D3200/D3300/D5300 Digital SLR Cameras
Battery Replacement: Nikon EN-El14
Content:
1 x Battery Grip
2 x EN-EL14 Battery
1 x Battery Holder for 2 EN-EL14 battery
1 x Battery Holder for 6 AA batteries
1 x IR Remote Control
1 x Connecting Cable
1 x User Manual
Warranty Policy:
● The brand new high-quality camera battery grip is totally guaranteed of real specification.
● Free Exchange against man-made damage from date of purchase & 30 days' refund unconditionally for every purchase from Powerextra.
● Professional technical support, efficient and timely satisfactory customer service around the clock.