产品描述
[ Long Lasting ]: ur quick release saw blades are made from high quality steel which makes them extremely durable,tough and long-lasting. This 50-pack 1-3/8-Inch Wood/Plastic/Soft Metal Saw Blades, faster-cutting bi-metal blades with stainless steel arbor and a carrying case to help to keep you organized.
[ Precise Cutting ]:Built-in depth markers on sides which provides accurate cutting. And allow you to make accurate cuts fast and easily every time. Contractors pack, profession selection of top blades used in job site construction duties.
[ Multiple Choices ]:Standard tooth, Japanese tooth and Bi-Metal blades, each type of saw blade is specific for a particular purpose. Our oscillating saw blades can meet a variety of needs. You can choose the right one for your cutting purpose.
[ Widely Fits ]:Compatible with the Performax Oscillating Tool, Chicago Electric 67537, Ryobi, Ridgid, Bosch, Craftsman, Rockwell Hyperlock, Sears C19, Black & Decker, Fein Multimaster, Genesis, Milwaukee, Dewalt(not 20v), Lowe's Kobalt, and more.
[ Not Fit ]:Do NOT fit Dremel MM40, MM45, Bosch MX30 Rockwell Bolt On and Fein SuperCut, Fein Starlock.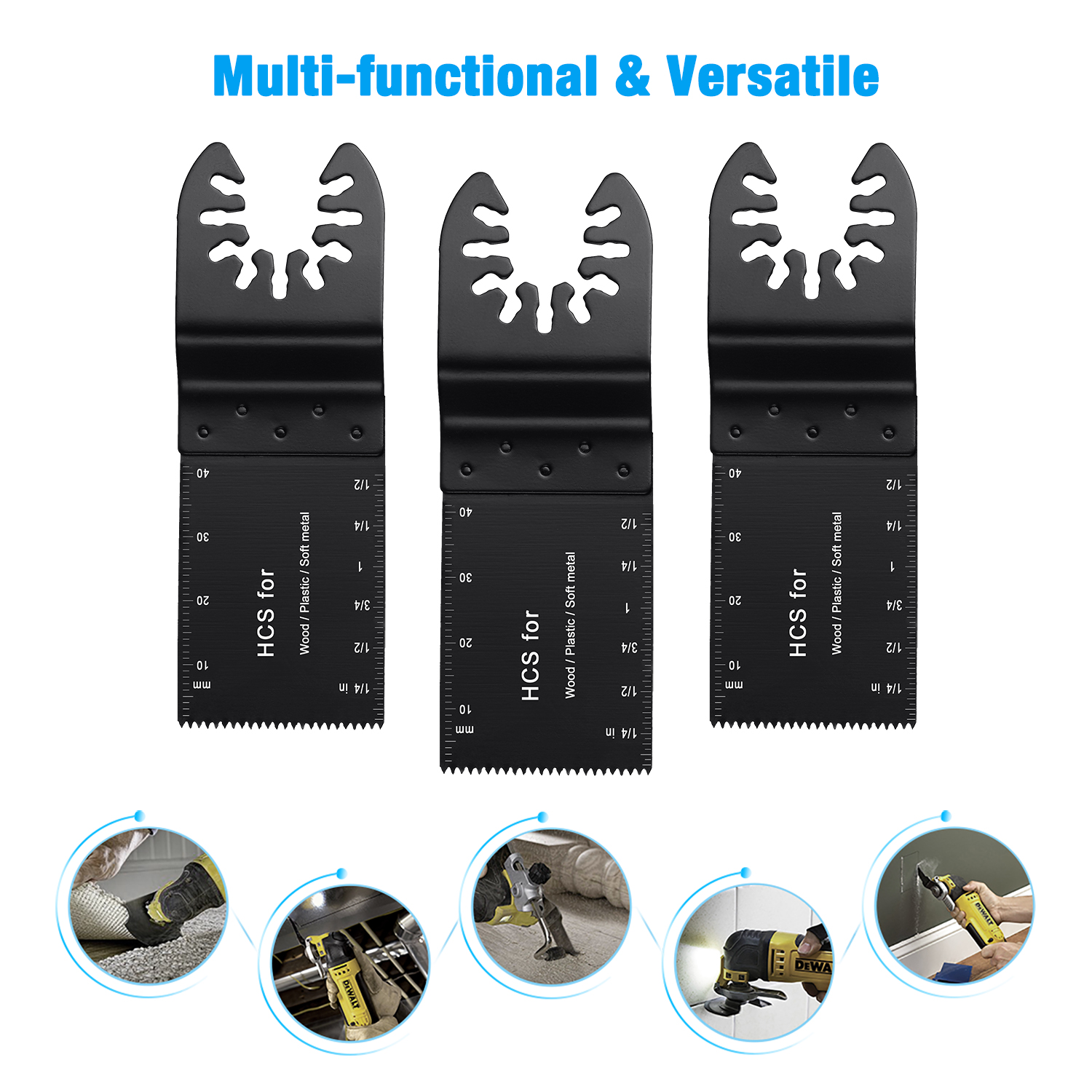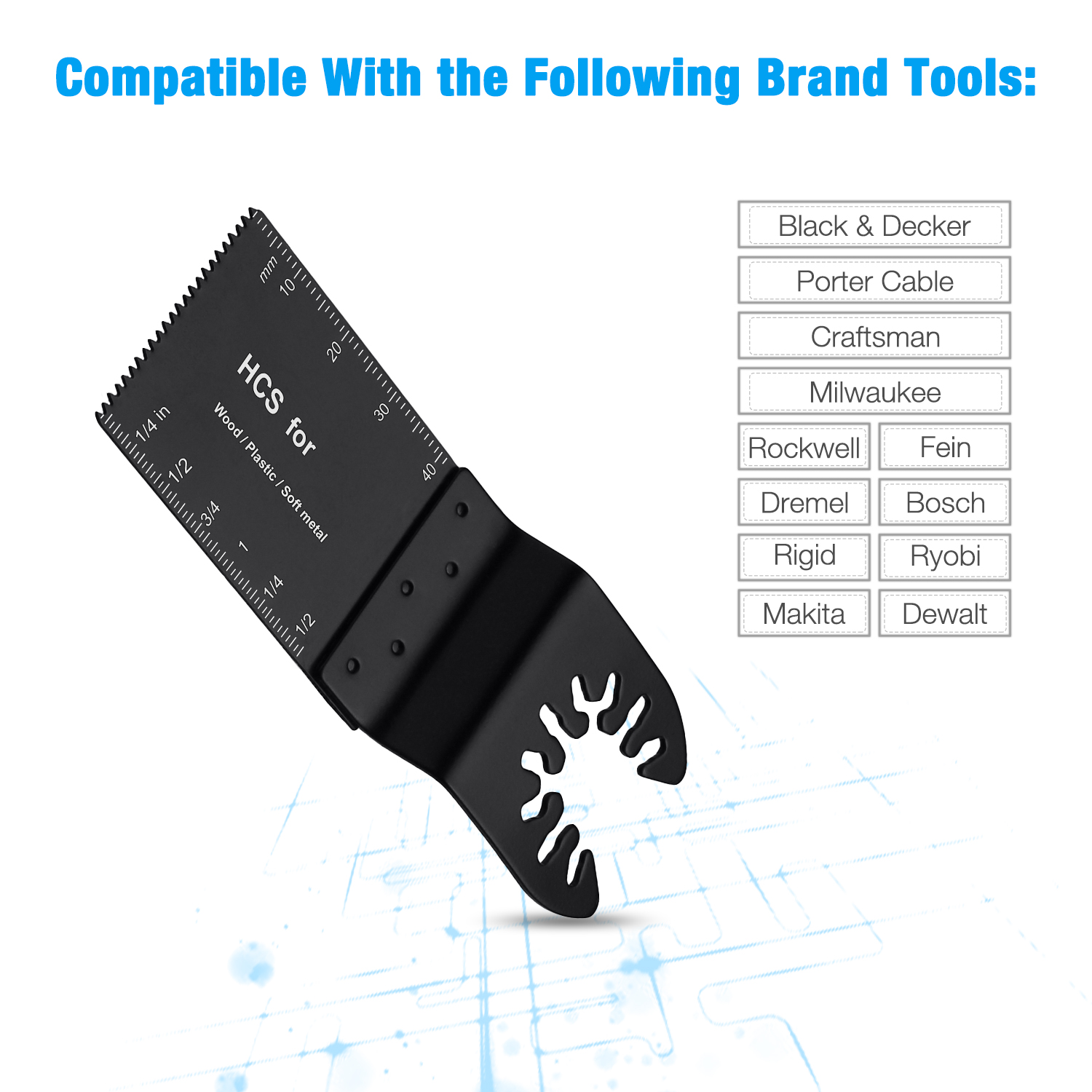 Product information:
PACKAGE INCLUDES: 50 Pack — 1-3/8-Inch Wood/Plastic/Soft Metal Saw Blades
Compatible With Following Brand Tools:
Bosch Multi-X Bosch (except MX30)
Craftsman Nextec Multi-Tool, Craftsman Nextec 17438, 61199, 5910, Craftsman 2702 2.0 Amp
Chicago 67256, 67537, 67538, 67707, 68303
Cougar, DeWalt , Dremel Multi-Max
Driving Force, EINHELL, Falke Tool Mate
Fein Multimaster Tools, Fein Multimaster AFMM 14, FMM 250 Q, FMM 250 Q-MS, MOX 6-25 Pneumatic
Ferm Zwolle Holland, Genesis Multi-Purpose, HARDIN AZ318-2 250W, Haussmann 5-in-1 Multi-Purpose Tool, Ideenshop, IIT, King Canada, LongActive, Mastercraft, Master Mechanic
Matrix, MEEC Tools, Millarco prof, Milwaukee, Ozito, Power Craft, Power Duro, Pro-Line, Ridgid Jobmax, Rockwell Sonicrafter Hyperlock.
NOT Fit Following Brand Tools:
Not compatible Dremel or Bosch Quick Release tools
Not compatible with Bosch MX30, Dremel MM40/MM45
Not compatible with Fein Starlock
Adapter required for Rockwell & Worx (except Hyperlock)
Adapter required for Fein Supercut