产品描述
Outstanding Features:
— Stepper motor driver IC,1400uF capacitance,approx. 2 seconds recharge while using NI-MH batteries;
— Using special material to ensure the heat-resistant lens that can cotrol the colour temperature at 5800K;
— Alloy micro zooming stepper motors, quieter, long service life.Using metal slider to zoom (24mm-105mm);
— Large LCD display,low power consumption,stainless steel protection profile, independent metal buttons,sturdy and durable;
— Compatible with the widely used Canon Nikon Pentax Olympus Panasonic and Fujifilm Samsung Ricoh cameras.
M Mode
In this mode, you can set DF-600 on to your camera hot shoe or speedlite trigger hot shoe to trigger the flash unit. When shooting, adjust the flash power and press the camera shutter, the speedlite will flash under the camera synchronous signal
S1 Mode
This mode is applicable for slave flash in order to create many lighting effects. It is respectively applicable for TTL flash environment. The flash unit won't flash synchronously with the first flash but the second flash from the master flash.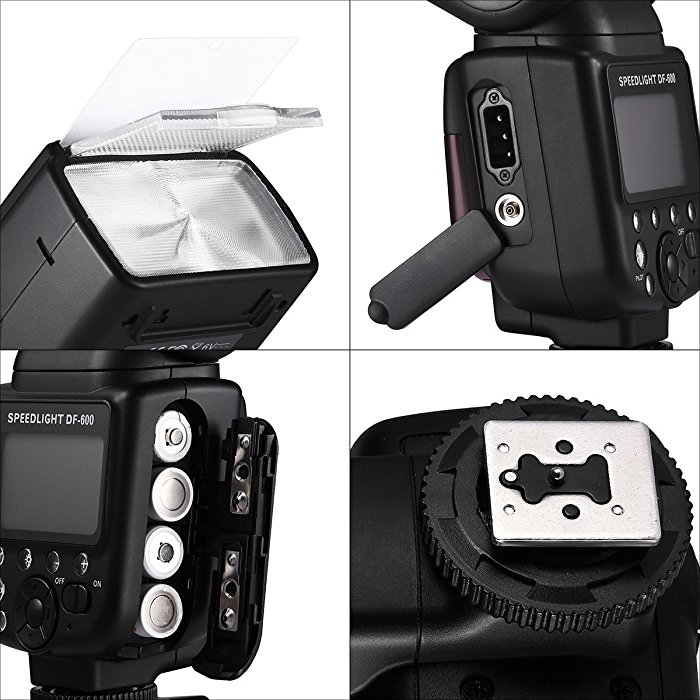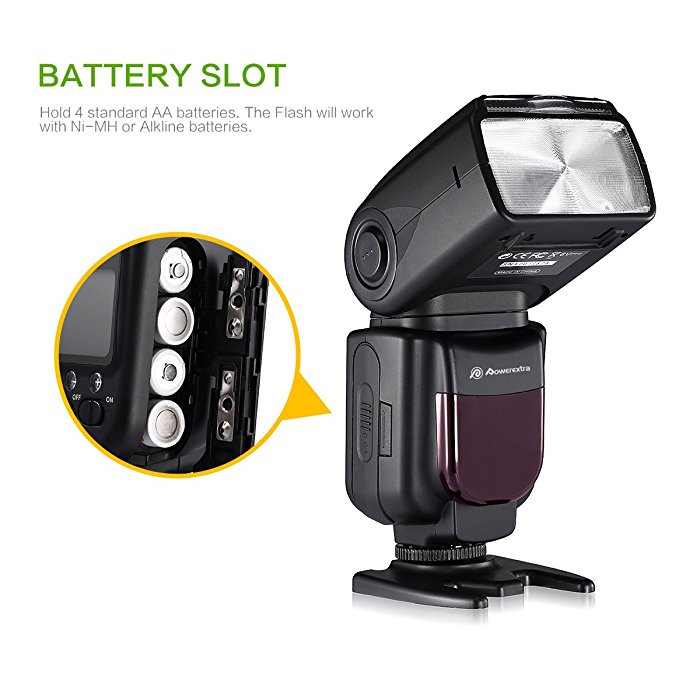 Product Specification:
Product type:DF-600
Flash modes:M,S1,S2
Guide number:58 (ISO100 ,105mm)
Supporting:exposure compensation,exposure bracketing,flash sync,AF assist
Flash range:24mm-105mm
Folding angle: -7°to 90°
Recharge time: approx. 2.8s
Flash emission period:Approx. 1/20000 to 1/200 seconds
colour temperature:5800K
Flash brightness control: 8 adjustable(1/128 to 1/1 ), 28 fine-turning
The maximum synchronous speed:1/250 seconds
Power:4*AA batteries
Compatible Models:
Canon: All Canon EOS models and Powershot with hot shoe
Nikon: SLR cameras and Coolpix series with hot shoe
Pentax: SLR cameras
Fujifilm: SLR camera
Samsung: SLR cameras
Ricoh: SLR cameras
Panasonic: four thirds and micro four third digital cameras
Olympus: four thirds and micro four third digital cameras
Speedlite Flash Light for Canon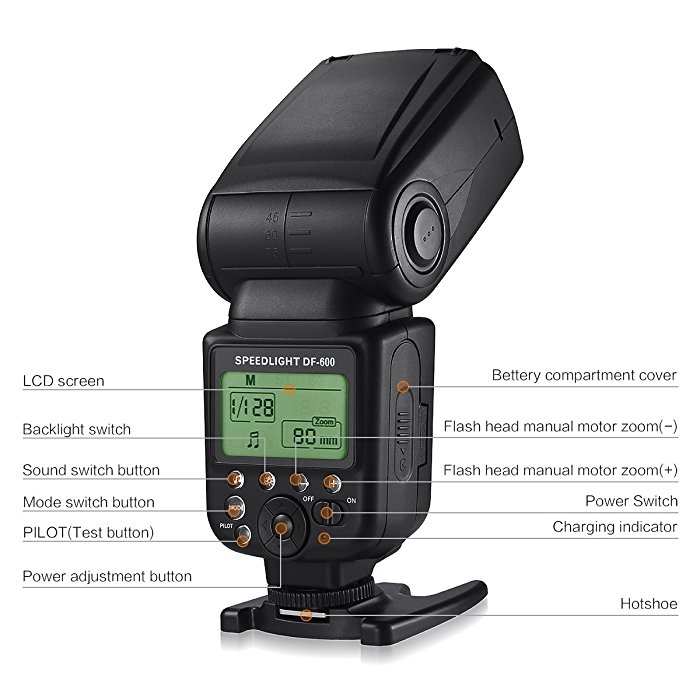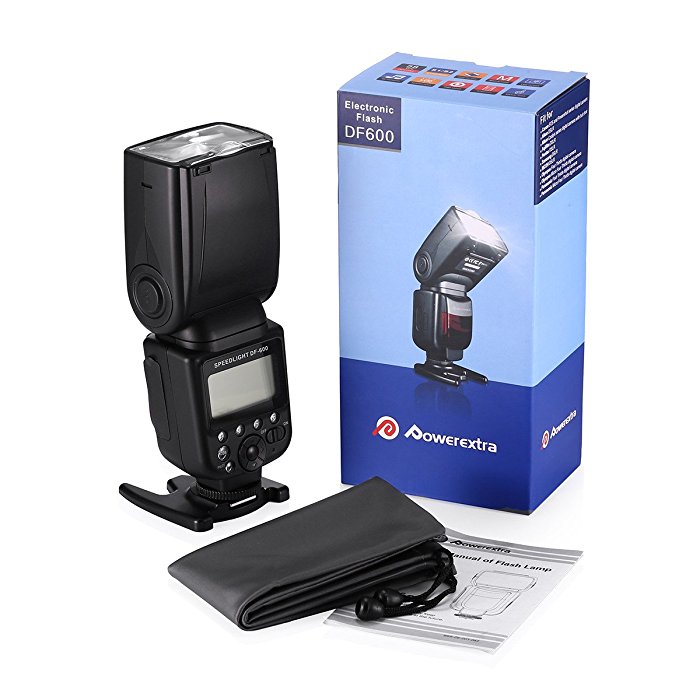 Package Contents:
1x electronic flash DF-600
1x mini stand
1x protect bag
1x manual
Warranty Policy:
● The brand new high-quality replacement batteries are totally guranteed of real specification.
● Free Exchange against man-made damage from date of purchase & 30 days' refund unconditionally for every purchase from Powerextra.
● Professional technical support, efficient and timely satisfactory customer service around the clock.