产品描述
HD Hunting Trail Game Camera:
12 MP Image & 1080P HD Video Resolution: 12-megapixel image resolution enables the camera to capture crisp, brightly colored photos when motion is detected during the day (black and white at night). It can take up to 3 photos per detection.
Long Trigger Distance & Fast Trigger Speed: With an impressive 0.2-0.4 second trigger speed, the built-in 42pcs IR LEDs provide up to 50 feet's night time vision, allowing you to capture shots from a far distance effortlessly.
No Glow Infrared Technology: This is an upgraded night vision camera that uses advanced no-glow infrared technology and an invisible black LED flash together with a camouflage exterior design for easier image shooting at night.
Durable & Multifunctional Trail Camera: This camera features IP66 waterproof rating, dustproof design, long battery life, up to 6 months by 8 AA batteries(not included), 2.4″ LCD screen, passive infrared sensor, double PIR design for sensing angle, maximum 120 degrees, multi-shot function, easy settings for interval, timelapse, timer, password protection, time stamp, serial, low battery alarm, etc. It's ideal for wildlife monitoring, scouting games and home surveillance.
Multi-Capture Modes: It has 5 capture modes: photo, video, time lapse, hybrid mode and motion detection for your option to capture images or record videos in the wild. No setup is needed, the user-friendly multi-mode camera comes with ideal settings for the majority of wildlife applications.
High Definition Images & Videos:
This hunting trail game camera can shoot quality HD images and videos because of the advanced one-second trigger speed, 12 Magpixel image resolution and 1080P HD resolution for video recording. The camera is also good at recording quality audio sound for its videos.
No Glow Night Vision
Ultra clear images in the nighttime can be accomplished thanks to the impressive 42 high-intensity 940nm LEDs built in. The 940nm LEDs have IR light to help shoot in night vision mode in the dark within a 55 feet range with 3 zones. It uses a new technology to make the infrared no-glow, invisible for better shooting at night.
120 Degrees Wide Angles
This hunting trail game camera has highly sensitive and responsive PIR sensors to detect objects and movement effectively. It can detect motion or objects within a 65 feet range from 120 degrees angles. The camera will cover a large hunting area for you.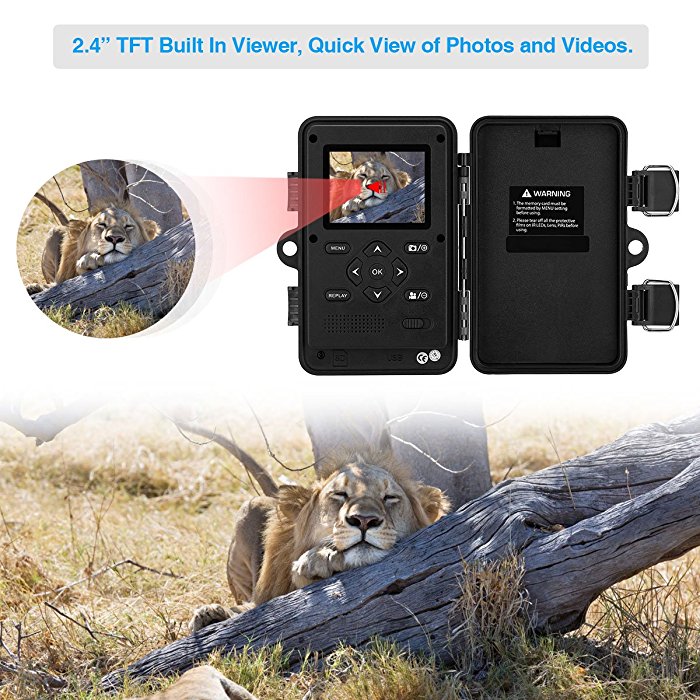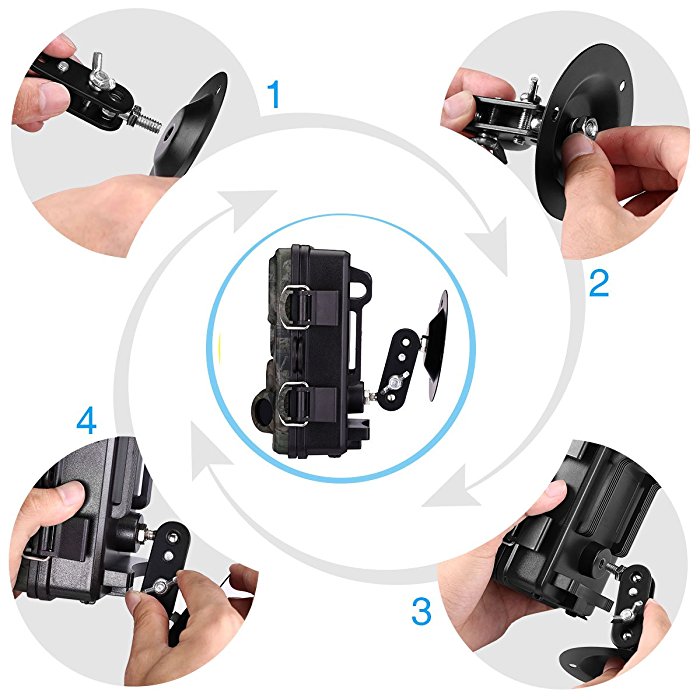 Specifications:
Flash Range: 55 feet
Fast Trigger Time: 0.2-0.4 Second
Selectablel Image Resolution : 12M; 8M; 5M; 2M; 0.5M
Video Resolution : 1080P; 720P; 480P
File Format: JPG/AVI
LCD Display: 2.4" LCD screen
Memory: External memory (SD card, up to 32GB, NOT included)
Effectiveness: 1m-20m
IR LED QTY: 42
Audio Recording: Yes
Auto Power Off Function: Auto power off in 3/5/10 minutes without touching the buttons
Power Supply(not included): 8 x AA; Expandable to 8 x AA; external 6V power supply, at least 2A
Package:
1 x Trail Camera
1 x User Manual
1 x Metal Wall Mount
1 x USB Cable
1 x AV Cable
1 x Tree Strap