产品描述
Digital Camera Strap Set:
The camera neck, shoulder and wrist straps are well made with fasteners for great stability.
The straps are made of most durable heavy-duty neoprene. They are able to protect your camera from any accidental dropping.
The should strap is able to carry a maximum weight, up to 44 lbs, and wrist strap can carry 33 lbs.
These camera straps are perfectly compatible with all cameras with an eyelet slot design.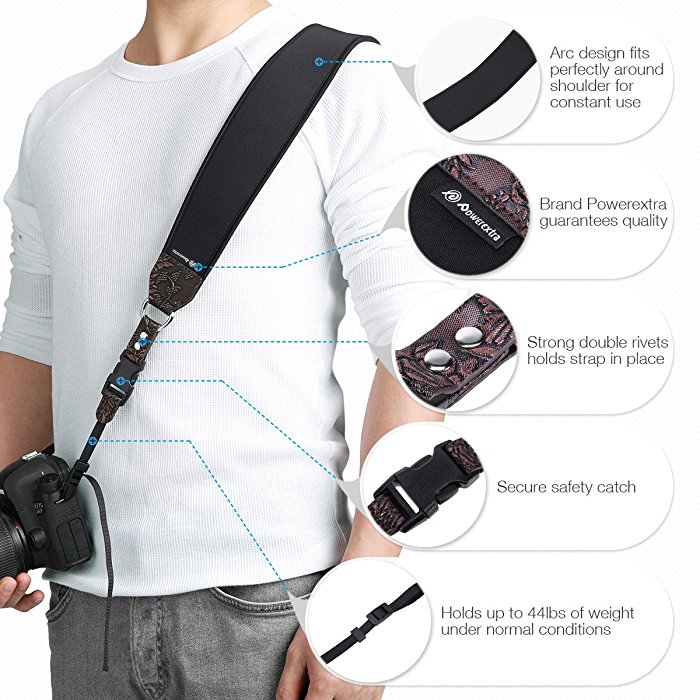 ']
Quick Release Camera Straps:
This full set of Powerextra camera straps will fully meet your need of using your cameras conveniently in your photography studio or outdoor phtography. The strap set includes wrist straps for you to hold your camera securely in hand. And the long shoulder strap allows you to enjoy the conveniences while taking your camera for outdoor phtography. The neck strap works perfectly for some closer shots you need to take, you can handle your camera without having to worry about it might drop someshow. These straps are durably made and easy to wear.
Ergonomic Design:
You can benefit a lot from these camera straps. The wide side design will greatly relieve the pressure on your shoulder. The shoulder strap has an integrated shoulder pad to make your wearing more comfortable. Thanks the great ergonomics, the full set of camera straps can be used for wrists, neck and shoulders based on different need. It takes you just a minute to install the straps with the fasteners.