Product Description
Multi-purpose Household Tool:
● Multi-functional Tool: Stripping wire from 10 to 24 AWG with self-adjusting ability and is also able to crimp 10-22 AWG insulated, 10-22 AWG non-insulated, and 7-8mm ignition terminals.
● Automatic Adjustable Jaw: Control the length of the core strip with built-in adjustable nuts and stopper, a quick stripping job is offered with less efforts and fumbling.
● Non-slip Handle: Comfort handle allows for perfect grip with less labor when stripping wires, gives you a comfortable grip experience and reduced hand fatigue.
● Durable Wire Stripper: Made of high quality steel and TPR material, their properties will keep this in a good shape even long-term intense use.
● Wide Usage: Suitable for industrial, electrician and domestic. Stripping, cutting and insulated terminal crimping of copper wire, aluminum wire, sheathed core wire, cable, multiple sheathed wires, bare terminal,etc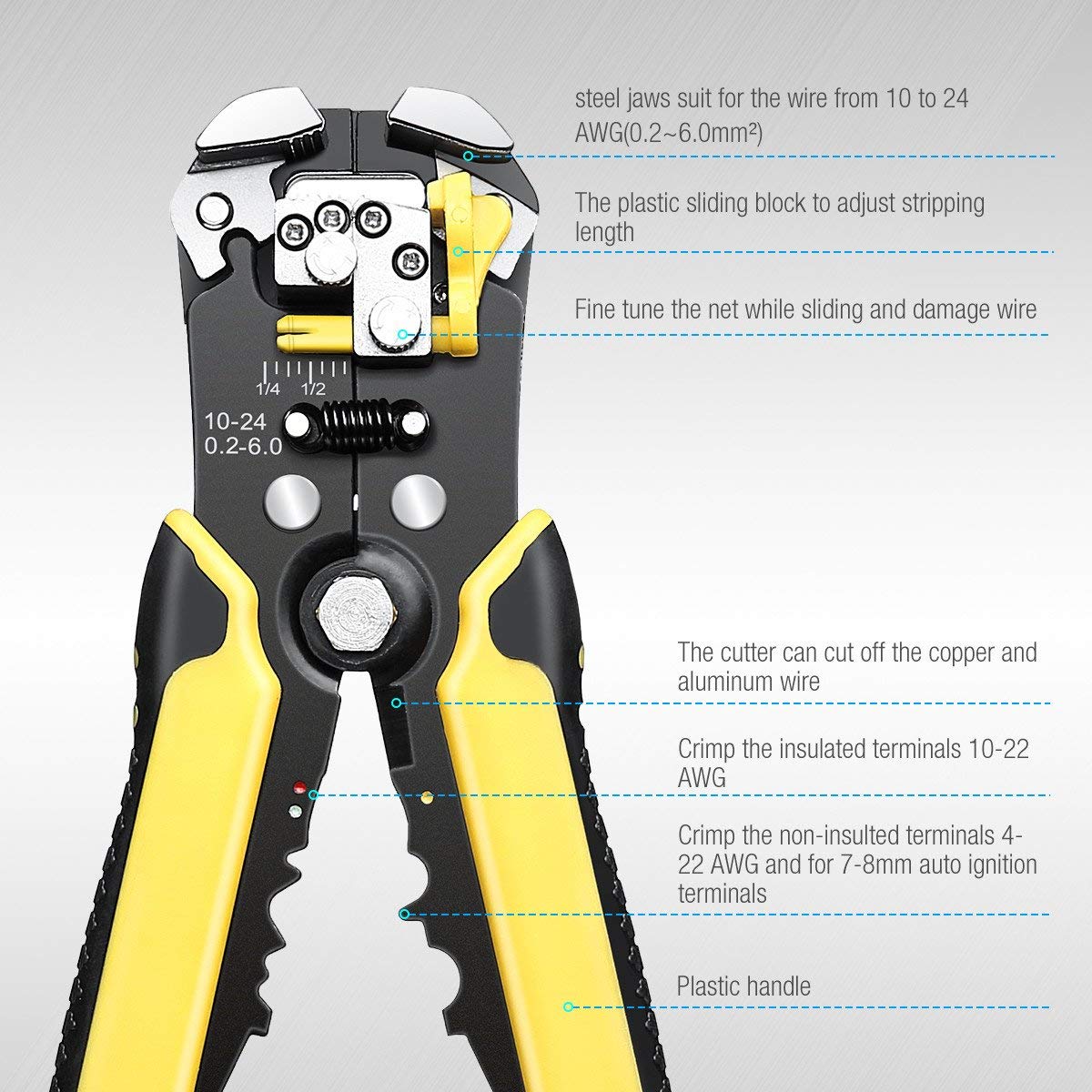 Versatile Hand Tool:
Wire Stripper
Self-adjusting stripper strips wire from 10-24 AWG for easily dealing with copper, cable, coaxial, thermal and aluminum wire.
Wire Cutter
The cutter can cut off copper and aluminum wires or other steel material wires.
Wire Crimper
Crimp the insulated terminals 0.5-6MM² (10-22 AWG);
Crimp the non-insulated terminals: 0.5-6MM² (4-22 AWG);
Crimp the ignition terminals: 7-8 MM².
Specification:
Material: mental and TPR
Net Weight: 13.4oz
Dimensions:271mmx 130mmx 30mm
Contents
1x Powerextra Wire Stripper
1x User Manual
1x Feedback Card
Warranty Policy:
● The brand new high-quality replacement batteries are totally guranteed of real specification;
● Free Exchange against man-made damage from date of purchase & 30 days' refund unconditionally for every purchase from Powerextra;
● Professional technical support, efficient and timely satisfactory customer service around the clock.