Product Description
Replacement Battery for Dewalt Power Tools:
This rechargeable battery pack for Dewalt DC9096 is made of high quality Ni-MH battery cells.
The 18-Volt Dewalt power tool battery has 3500mAh capacity for powerful battery energy.
The Dewalt battery replacement offers longer run-time for your power tools due to its long battery life.
It perfectly matches OEM Dewalt cordless tools and original chargers with 100% compatibility.
The CE certified quality battery pack can be charged rapidly without memory effect.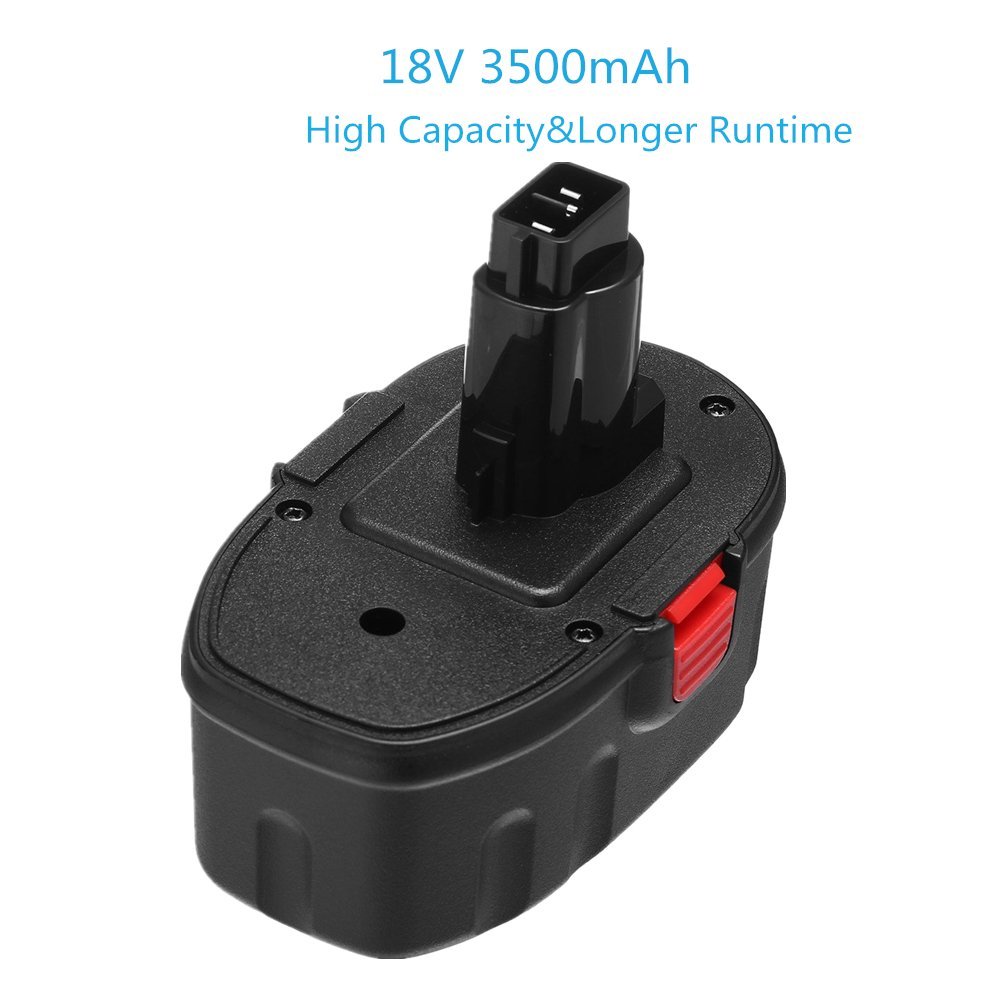 Dewalt Cordless Power Tool Battery Compatibility:
Compatible Dewalt Power Tools:
DEWALT Power Tools DC212, DC212KA, DC330, DC330K, DC330KA, DC330KB, DC330N, DC380KA, DC380KB, DC380N, DC385, DC385K, DC390, DC390K, DC390KA, DC390KB, DC390N, DC410, DC410KA, DC410KB, DC410N, DC411KA, DC490KA, DC495KA, DC515K, DC520KA, DC527 (Flash Light), DC545K,DC546K, DC547K, DC550, DC550KA, DC608K, DC618, DC618K, DC618KA, DC628K, DC668KA, DC720KA, DC725KA, DC729KA, DC759, DC759KA, DC759KB, DC820KA, DC821KA, DC823KA, DC825KA, DC920KA, DC925, DC925KA, DC925VA, DC926KA, DC987, DC987KA, DC987KB, DC988, DC988KA, DC988KB, DC988VA, DC989KA, DC989VA, DC998KB, DCD940KX, DCD950KX, DCD950VX, DCD959KX, DCD959VX, DW056, DW056K, DW056K-2, DW056N, DW057K, DW057K-2, DW057N, DW059, DW059K-2, DW908 (Flash Light), DW919 (Flash Light), DW932, DW933, DW933K, DW934, DW934K-2, DW936, DW936K, DW938, DW938K, DW959K-2, DW960, DW960K, DW960K-2, DW987, DW987KQ, DW988, DW988KQ, DW989, DW995, DW997, DW997K-2, DW999, DW999K, DW999K-2, DW999K2H, DW999KQ
Replacement OEM Part Numbers:
DEWALT DC9096, DE9039, DE9095, DE9096, DW9095, DW9096
Dewalt Battery Specification:
Battery Capacity: 3500mAh
Battery Voltage: 18 volts
Battery Wattage: 54 watts
Battery Type: Ni-MH
Part Number: FBA_DC9096
Dimensions: 14 x 11.9 x 8.9 cm
Weight: 635 g
Color: Black-Yellow
Condition: Brand New High Quality