Product Description
LiPo Rechargeable Battery with X5 Charger for Holy Stone F181 RC Quadcopter:
Powerextra high-performance rechargeable LiPo battery, 3.7V, 750mAh, 5 Pack with a 5-port quick charger.
The LiPo batteries are perfect replacement for Holy Stone F181 RC Quadcopter,MJX X400 X400W X800 X300C Sky Viper S670 V950hd V950str HS200W.
Battery Size: 2.16 * 0.98 * 0.29 inches, Battery Weight: 0.74 oz/pc. The charger charges most Micro RC Helicopter & Airplane 3.7V 1S Batteries.
Charger voltage input: DC 5V; voltage output: DC 4.2V; Charges 5 batteries at a time with overcharge and short circuit protection.
Package includes 5 pcs of Powerextra 3.7V 750mAh LIPO Batteries(JST plug), a useful 5-in-1 Charger and 5 white connectors to JST wires.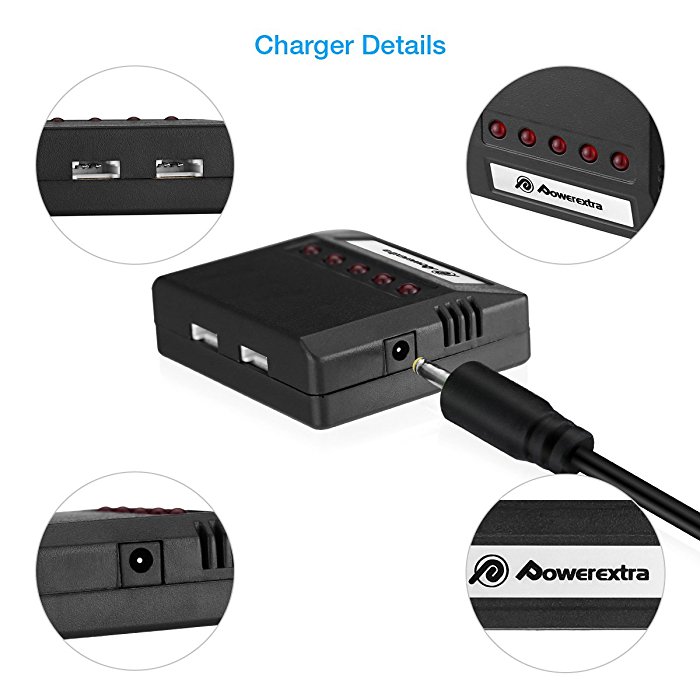 Product Specifications:

Battery Specification:
Capacity: 750mAh
Voltage: 3.7V
Single Battery Weight: 0.74 oz
Single Battery Size: 2.16 * 0.98 * 0.29 inches
Charger Specifications:
Input: DC 5V
Output: DC 4.2V
Size: 1.65 x 1.5 x 0.51 inches
Weight: 0.45oz (not including wires and package)
Compatible with most Molex Plug RC Helicopter & Airplane 1S Batteries
5-Port Intelligent Charger for 3.7V Lithium RC Batteries:
Charge 5 batteries at a time.
Overcharge protection
Short-circuit protection
Lightweight design and user-friendly charger
Compatible Models:
Holy Stone F181,MJX X400 X400W X800 X300C Sky Viper S670 V950hd V950str HS200W
Package Contents:
5 x 3.7V 750mAh LiPo Rechargeable Battery
1 x 5-Port Charger