Product Description
Outstanding Features:
— Battery and charger are fully compatible with GoPro HERO5 Black.
— Long lasting replacement battery for GoPro HERO5 Black: Each battery features 3.85v, 1500mAh high capacity.
— Dual Battery Charger makes it more convenient to charge two HERO5 Black batteries simultaneously.
— Package includes two batteries, one dual battery charger and one USB Type C cable.
— NOT COMPATIBLE with the GoPro HERO5 Session, HERO4 or HERO3.
Powerextra is specialized in manufacturing power tool batteries, digital batteries and chargers, and related accessories.Powerextra is one of top selling brands for replacement batteries at Amazon.Powerextra products are made of the highest quality materials by CE certification. They are tested by manufacturer to match OEM products.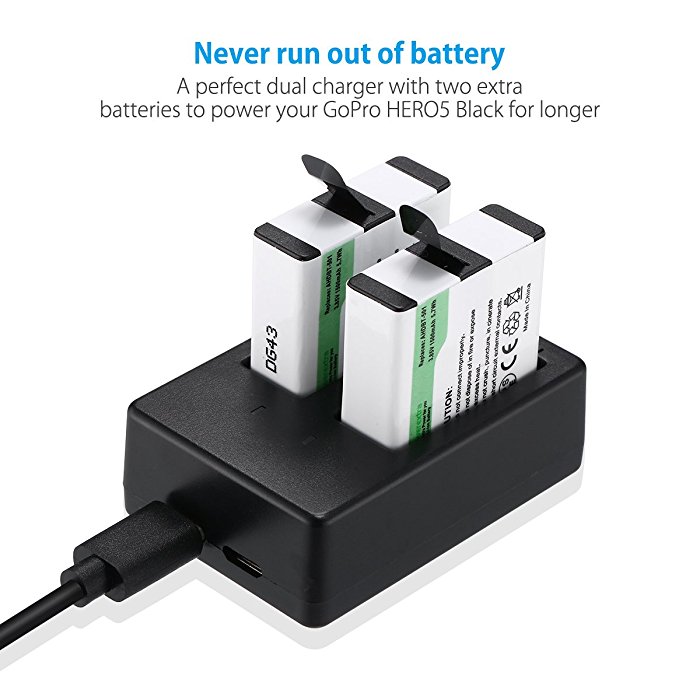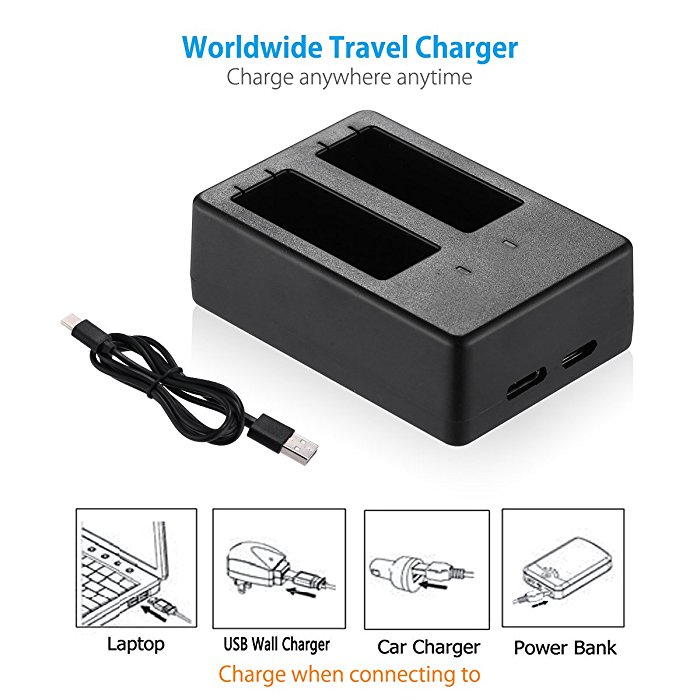 Product Specification & Compatible Models:
Product Specification:
Battery Capacity: 1500mAh
Battery Voltage: 3.85V
Battery Type: Li-ion
Condition: Brand New
Compatible Models:
GoPro HERO 2018
GoPro HERO 7 Black
GoPro HERO 6 Black
GoPro HERO 5 Black
GoPro AABAT-001
GoPro 601-10197-000
NOT COMPATIBLE with the GoPro HERO5 Session, HERO4, or HERO3
Package Contents:
2 x Replacement GoPro HERO5 Black battery
1 x Replacement GoPro HERO5 Black battery charger
1 x Free Micro USB Cable
How to update your GoPro HERO5 Battery?
The battery is designed to be compatible with future updates. When you update your GoPro HERO5 camera to the newest firmware in the future, you would need to know how to update your GoPro HERO5 Battery purchased from us. The method is explained here below:
Requirements:
1 . An update cord (included in the package)
2 . The newest file for firmware (The file will be available soon)
Note: the battery you purchase from Powerextra is definitely compatible with firmware v02.00.
Steps:
1. Download the newest HERO5 battery firmware file above.
2. Save the file to your PC.
3. Connect the update cord to your PC USB drive and HERO5 battery simultaneously.
4. Open File Explorer.
5. Drag the downloaded firmware file to the new PC drive.
Please feel free to contact us via service@powerextra.com for more details.