Product Description
Rechargeable Replacement Battery for Dewalt:
This replacement battery pack is made specially for Dewalt DW0240 DW0242, it's widely compatible with a large number of Dewalt cordless power tool models.
The drill battery replacement is made of highly safe and environmentally friendly Ni-CD battery cells with CE certificate  for the quality and sepcification.
The replacement battery works perfectly for the Dewalt power tools and original chargers.
You can charge the battery pack frequently for your power tools as it won't cause memory effect or battery capacity loss during recharging.
An integrated microchip is used inside the battery pack for preventing overload, over heat and other issues for long lifespan.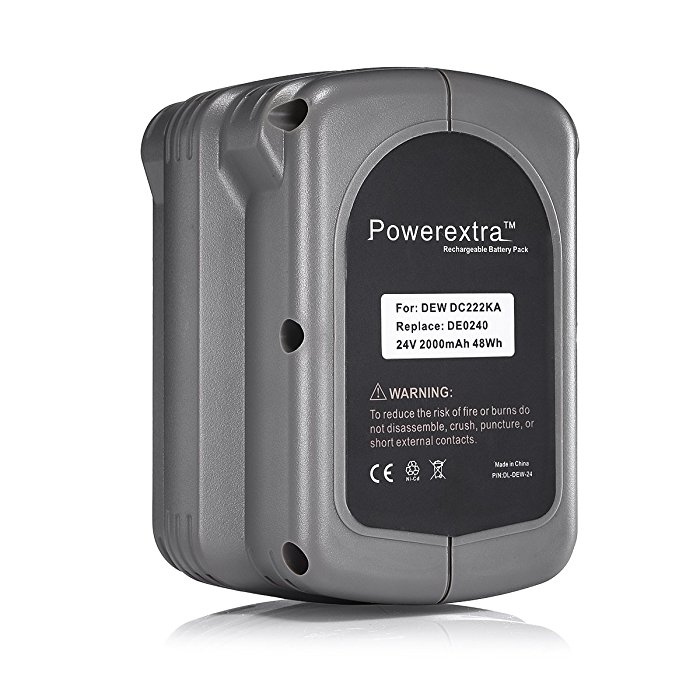 Dewalt Cordless Drill Battery:
This cordless power tool battery replacement is a typically high capacity rechargeable battery pack for power tools. It has full protection from overload, over dishcarge, over heat and short-circuit. The power tool battery pack has outstanding efficiency in recharging. Powerextra uses Rapid-Charge Technology to meet the need of frequent use of Dewalt power tools.
Compatible Dewalt Power Tool Models:
Dewalt DE0240, DE0243, DW0240, DW0242 Dewalt DW004 Series DW004 DW004K, DW004K-2, DW004K2C, DW004K2H Dewalt DW005 Series DW005, DW005K-2, DW005K2C, DW005K2H Dewalt DW006 Series DW006K, DW006K-2, DW006K2XE, DW006KH; Dewalt DW007 Series DW007C2, DW007K, DW007K-2, DW007KH, DW007K-XE Dewalt DW008 Series DW008K, DW008K-2, DW008K-XE Dewalt DW0017 Series DW017, DW017K2
Package:
1 2000mAh high capacity replacement battery for Dewalt power tool
1 pair of protective gloves
Dewalt Batery Specification:
Battery Capacity: 2000mAh
Battery Voltage: 24 Volts
Battery Wattage: 48 Wh
Battery Type: Ni-CD
Part Number: DE2040
Dimensions: 5.8 x 4.2 x 5.6 inches
Weight: 2.6 pounds
Color: Black-Gray
Condition: Brand New High Quality