Product Description
Lithium Polymer RC Battery, 25C 3S LiPo Battery with Deans Connector
Product Features:
Powerextra Lithium Polymer RC Battery: Battery Type: LiPo cells, Voltage: 11.1V, Capacity: 3300mAh, Discharge: 25C; Discharge plug: Dean-style T connector.
Fully compatible with RC Airplane Helicopter Boat Drone and FPV and charger.
The battery has protection against overcharge, short circuit and over discharge.
Compatible with most RC airplane, helicopter, car, truck, boat, drone, FPV, Skylark m4-fpv250, Mini Shredder 200, Indy250 plus mojo 280, Qav250, Vortex and Emax nighthawk 250.
All Powerextra battery packs comply with RoHS and CE security testing standards.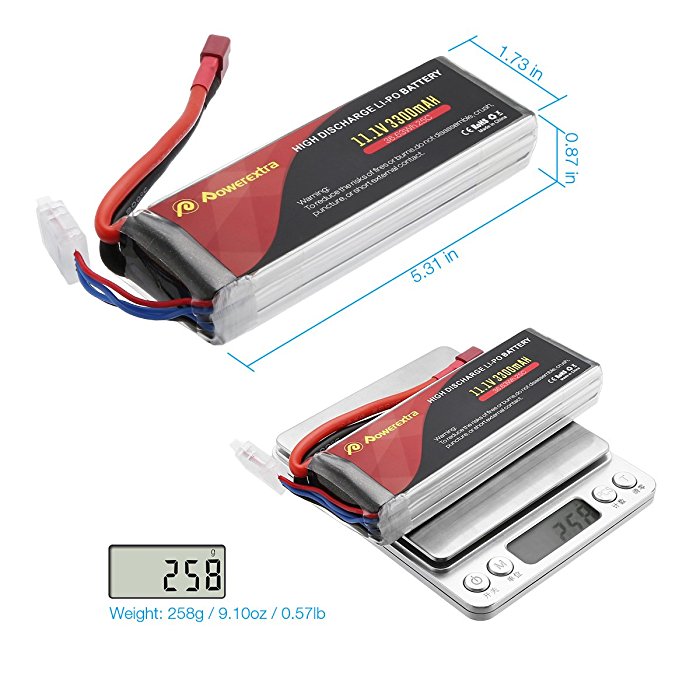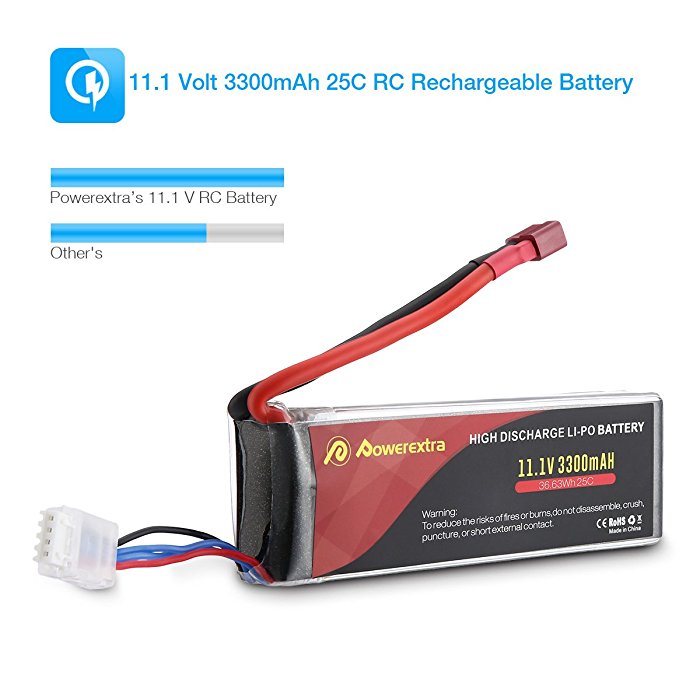 Battery Specifications:

Capacity(mAh): 3300mAh
Voltage(V): 11.1V
Discharge Rate (C): 25C
Max Burst discharge Rate (C): 50C
Configuration: 3S1P
Net Weight(dev.20g): 9.15Oz
Size:5.37×1.73×0.86 inches/pc
Connector Type: Dean-Style T Connector
Professional Replacement Flight Battery
These 2-pack Powerextra Upgraded 3300mAh RC LiPo batteries are professional replacement batteries for RC Airplane Helicopter Boat Drone and FPV. Thanks to RoHS and CE certificates together with upgraded capacity and compatibility, these batteries have long lasting power for a long duration of flight and safe recharging by built-in protection.
Lithium Polymer RC Batteries 2 Pack:
Package Contents:
2 x 11.1V 3300mAh LiPO battery
About Powerextra:
Powerextra is specialized in a wide range of flight batteries, power tool batteries and digital batteries. As one of the top selling brands of replacement batteries in Amazon, Powerextra batteries feature good quality by first-rate manufacturing materials and designs, CE certified standards and upgraded specifications for OEM products. Powerextra provides customers with superior batteries of improved performance by prolonged battery life and reliable safety.
Warranty Policy:
● The brand new high-quality replacement batteries are totally guranteed of real specification.
● Free Exchange against man-made damage from date of purchase & 30 days' refund unconditionally for every purchase from Powerextra.
● Professional technical support, efficient and timely satisfactory customer service around the clock.