Product Description
Replacement Battery for Black & Decker:
Highly efficient and safe NI-CD rechargeable battery: 2000mAh high capacity, 3.6 volts, 7.2Wh.
The replacement batteries are 100% compatible with OEM Black & Decker Versapak Screwdrivers and drills, Craftman Cordless Screwdrivers.
Batteries are specially designed to work for Black & Decker S100, S200, S300, S400, VP750 etc.
The replacement batteries have the same performance as the origianl power tool batteries.
The batteries perfectly replace Black and Decker VP100, VP100C, VP105, VP105C, VP110, VP110C, VP143 Versapak Batteries.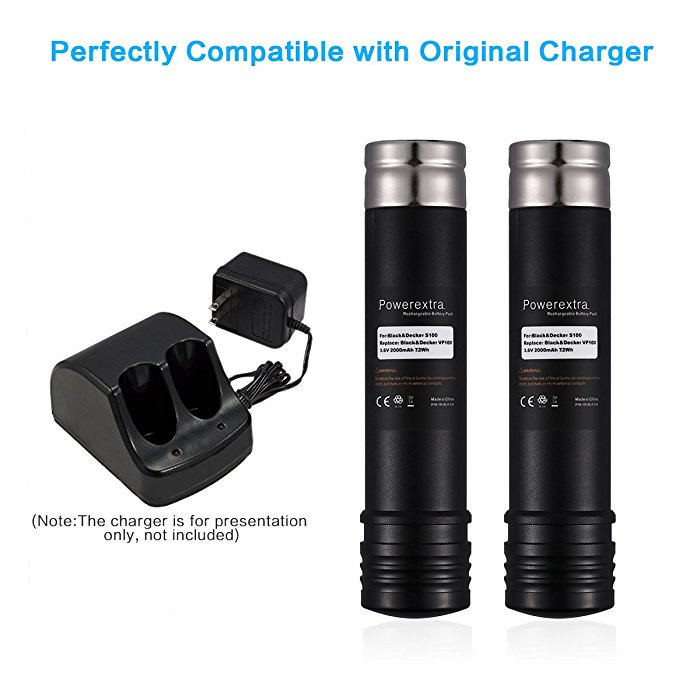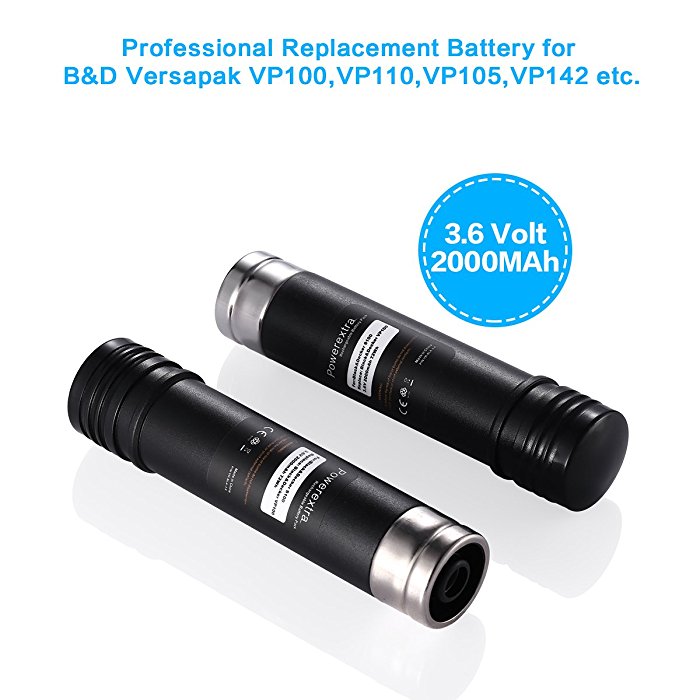 Protection and Long Battery Life:
Powerextra replacement batteries for Black & Decker, and Craftsman cordless power tools fully meet the standards of OEM Black & Decker, Craftsman original batteries. The replacement batteries perform stably and efficiently with reliable quality and CE certificate. Thanks to Powerextra fail-safe microchip built in, the batteries have total protection from overcharge, over discharge, over heating and short-circuit. The batteries can be rapidly, safely charged with no memory effect, offering your power tools long service time.
Replacement Battery Specification:
Battery Capacity: 2000mAh
Battery Voltage: 3.6V
Battery Type: NI-CD
Battery Power: 7.2Wh
Size: 4.5 * 0.95 * 0.95 inches
Weight: 0.52lb
Color: Black
Condition: Brand New High Quality
Compatible Power Tools:
Black & Decker S100, S200, S300, S400, S500 Type 1 Scumbuster, VP750, VP800 Type 1 Screwdriver, VP720, VP730 Type 2 Versapak Screwdriver, VP870, VP871 Type 1 7.2 Volt Versapak Drill, Craftsman 900112330, Sears Craftsman; Pivot180 PLR36NC S100 S110: 151995-03 383900-03 387854-00 00911271000 11271 900.112713 Cordless Screwdriver.
Replacement Part Numbers:
Black and Decker VP100, VP100C, VP105, VP105C, VP110, VP110C, VP143 Versapak Battery