Product Description
Outstanding Features:
— Brand new Li-ion replacement battery for Olympus LI-90B, LI-92B,1500mAh real capacity, 3.7V
— Batteries are fully compatible with Olympus SH-1, SH-50 iHS, SH-60, SP-100, SP-100EE, Tough series.
— Batteries are fully tested and certified to match OEM products
— Convenient charges and discharges with no memory effect or other negative effects.
— Superior quality cells have overcharge, over discharge, over voltage and short circuit protection for better battery life
Fully Tested & Verified:
As a professional manufacturer of digital batteries, Powerextra focuses on the stability, safety and compatibility of replacement batteries. Powerextra batteries enjoy a good reputation and remarkable sales on account of premium manufacturing materials, demanding tests and reliable product verfitication. All strict production processes ensure complete compatibility with OEM products.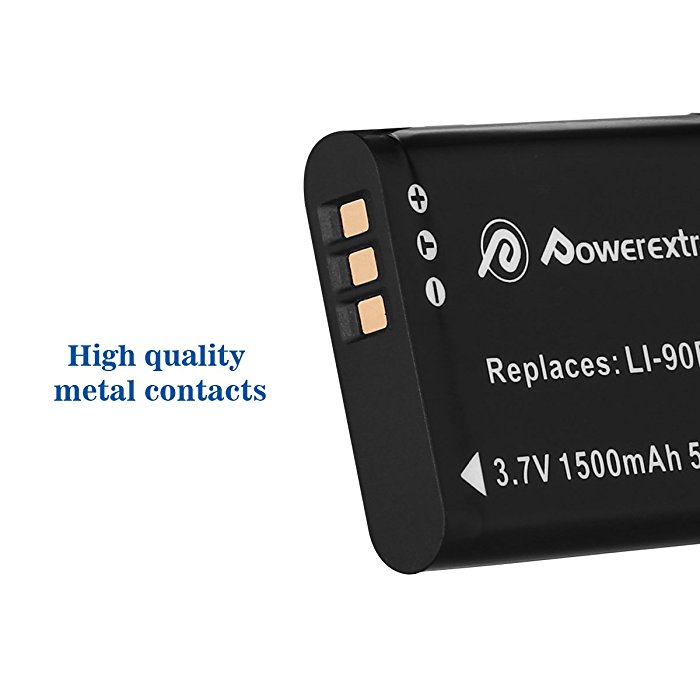 Product Specification & Compatible Models:
Compatible Cameras:
Olympus SH-1
Olympus SH-50 iHS
Olympus SH-60
Olympus SP-100
Olympus SP-100EE
Olympus Tough TG-1 iHS
Olympus Tough TG-2 iHS
Olympus Tough TG-3
Olympus Tough TG-4
Olympus XZ-2 iHS
Replacement Models:
Olympus LI-90B
Olympus LI-92B
Product Specification:
Battery Volt: 3.7V
Battery Capacity: 1500mAh
Battery Type: Li-ion
Package Includes:
2 x 1500mAh Li-ion Replacement Battery for Olympus LI-90B, LI-92B
Caution:
1.Do not connect improperly.
2.Do not dispose of battery in fire as they may explode, battery may also explode if damaged.
3.Do not expose the battery to liquid or subject to strong mechanical shocks
Warranty Policy:
● The brand new high-quality replacement batteries are totally guranteed of real specification.
● Free Exchange against man-made damage from date of purchase & 30 days' refund unconditionally for every purchase from Powerextra.
● Professional technical support, efficient and timely satisfactory customer service around the clock.