Product Description
2-Pack 3500mAh NiMH Replacement Battery For Ryobi 18V Cordless Drill
Replacement Batteries for Ryobi Drills:
Powerextra 18 volt power tool batteries have reliable quality that completely meets the function and performance for original OEM Ryobi cordless drills and drivers. These high performance power tools batteries are fully compatible with Ryobi drills and the original charger.
Powerful Power Tool Batteries
The Ryobi power tool battery is well made with quality bettery cell for long battery service life. The battery can be recharged repeatedly without loss of capacity. It has no memory effect during recharging. The battery can be fully charged within a short time thanks to the impressive rapid charge technology. The cordless drill battery is built robustly with highly safe battery cells inside. It features excellent protection from overcharge, over discharge, short-circuit to ensure great battery longevity.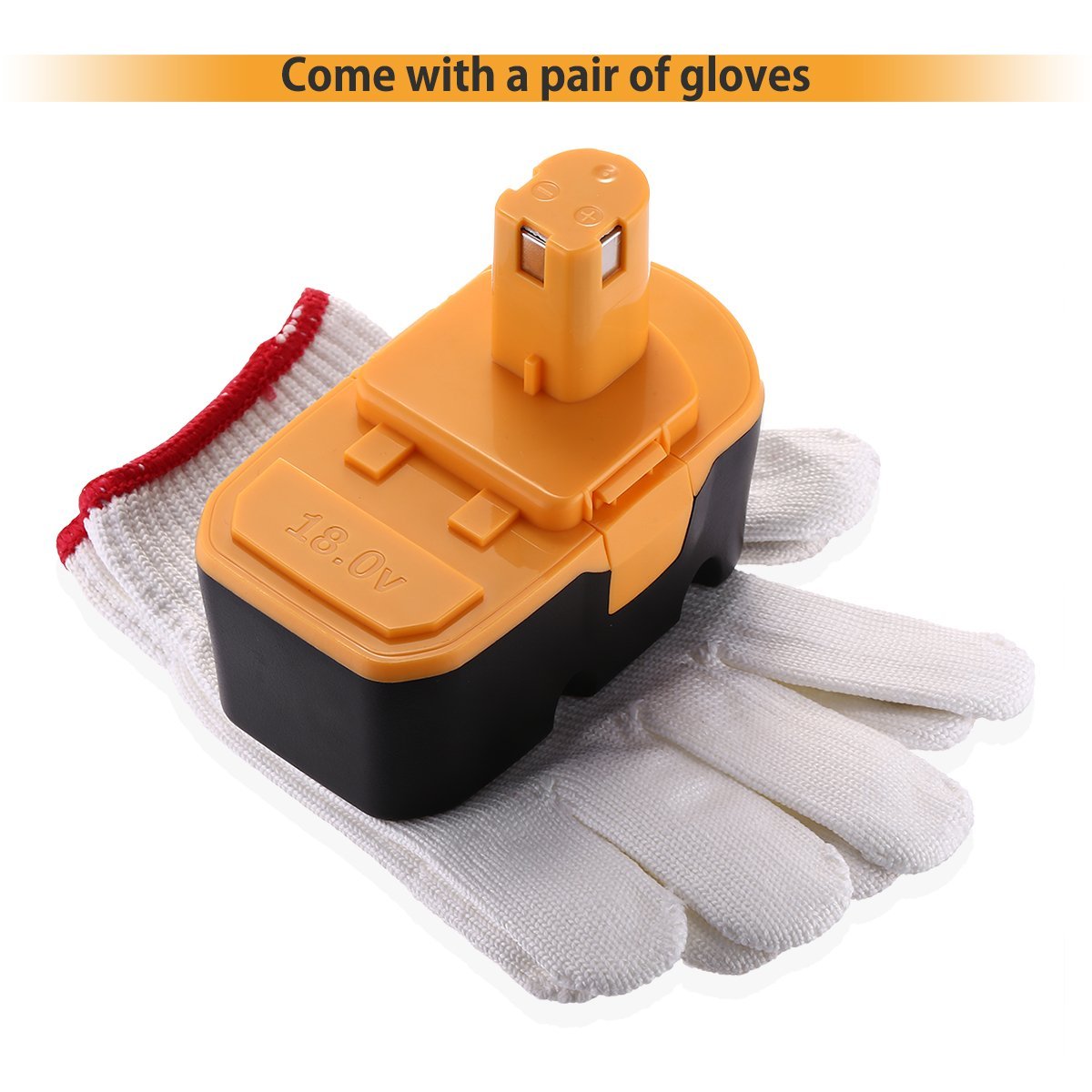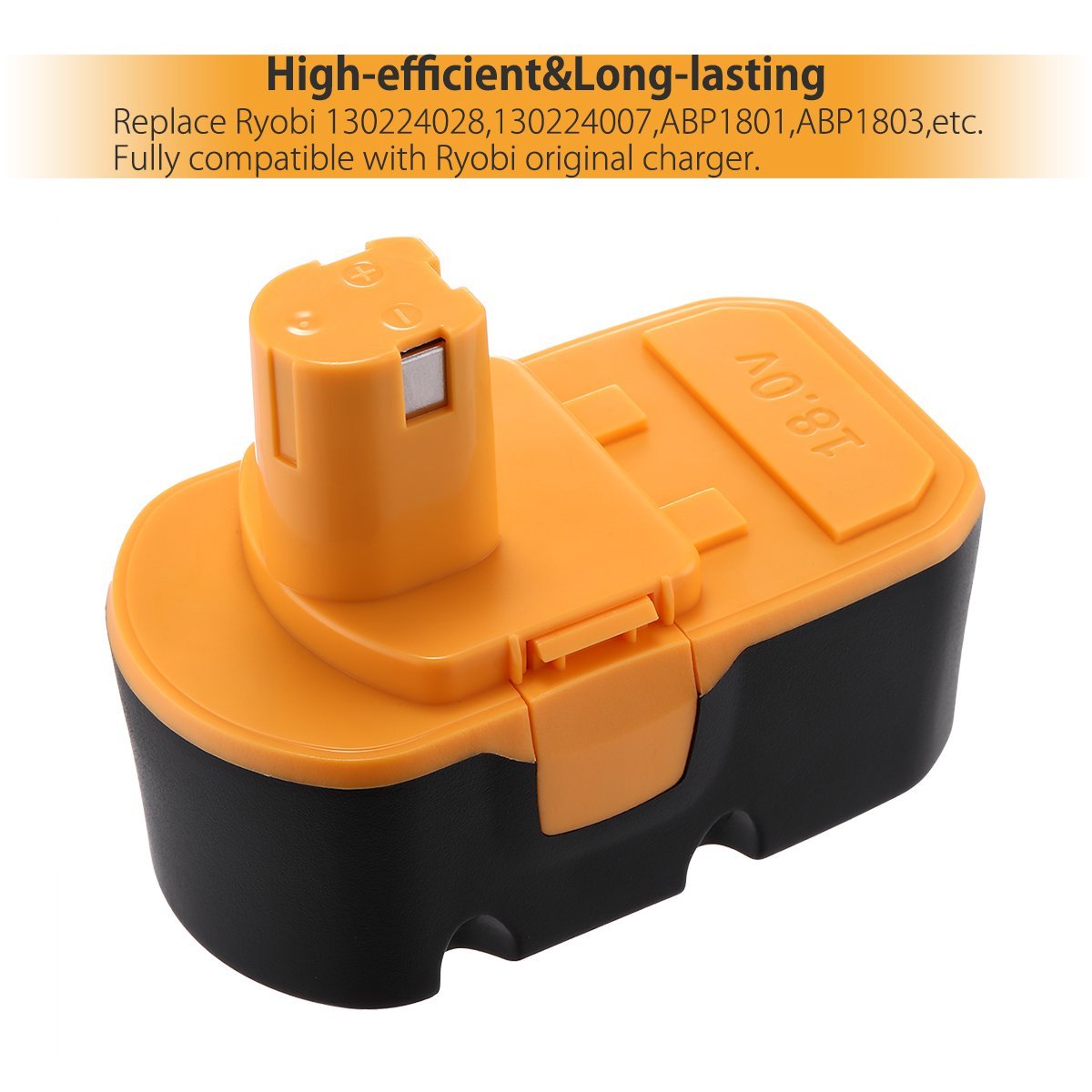 Replacement Part Numbers & Compatible Models:
Replacement Part Numbers:
130224028, 130224007, 130255004, ABP1801, ABP1803, BCP1817/2SM, BPP-1813, BPP-1815, BPP-1817, BPP-1817/2, BPP-1817M, BPP-1820
Compatible Models:
(Please copy these in a text and use Ctrl+F to search a certain model)
BID-1801M, BID-180L
Ryobi C Series:
CAD-180L, CAG-180M, CAP-1801M, CCC-1801M, CCD-1801, CCG-1801M, CCS-1801/DM, CCS-1801/LM, CCS-1801D,CCW-180L,CDC-181M, CFA-180M, CFP-180FM,CFP-180S, CFP-180SM, CHI-1802M, CHP-1802M, CHV-180L, CHV-18WDM, CJS-180L, CJS-180LM, CJSP-1801QEOM, CJSP-180QEO, CJSP-180QEOM, CMD-1802, CMD-1802M, CMI-1802, CMI-1802M,CNS-1801M, CNS-180L, CP-180M, CPD-1800, CPL-180M, CRA-180M, CRO-180M, CRP-1801, CRP-1801/DM, CRP-1801D, CRS-180L, CSL-180L, CSS-1801M, CSS-180L, CST-180M, CW-1800
Ryobi P Series:
P200, P210, P2100, P211, P220, P230, P240, P2400, P2500, P2600, P300, P301, P310, P3200, P3300, P400, P410, P420, P430, P500, P501, P510, P520, P521, P530, P540, P600, P610, P700, P710, P730, P740
Ryobi CDI & CID Series:
CDI-1801, CDI-1802, CDI-1802M,CDI-1803, CDI-1803M; CID-1802M, CID-1803L,CID-1803M, CID-182
Package Contents:
2 x pack of batteries for Ryobi power tool;
1 x pair of gloves.
CE & RoHS Certified Quality:
These 2-pack replacement batteries for Ryobi have 3500mAh capacity, rated at 18V. The Ni-MH rechargeable batteries are CE and RoHS certified for dependable quality and performance. The batteries come with a pair of gloves for protecting your hands while using Ryobi drill, driver.